Flamenco This Week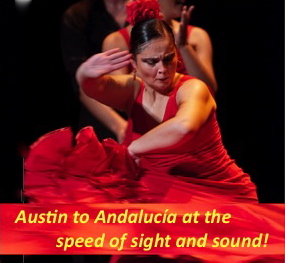 He's played around the world from Dublin, to Paris, to Cairo, to Moscow, and tonight Carlos Piñana flies to Austin from Alicante with his troupe for Thursday's FlamencoAustin extravaganza at the Long Center.
Buy tickets online – or call 512-474-LONG
Our dinner is now sold out. But our pre-show terrace party with free tapas by Chef Maria Candil, and live music and dance led by Pilar Andújar starts at 6:30 and is open to all! Piñana begins in Dell Hall at 8.
Media Appearances and More
Learn more about Carlos, and see a great video online here. Read a new interview with Pilar. Learn about Chef Candil's cuisine.

Celebrities Go Red For The American Heart Association At LA Fashion Week

20th Century Fox Celebrates 25 Years of Die Hard

VOTE FOR A CAUSE: Women of Worth

Local Charity Aims to Cure Deadly Pediatric Cancer With Star-Studded Fundraiser Gala


John Leguizamo Co-Hosted the 2012 National Puerto Rican Day Parade

Pre-MTV Movie Awards Eco Lounge, produced by Debbie Durkin

MTV's Angelina Pivarnick Red Carpet Engagement Surprise