The Art of Giving Series with David Garza & John Hogg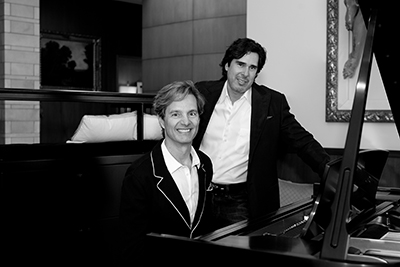 Alongside his parents, Austin radiologist John Hogg grew up in northeast Texas doing service work and civic projects. It never seemed like work because he always enjoyed it. Meanwhile builder David Garza, Hogg's partner and an Austin native with roots in Monterrey, Nuevo Leon, Mexico, grew up surrounded by a large, extended Hispanic family who instilled the values of spending time together and taking care of each other.
"Being embraced and nurtured was the greatest gift from my parents and relatives," Garza says. "I always felt loved and cared for."
For Garza, the question was, "How do you spread this love to others in the community?" He had always gravitated toward projects that were close to his heart. Garza and Hogg share a passion for supporting health and education causes, as well as the arts and Hispanic culture in Austin. Hogg, who is not Hispanic, says his interest in the Hispanic culture is "partly owed to David's family, but also because it is inherently a rich culture."
Hogg and Garza feel strongly about supporting Mexic-Arte Museum because of the institution's mission to serve the community beyond art, through education. The institution provides classes and workshops to underserved children. "For many young students who did not grow up with financial and social privileges," says Hogg, "learning about their rich culture and history can be uplifting."
The Hispanic Scholarship Consortium offers 40 scholarships that are primarily need-based, but the program also requires that the students have a family support system to complete their education. "We want to prepare a career-ready work force, and ultimately, teach them to give back to the community," Garza says. Hispanics give to mainstream charities, but they also give to people they know and who are in need. Leaders like Hogg and Garza are changing that by taking what is close to their hearts and giving back to the greater community. "Hispanics by nature tend to be giving – it's in our culture," Garza says.
Both say they are seeing a shift in how younger Hispanics are giving, largely fueled by social media and philanthropic organizations that are becoming savvier at engaging Latinos. Hogg and Garza say they want to be seen as catalysts – philanthropy is about more than just giving money. Among the challenges of being a philanthropist in Austin is that one has to be more creative and resourceful with limited funds. The president of four boards, Hogg says, "Nonprofits are like your kids – you have to raise them to maturity. That's how you truly make an impact."
For more information on the Mexic-Arte Museum click here
John Hogg (L) David Garza (R) Photos by Gerry Hanan of HananExposures.com

Advocate helps others find light among darkness
When Melissa Hinojosa-Zamora lost her father as a young child she lost a part of herself in the process. It is a part that she gets closer to recouping after growing to accept that depression is a severe illness that can result in death by suicide.

Haas Names Gutiérrez to 2016 Race Seat

Three Latina Engineers Share Tips for Thriving In Corporate America

More than $430,000 raised during national Hispanic radio event to support St. Jude Children's Research Hospital®


Television & Film Organizations

Secretary Berry Marks National Voter Registration Day


Celebrities Go Red For The American Heart Association At LA Fashion Week