A Latino in the White House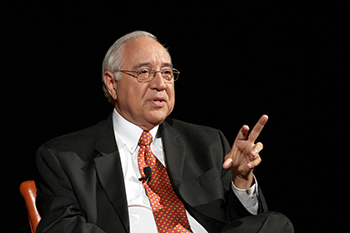 David Valdez used to capture a sitting president's every move, putting him in the company of world and military leaders, kings and even the Pope.
It was a whirlwind life, traveling to 75 countries with President George H.W. Bush as his official photographer.
Valdez is the only Latino ever to hold the coveted post.
High cotton for a boy from Alice, Texas.
His life has come down from those rarefied heights, but Valdez still carries his Nikon camera or iPhone to pursue his passion for photography. "It's in here," Valdez says placing his hand to his chest. He can't help but explore Georgetown, where he resides with wife Sarah Jane and where he finds sunsets, fields of bluebonnets and old buildings as worthy subjects. He's still driven to take photos of what in someone else's hands might seem mundane, and to take candid shots -– he hates posed pictures -- and turn them into something special. He posts them on Facebook and Instagram for the world to see.
"I self-assign," says Valdez, 64, who was also the former director of photography for Popular Hispanics and currently doing some work for the Georgetown View Magazine in Georgetown.
When Southwestern University in Georgetown resurrected its football program last fall, he was behind the lens at the town's pep rally. "I walk around to see what I can see. It's an exercise to keep me sharp."
The gentlemanly Valdez, who was raised in Albuquerque, began documenting life at a time when most kids
are getting into mischief, at about the age of 8. At his home, in a bedroom he's named the "Presidential Suite," Valdez goes back in time, showing his White House mementos. But he's especially proud of a worn album titled "Photos I Have Taken, by David Valdez." It has black and white prints of dogs, kids and one especially significant photo of a tree. The inquisitive boy who snapped it turned his pocket camera slightly so the tree could fit in a triangular frame. "Something was going on creatively that I turned the camera to get the photo," he says. It signaled what was to come.

Advocate helps others find light among darkness
When Melissa Hinojosa-Zamora lost her father as a young child she lost a part of herself in the process. It is a part that she gets closer to recouping after growing to accept that depression is a severe illness that can result in death by suicide.

Haas Names Gutiérrez to 2016 Race Seat

Three Latina Engineers Share Tips for Thriving In Corporate America

More than $430,000 raised during national Hispanic radio event to support St. Jude Children's Research Hospital®


Television & Film Organizations

Secretary Berry Marks National Voter Registration Day

The Art of Giving Series with David Garza & John Hogg

Celebrities Go Red For The American Heart Association At LA Fashion Week