Haas Names Gutiérrez to 2016 Race Seat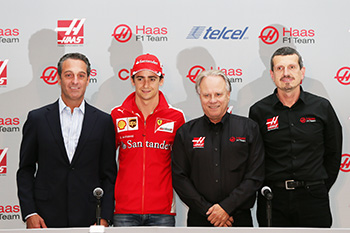 In a press event inside the main lobby of the Soumaya Museum, Haas F1 Team founder and chairman Gene Haas named Mexican driver Esteban Gutiérrez to a race seat with his team when it makes its 2016 debut in the FIA Formula One World Championship.
At only 24 years of age, Esteban Gutierrez has plenty to be proud of in the world of Formula One. He has competed in two world championship rounds with the Sauber F1 team, and has spent the 2015 F1 season as Ferrari's third driver. The Mexican driver joined Scuderia Ferrari in 2015 after spending the 2013-2014 seasons with the Ferrari-powered Sauber F1 Team.
Gutiérrez will race alongside driver Romain Grosjean, who was previously announced by Haas on Sept. 29 in a press conference at the team's U.S. headquarters in Kannapolis, North Carolina. Haas F1 Team is the first America-led Formula One team in 30 years.

"I got to know Esteban through our relationship with Ferrari, and after looking at the success he's had to earn his role there, it became clear he was an excellent choice for our race team," Haas said. "He's young and hungry, but not inexperienced. His two years running a full F1 schedule has given him some very good race experience, and having spent this season at Ferrari as their third driver allowed him to see firsthand the methodology that makes Ferrari such a power in Formula One.
"All along we said we were looking for experienced drivers, and we have that with Romain and Esteban," said Guenther Steiner, team principal, Haas F1 Team. "Romain has more starts, but Esteban has a deep knowledge of Ferrari and how they do things. He's learned from the best in his role as their third driver, which means he knows how they've developed their current cars. He's been a big part of that and he'll be a big part in the development of our cars at Haas F1 Team."
Haas F1 Team will debut in the FIA Formula 1 World Championship in 2016, where it will become the first American-led Formula One team since 1986.
Gutiérrez will get his first drive with Haas F1 Team during the preseason test Feb. 22-25 at Circuit de Catalunya in Barcelona. A second test at Barcelona takes place March 1-4 before the season-opening Australian Grand Prix March 20 in Melbourne.

Advocate helps others find light among darkness
When Melissa Hinojosa-Zamora lost her father as a young child she lost a part of herself in the process. It is a part that she gets closer to recouping after growing to accept that depression is a severe illness that can result in death by suicide.

Three Latina Engineers Share Tips for Thriving In Corporate America

More than $430,000 raised during national Hispanic radio event to support St. Jude Children's Research Hospital®


Television & Film Organizations

Secretary Berry Marks National Voter Registration Day


The Art of Giving Series with David Garza & John Hogg

Celebrities Go Red For The American Heart Association At LA Fashion Week