Designer Teresa Valenzuela Basa: Inspired by Life and Born to Design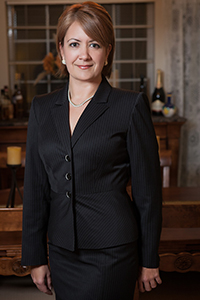 Prior to launching her new line, coined "Vento e Sole" (Wind and Sun), that benefits Ballet Austin and Safe Place, Popular Hispanics had an opportunity to sit down with Austin's newest fashion designer, Teresa Valenzuela Basa, to talk about her life, spring fashion, her influences and her new spring designs.
Where are you originally from and can you tell us about your city?
I'm originally from Chile and born in Arica, the northernmost part of Chile. I was raised near the ocean; the sunset was always incredible in my hometown. Although surrounded by the sea, Arica is situated next to the Atacama Desert, the most arid desert in the world.
The Andes Mountains were part of the landscape as well. My family and I used to travel to small villages in the high mountains during the holidays. I remember enjoying the sound of indigenous music, colorful crafts and watching llamas and alpacas running in the desert.
What did you want to be growing up?
I always envisioned myself doing something related to art. When I was 7, I used to sew all my dolls' dresses. I would get into my "zone" and create miniature garments, jackets and such. I remember my best friend liked dressing her dolls with the clothing I made; her approval of my work always gave me joy. When I turned 11 and until I became 14 or 15, I wanted to be a singer. I participated in several school festivals and fell in love with Miguel Bose, my favorite artist.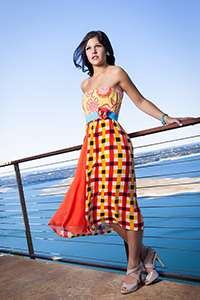 When I turned 16, I taught myself to play the guitar. A screenwriter friend of mine (then only 16) and I used to sing the tunes of Silvio Rodriguez, Fernando Ubiergo and many other troubadours. We performed together at some school events and took our guitars to several trips to the beach.
I also toyed with the idea of becoming an actress, taking several acting classes in High School and loving every minute of it; I modeled for a little while and I also enjoyed drawing. Although I always knew my calling was art, my parents encouraged me to earn a more traditional (as they called it) degree. I ended up studying law for three years before leaving Chile.
Once in the U.S., I graduated with a degree in sociology from UC Berkeley, went back to law school in San Francisco and dropped out when my second child was born. I graduated with a master's degree in public administration and specialized in public policy analysis and development.
Two years ago, I decided to listen to my inner voice again, went to art school and learned jewelry construction and texturing. I started designing jewelry as a way to relax. Fashion followed immediately after. I knew I could no longer avoid the calling.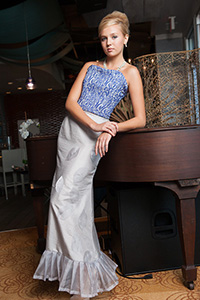 Who were some of your earliest influences in your life?
My two grandmothers were incredible knitters. My parental grandmother made beautiful pieces with crochet needle. My maternal grandmother made us all - 20 grandchildren - beautiful sweaters. My mother is great at all crafts; she sews, knits, paints and creates gorgeous porcelain pieces, and my father paints on canvas; he loves landscapes.
How has being Hispanic influenced your career?
I am fortunate to possess such a rich artistic background, which allows me to appreciate all forms of art. Although we were not encouraged to study a career in arts, my siblings and I were exposed to art from all over South America.
At a young age, I traveled all around Chile, Peru and also to Argentina. During my twenties, I visited parts of Mexico and Costa Rica. Being Hispanic has helped me understand how unique every country is. Although we are all connected, we differentiate from each other through our art, our cultural believes, our history and our upbringing. It is through images, sounds and textures that we can distinguish one culture from another.
As human beings, we are all in search of love, inner peace and social connection - that's the common thread that links us to one another. Our roots define our identity and art makes that identity visible and explicit. As a Hispanic woman, I place a different spin on design, I see fashion through the lens of my roots and my personal vision of what art is.
So you made Austin your home. What attracted you to Austin?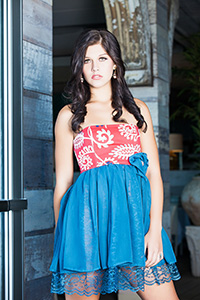 I lived in California for almost 17 years before coming to Texas. Although I like California very much, I do feel Austin is home. Sure, I miss living near the ocean; sea water is important to me. However, the relationships I have developed in Austin and the support I received during the last couple of years has rooted me to this city in a way it is hard to describe.
Who or what inspired you to become a designer?
The love for color and shapes and the realization that I could not quiet this creative passion any longer. The signs were everywhere and the timing was also right for me. I spent countless hours researching on trends, styles, fashion from all over the world, patterns and textures.
I am one of those fortunate individuals who can anticipate to future trends and styles. Being so visual helps keep my awareness for future fashion tendency always high. I am inspired by architecture, landscape, feelings, smells, food, music…anything can be a source of inspiration.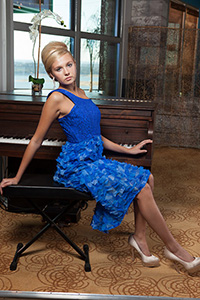 Who are your favorite designers?
Valentino, Christian Dior, Yves Saint Laurent, Coco Chanel, Balenciaga, Ruben Campos and many others.
Let's talk about the designs coming out for the spring, what's your favorite and why?
Spring is all about color for me. Flowers bloom in the spring, butterflies come out of their cocoons, colorful birds begin chirping and singing, bright colors are all around us during spring.
My favorite piece has to be an intense royal blue dress I created with Italian silks and beautiful royal blue paisley French silk. I like how the dress flows and how flattering it is to a woman's body. The dress is elegant, yet versatile.
I can see a woman wearing this dress for an evening cocktail, a wedding or gala party and even for a sophisticated branch at a country club.
It is simple but interesting at the same time, the fabrics are of fabulous quality and the colors are incredibly intense.
Which celebrity would you most like to be seen wearing and representing your designs?
Charlize Theron
What are the trends to watch for spring 2013?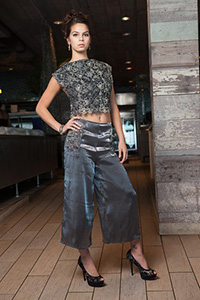 Spring trends are all over the place. Bright and neon colors, flow and structure, ruffles, sharp angles, '60s inspired fashion, black and white combinations - the options are so diverse, and fashion can make everyone happy this coming season.
Who inspires your designs the most?
I cannot say I am inspired by individuals as much as by concepts. Life is so interesting and colorful; my inspiration derives from places, things, animals, insects, shapes, art, music, food and feelings. Inspiration is mostly a sensorial experience for me.
What is your advice to aspiring designers?
My advice is to believe and follow your passion. Do your research; constantly improve your knowledge of the industry and your skills, and be grateful for the opportunity and the privilege to do what you love doing.
For more information on Teresa Valenzuela Basa and her designs visit: www.teresabasa.com

Austin Fashion Week Runways & Marketplace

Spanish Model Agueda Lopez Looks to Spice Things Up in Miami

Linda Asaf: Austin's fashion insider

This Spring, Enjoy Being a Girl

Marcella Echavarria Defines Luxury through Design, Fashion, and Sustainability

Transition into Spring with L'Oreal Paris: Combining the Latest Innovative Technology and Quality


Heavenly Angels: Victoria's Secret SoHo Holiday Event Video

Darphin Wrinkle Corrective Eye Contour Cream

Claudia Ochoa can be Sweet and Sexy but her Lingerie Es Muy Seductora