Specifically Beautified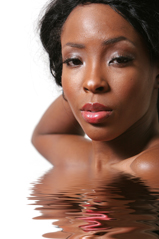 So what lady out there doesn't want to be beautiful?! What a treat for me to have the opportunity of trying a new skin product designed for "Multi-Hued" skin tones! Yes ladies it is so. I had the good fortune of testing the first ever skincare line designed specifically for Latina, African-American, and Southeast Asian women.
Specific Beauty is brought to us by acclaimed dermatologist, Dr. Heather Wooley-Lloyd who has done what many have tried, but have yet to succeed in. Provide us, ethnic ladies, with our own skin care line. The products are designed to target and improve the "Multi-Hued" skin tones that range from tan, olive, & brown skin. Specific Beauty is made to specifically address those common cosmetic concerns such as dark spots from blemishes, brown patches, and uneven skin tone. What I found was that not only did it address these issues but it made my skin look radiant in the process!
While shopping for a skin care product I specifically look for one that is light and gentle, and gives me that clean fresh feeling.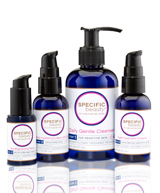 In addition to a moisturizer that has the all important SPF 30 at the very least. This product does just that. I tried the Daily Gentle Cleanser, Skin Brightening Serum, and Night Treatment Complex. My skin was clearly hydrated, brighter, and radiant. Skin texture improved, and yes, a more even skin tone. And want to know a secret? My husband tried it and loved it too! No, he's not a high maintenance guy, far from it, but he did try the products and his skin tone also improved! His skin looked clean, bright, and alive. A great Unisex skin care line as well.
Products are Paraben Free & Fragrance Free with Linoleic Acid, Ginger Root Extract, Niacin amide, Retinol, and Licorice Extract. All the necessary ingredients for an even, smooth, and radiant skin tone. If you are all wondering how much does this miracle product cost, do not fear. The great news is it's affordable. The prices are available at http://www.specificbeauty.com/retrieve.php?page=home. Happy shopping!

Fashion designer never forgets her roots
The Salvadoran-American fashion designer Johana Hernandez talks about how her natural talent and philanthropic spirit led to new, improved schools in rural El Salvador

Full Tilt Delivers High-Octane Style at Brazos Hall

FULL TILT Fashion Show Revs Up an Evening of Style in the Fast Lane

Latino Fashion Week "Sophisticates Luncheon"

Latino Fashion Week and Allstate Purple Purse Foundation

Designer Teresa Valenzuela Basa: Inspired by Life and Born to Design

Penelope Cordoba Making a Comeback at the Mercedes Benz Swim Fashion Week

Creating Couture Fashion From Recycled Fabrics


Spanish Model Agueda Lopez Looks to Spice Things Up in Miami