This Spring, Enjoy Being a Girl
As 2012 is upon us, and many begin to look forward to new beginnings, it is also a great time to look forward to a fresh spring wardrobe. Fashion for Spring 2012 is all about intricate details and girlishness, as you will find many pleated skirts, lace gowns and floral patterns. The season will be reminiscent of the 1920's. Expect to see a variety of dresses with drop waists and outfits with loose layers that were the style of that decade. When searching for new outfits for Spring 2012, look for the following key trends of the season:
Frilly and Feminine Girlishness- One will be able to find this element through pleats in every form. Pleats will be seen on dresses, skirts, pants and shorts. There will even be "pleated" looking silhouettes found in peplum pants and dresses. Femininity also was apparent on the runways for Spring 2012, and many designers featured dresses and gowns with delicate lace detailing while exposing the woman's shoulders and midsection.
Prints, Prints, Prints- Spring 2012 is all about the prints, and the prints will be seen in many assortments. The prints that will be apparent for the season will be florals and zig zags, and many garments will also take on the feeling of abstract art, featuring deco details.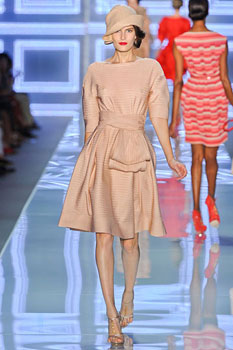 Pops of Color- The "can't go wrong" colors of black and white will be seen in many Spring 2012 collections, while other fashions will pop with the citrus and cool colors of tangerine, yellow, turquoise, green and royal blue.
While these Spring 2012 key trends should only serve as a guide to help you with the new season's wardrobe, remember that the main style element to Spring 2012 – enjoy being a girl.
Author Cynthia Chapa is the Program Chair for Fashion Design and Merchandising IADT-San Antonio
International Academy of Design and Technology
The International Academy of Design and Technology provides educational programs that are designed to prepare students for professional opportunities in select design and technology fields. The Academy - San Antonio has been an established institution for more than 25 years and has 10 other campuses across the US. The Academy opened its doors to San Antonio students in April 2007. The Academy is part of Career Education Corporation network of schools (NASDAQ: CECO). For more information about the Academy and the programs they offer visit: www.iadtsanantonio.com or call (210) 530-9449.

Austin Fashion Week Runways & Marketplace

Designer Teresa Valenzuela Basa: Inspired by Life and Born to Design

Spanish Model Agueda Lopez Looks to Spice Things Up in Miami

Linda Asaf: Austin's fashion insider

Marcella Echavarria Defines Luxury through Design, Fashion, and Sustainability

Transition into Spring with L'Oreal Paris: Combining the Latest Innovative Technology and Quality


Heavenly Angels: Victoria's Secret SoHo Holiday Event Video

Darphin Wrinkle Corrective Eye Contour Cream

Claudia Ochoa can be Sweet and Sexy but her Lingerie Es Muy Seductora