Linda Asaf: Austin's fashion insider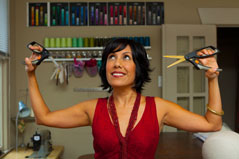 Linda Asaf is a women's dress and bridal designer who was voted best fashion designer two years in a row by Austin Fashion Week. Asaf launched her own label here in Austin in 2004 after starting her career in marketing and business at several Fortune 500 companies. After she earned MBAs from Columbia Business School in marketing and finance, Asaf took a leap of faith into the fashion industry, setting up her own company in New York City in 1992.
Her collections have garnered her praise and attention from National Hispanic Bridal Magazine, Women's Wear Daily and Austin Woman Magazine, and she has won myriad awards and accolades. Popular Hispanics sat down with Asaf to discuss the 2012 spring collection, her ultimate celebrity muse, her influences and why Austin women are her ultimate inspiration.
PH: What did you want to be growing up?
LA: A child psychologist. I always liked the idea of helping children.
PH: And it's still your passion to help children locally. We should mention that you are the founder and producer of the charity fashion show, Runway to Heaven, which in just two short years has donated more than $120,000 to local children's charities.
PH: Who were some of your earliest influences in your life?
LA: My parents. My mother had a great sense of style, great hand bags and shoes so I picked up style and fashion from my mother. My father was an influence because he had a real joie de vie and passion, and was creative, smart and entrepreneurial. He spoke English, Spanish and German. My grandparents on both sides of my family were from Mexico.
My father needed to be resourceful because of his humble upbringing. So I admire his sense of resourcefulness – I have that too. At one point my father recorded Lutheran sermons in Spanish when he was with the Lutheran church and his sermons were then used throughout Latin America. I learned from him that it's about creating the opportunity for yourself.
PH: Who or what inspired you to become a designer?
LA: Art class was my favorite subject in grade school and I learned to sew when I was 13 when I took home economics. My grandmother Margie also taught me. I really liked creating things. And I started sewing my own clothes.

Designer Teresa Valenzuela Basa: Inspired by Life and Born to Design

Austin Fashion Week Runways & Marketplace

Spanish Model Agueda Lopez Looks to Spice Things Up in Miami

This Spring, Enjoy Being a Girl

Marcella Echavarria Defines Luxury through Design, Fashion, and Sustainability

Transition into Spring with L'Oreal Paris: Combining the Latest Innovative Technology and Quality


Heavenly Angels: Victoria's Secret SoHo Holiday Event Video

Darphin Wrinkle Corrective Eye Contour Cream

Claudia Ochoa can be Sweet and Sexy but her Lingerie Es Muy Seductora