Spanish Model Agueda Lopez Looks to Spice Things Up in Miami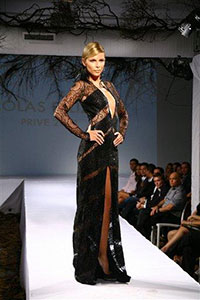 Meet Agueda Lopez is the ex beauty queen from Cordoba, Spain, who put her tiara aside to pursue a modeling career. Agueda's destination was Miami, Florida, a place she now calls home. She signed with Caroline Gleason Management and soon landed great assignments, including an ad campaign featured in the 2010 Sports Illustrated Swimwear Edition.
Since then Agueda has graced various magazine covers from Fantastics, Miami Sun Post Swim Week 2012-13 Special edition and People En Español. In addition, she's walked the runways of Miami Fashion Week and took part in the Red Dress Fashion show to benefit Heart.org. Working with Popular Hispanics, Manny Roman caught up with the Spanish beauty for an exclusive interview.
Where are you originally from and can you tell us about your city?
I'm originally from Cordoba. It's a beautiful city with a lot of history and traditions located in southern Spain.
How has being Spanish influenced your career?
Spanish people tend to have strong personalities. In my case it has helped me persevere and stayed focused on my goal which is to grow as a model and have fun doing it.

So you made Miami, Fl your new home. What attracted you to move to Miami?
I wanted to grow, as a model and as a person and I needed a challenge. I've always loved Miami. The warm weather, the beach, the people, the different cultures, the music…This city has it all.
Which do you prefer, beauty pageants or modeling? And why?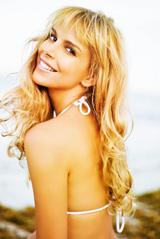 Definitely modeling. I was a part of a beauty pageant back home and it was an amazing experience but modeling is my passion. It's more than a job or a competition for me. I love that feeling I get when I'm in front of a camera or walking a runway.

Do you prefer the market for modeling in Europe or Miami and why?
To be honest I try not concentrate on the "markets" I concentrate on doing the best I can whether I'm wearing a designer's dress or being the face of a brand. Beauty and fashion has no boundaries and I hope that I can adapt to any market!

So far, what has been the best country you have visited during a modeling assignment?
I love to travel and I love the beach. I will never forget a photo shoot I did about 3 years ago in Antigua. We worked 5 days in a remote beach that was truly magical. The energy was amazing in that place.

We know you are a new mom having had your 1st child early this year, congratulations. How did you get back to such amazing shape?
First of all I thank my parents for giving me good genes!! Of course, I took care of myself during the pregnancy by eating well and practicing yoga.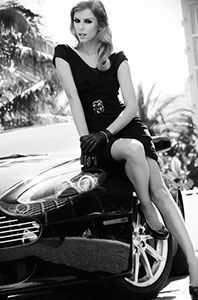 There have been negative comments made towards Top Model Kate Upton's weight. Some of the media has referred her as looking lazy, lardy and 30 lbs to heavy for a bikini. What are your thoughts on that?
I find Kate beautiful. She's a top model, she hasn't stopped working, she's successful so who cares what people say. Her beauty goes way beyond her weight.
Any beauty secrets you can share with us?
For me the three most important beauty secrets are… Never go to sleep with makeup on, Always use sunscreen and be a positive person…
Who are your favorite designers?
Karl Lagerfeld is the best. I also love Alexander Wang's and Isabel Marant's designs.
What's your dream model assignment?
My most important model assignment is to be the best role model to my daughter Mikaela. I love what I do and I hope I can continue to do it for many years to come, but my family will always be close to me. I hope at the end of the day, they're proud of me.
What's your best attribute?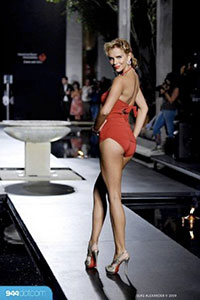 Perseverance
What's your biggest flaw?
Being impatient.
Who do you admire in the industry?
Claudia Schiffer and Christy Turlington.
Tell us 3 things about you that many people wouldn't know?
I love to cook and I'm actually pretty good at it. I'm a wine expert and I love to scuba dive.


What's your advice to aspiring models?
That like any job, modeling is a tough business but it's very important to believe in yourself. Be beautiful by being unique and being... YOU!
Check out her FB page: www.facebook.com/AguedaLopezFans
Official Site: www.agueda-lopez.com
On Twitter: twitter.com/AguedaLopez21
All images courtesy of Agueda Lopez

Fashion designer never forgets her roots
The Salvadoran-American fashion designer Johana Hernandez talks about how her natural talent and philanthropic spirit led to new, improved schools in rural El Salvador

Full Tilt Delivers High-Octane Style at Brazos Hall

FULL TILT Fashion Show Revs Up an Evening of Style in the Fast Lane

Latino Fashion Week "Sophisticates Luncheon"

Latino Fashion Week and Allstate Purple Purse Foundation

Designer Teresa Valenzuela Basa: Inspired by Life and Born to Design

Penelope Cordoba Making a Comeback at the Mercedes Benz Swim Fashion Week

Creating Couture Fashion From Recycled Fabrics