Designer Teresa Valenzuela Basa: Inspired by Life and Born to Design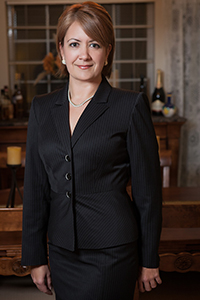 Prior to launching her new line, coined "Vento e Sole" (Wind and Sun), that benefits Ballet Austin and Safe Place, Popular Hispanics had an opportunity to sit down with Austin's newest fashion designer, Teresa Valenzuela Basa, to talk about her life, spring fashion, her influences and her new spring designs.
Where are you originally from and can you tell us about your city?
I'm originally from Chile and born in Arica, the northernmost part of Chile. I was raised near the ocean; the sunset was always incredible in my hometown. Although surrounded by the sea, Arica is situated next to the Atacama Desert, the most arid desert in the world.
The Andes Mountains were part of the landscape as well. My family and I used to travel to small villages in the high mountains during the holidays. I remember enjoying the sound of indigenous music, colorful crafts and watching llamas and alpacas running in the desert.
What did you want to be growing up?
I always envisioned myself doing something related to art. When I was 7, I used to sew all my dolls' dresses. I would get into my "zone" and create miniature garments, jackets and such. I remember my best friend liked dressing her dolls with the clothing I made; her approval of my work always gave me joy. When I turned 11 and until I became 14 or 15, I wanted to be a singer. I participated in several school festivals and fell in love with Miguel Bose, my favorite artist.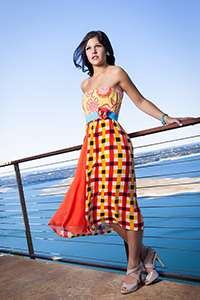 When I turned 16, I taught myself to play the guitar. A screenwriter friend of mine (then only 16) and I used to sing the tunes of Silvio Rodriguez, Fernando Ubiergo and many other troubadours. We performed together at some school events and took our guitars to several trips to the beach.
I also toyed with the idea of becoming an actress, taking several acting classes in High School and loving every minute of it; I modeled for a little while and I also enjoyed drawing. Although I always knew my calling was art, my parents encouraged me to earn a more traditional (as they called it) degree. I ended up studying law for three years before leaving Chile.
Once in the U.S., I graduated with a degree in sociology from UC Berkeley, went back to law school in San Francisco and dropped out when my second child was born. I graduated with a master's degree in public administration and specialized in public policy analysis and development.
Two years ago, I decided to listen to my inner voice again, went to art school and learned jewelry construction and texturing. I started designing jewelry as a way to relax. Fashion followed immediately after. I knew I could no longer avoid the calling.

Fashion designer never forgets her roots
The Salvadoran-American fashion designer Johana Hernandez talks about how her natural talent and philanthropic spirit led to new, improved schools in rural El Salvador

Full Tilt Delivers High-Octane Style at Brazos Hall

FULL TILT Fashion Show Revs Up an Evening of Style in the Fast Lane

Latino Fashion Week "Sophisticates Luncheon"

Latino Fashion Week and Allstate Purple Purse Foundation

Penelope Cordoba Making a Comeback at the Mercedes Benz Swim Fashion Week

Creating Couture Fashion From Recycled Fabrics


Spanish Model Agueda Lopez Looks to Spice Things Up in Miami