Creating Couture Fashion From Recycled Fabrics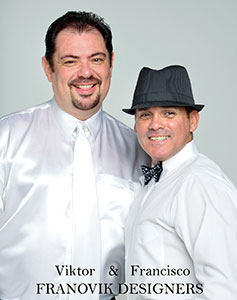 FRANOVIK Designers are creating couture fashion from recycled fabrics, materials and vintage pieces.
Being Hispanic has its challenges and sometimes depending on where you are from, some might have bigger challenges. As Hispanics or Latinos, we must get creative and think outside the box. That was the case with Victor Vega and Francisco Perez who came up with the idea of taking what they had laying around to create beautiful designs while being practical thus creating fresh new looks.
Where are you both from and can you tell us about your city?
Francisco is from Caracas, Venezuela; Francisco's family had a fashion business in Venezuela so it was part of his blood; two (2) of his four (4) brothers do couture fashion. Caracas is a vibrant city, houses six (6) Miss Universe's, also known as one of the most important fashion cities in South America, very "Cosmo", although lately with the current government we have other views.
Viktor is of Puerto Rican decent, born and raised in Brooklyn, New York. What else can we say about NYC, besides the city that does not sleep, and it's one of the top fashion cities of the world. Viktor was always interested in the arts; he took art, graphic design and Illustration not knowing someday he would be creating designs on paper and working with his hands.
What did you want to be growing up?
We both wanted to be productive human beings in whatever we did. Francisco has always wanted to be a great designer, and his dream is being realized. I wanted to become a performer (triple threat); I've never confessed that to anyone. Francisco and I are lucky to work in something we love.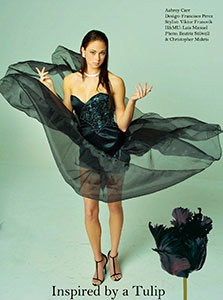 Who were some of your earliest influences in your life?
My parents, my siblings and TV were the earliest influences in my life; I got to keep a bit of my immediate family member's quirks and watched tons of hours of TV which made who I am today. On Francisco's side, he mentions his father as well. His father worked hard to achieve his goals.
How has being Hispanic influenced your life?
(V) I've never put much thought to it, it's never fazed me. I was a kid in NY that spoke two languages and had the best of influences and cultures, the fact that I grew up on apple pie and flan is a plus. It became a culture shock when my parents moved back to Puerto Rico, the lines of division were apparent; I was a "gringo" that spoke Spanish but that never deterred me from embracing two cultures which works for me. (F) I believe being Hispanic has taught me to strive for better and create designs with a touch of Hispanic elegance.
Who or what inspired you to become a designer?
(V) The designer that comes to mind for me is Bob Mackie, watching as much TV as I have; he was one of the dominant designers on TV and the decade. Bob's designs kept my interest. (F) My father and my brother who taught me how to sew. At a very early age he placed me on a machine and said learn how to sew.
Who are your favorite designers?
(V) Bob Mackie, Valentino, Ralph Lauren, Pierre Cardin, and Cartier. (F) Guy Meliet from Venezuela who dressed many of the Miss Venezuela delegates, he presented the wow factor in everything he designed.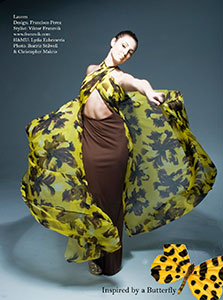 Talk about your upcoming collection, what's inspiring this fall?
You must understand how we work, being recycled, green, ECO designers we follow different rules, although we follow trends and colors like everyone else, our thought process is different. Because we make one of kind-custom made pieces, it's harder to come up with a cohesive collection versus a theme collection. It will be a task to convey our ideas when we finally sit with a buyer or a design house.
Which celebrity(s) would you like to be seen wearing and representing your creations?
We would love to dress as many as we can but there are a few that come to mind, Angelina Jolie, Sophia Vergara and Natalie Portman. Natalie believes in the ECO movement, I'm sure they all do but Natalie is more vocal about the movement.
What inspires your designs the most?
Items we see daily, family heirlooms, nature like a flower or a fish or a bird, mythological characters, an existing or a vintage garment where we can make a new piece from or create a piece with bits and pieces. Francisco on the other hand, European designers always inspires me, they are always vanguard and always a step ahead from American designers.
What is your advice to aspiring designers?
It's tough and very competitive; schools prepare you text wise but do not prepare you for the reality of this industry. If you think you will be walking out of school thinking you are the next big designer, prepare yourself.
Build your infrastructure, have things in place. Having a mere business card, a portfolio with a few pictures and a Facebook account will not cut it.
We started working with young designers building their infrastructure, so at least they are building a reputation and a following. People take them seriously when they see a real email website address, not a Hotmail, Yahoo or Gmail address.
Think of the, who, what, where, when and how. These things should be clear in your mind as you take your steps into the world of fashion.

Fashion designer never forgets her roots
The Salvadoran-American fashion designer Johana Hernandez talks about how her natural talent and philanthropic spirit led to new, improved schools in rural El Salvador

Full Tilt Delivers High-Octane Style at Brazos Hall

FULL TILT Fashion Show Revs Up an Evening of Style in the Fast Lane

Latino Fashion Week "Sophisticates Luncheon"

Latino Fashion Week and Allstate Purple Purse Foundation

Designer Teresa Valenzuela Basa: Inspired by Life and Born to Design

Penelope Cordoba Making a Comeback at the Mercedes Benz Swim Fashion Week


Spanish Model Agueda Lopez Looks to Spice Things Up in Miami