Penelope Cordoba Making a Comeback at the Mercedes Benz Swim Fashion Week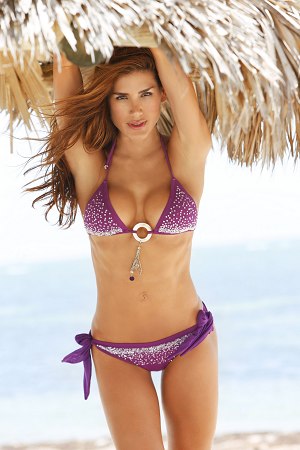 Venezuelan supermodel Penelope Cordoba, who is represented by Wilhelmina Models, is making a comeback to the runways of Mercedes Benz Swim Fashion Week this week.
Penelope was born May 27th in Maracay, Venezuela. Her exotic sultry looks and killer body are a favorite on the runways, booking shows for Jessica Simpson, Gottex, Rosa Cha, Badgley Mishka, La Perla, Ed Hardy and Poko Pano just to name a few.
Penelope has appeared in fashion magazines such as Ocean Drive, Maxim, FHM and Shape. Manny Roman caught up with her for an exclusive Q&A for Popular Hispanics.
Where are you originally from and can you tell us about your city?
I was Born and raised in Maracay, Venezuela.
It's a small city. It's called the Garden city. I remember it being a small, safe and green city, where everyone knew each other from schools and going to play tennis with a bunch of buddies!
I don't think it remains the same ...
Has being Latina influenced your career?
Definitely!
In the time when I started my career abroad in Venezuela, and first traveling to Paris scouted at a very young age, it had a big signature on my behavior, soaking up different cultures, and mixing it with my upbringing... It made me stand out from European, and American girls ... I feel like having strong values, what usually you see in Latin families ... my way of taking things and acting towards making good decisions made a huge difference.
Having taken part in the prestigious Miss Venezuela pageant, do you think that led you to pursue a career in modeling or is it common that misses transition to it as the next level?
I was already modeling when I participated in the Miss Venezuela beauty pageant.
In Venezuela, the girls who are part of this prestigious pageant are considered the ELITE of the talent and beauty industry in my country. I did it for the experience, it taught me a lot of discipline, I met great friends, people I looked up to, and learned important tricks for my modeling career.
Usually girls launch a very successful career after the pageant, so it's important for the Venezuelan market to count that as a plus in your experience when it comes to a "modeling career" after the pageant.

Fashion designer never forgets her roots
The Salvadoran-American fashion designer Johana Hernandez talks about how her natural talent and philanthropic spirit led to new, improved schools in rural El Salvador

Full Tilt Delivers High-Octane Style at Brazos Hall

FULL TILT Fashion Show Revs Up an Evening of Style in the Fast Lane

Latino Fashion Week "Sophisticates Luncheon"

Latino Fashion Week and Allstate Purple Purse Foundation

Designer Teresa Valenzuela Basa: Inspired by Life and Born to Design

Creating Couture Fashion From Recycled Fabrics


Spanish Model Agueda Lopez Looks to Spice Things Up in Miami