Latino Fashion Week "Sophisticates Luncheon"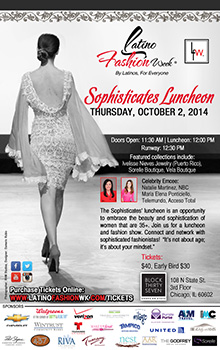 Latino Fashion Week welcomed fashionistas of all ages at the "Sophisticates Luncheon" hosted at the Shops at Block Thirty Seven in Chicago. The luncheon is just one of the many stylish and beyond exceptional events of the week. Get your favorite high heels out and ready to rock with Popular Hispanics as we keep you up on all the "fab finds" from the runway.
The Sophisticates Luncheon is a celebration of women that are 35+ and featured collections from Ivelisse Nieves Jewelry, Sorelle Boutique, and Vela Boutique. Local talent and celebrities took to the catwalk to feature the ready to wear collections (all which are readily available for sale).
"I never discriminate when it comes to the color black in my wardrobe," comments one show goer. The black on black on black looks are in full effect on the block and ring consistent with what the biggest name designers showcased most recently at NYFW. Sorelle Boutique's motto is, "Sexy from Head to Toe" and that was evident as their models took to the pathway.
From the pin curls to the skin to the boutique ensembles...these looks were well put together. Thank God for the one stop shop! The leather "feather-like" embellishments are to die for. You haven't seen a moto jacket until you feast your eyes on their leather meets crochet piece of art. It screams, "Come closer...at your own risk". Don't you love when clothes talk?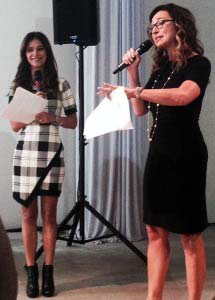 Vela...a boutique is leading the way with sisterly love and had a definite edge to it. From the velvet laser cut works to
the sequins shorts...the theme was a chic and edgy combination of fierce and fantabulous. BTW-I am officially witness to the newest strain of peplum that was born. I hope it is contagious. Just enough on the hips to make a statement without being over bearing. My kind of love affair.
If you are on the hunt for a statement necklace...do I have a gal for you! Ivelisse Nieves from Puerto Rico creates one of a kind haute couture masterpieces. Using quartz, coral, and turquoise she knows how to make a chunky and fashionable piece of jewelry a sure conversation starter. Ivelisse has been dabbling in jewelry making since she was four years old and decided to make career of it in 2005. Read more on the next page.

Fashion designer never forgets her roots
The Salvadoran-American fashion designer Johana Hernandez talks about how her natural talent and philanthropic spirit led to new, improved schools in rural El Salvador

Full Tilt Delivers High-Octane Style at Brazos Hall

FULL TILT Fashion Show Revs Up an Evening of Style in the Fast Lane

Latino Fashion Week and Allstate Purple Purse Foundation

Designer Teresa Valenzuela Basa: Inspired by Life and Born to Design

Penelope Cordoba Making a Comeback at the Mercedes Benz Swim Fashion Week

Creating Couture Fashion From Recycled Fabrics


Spanish Model Agueda Lopez Looks to Spice Things Up in Miami