Soleil Dishes up a Fresh, Flavorful and Diverse Menu Served with a View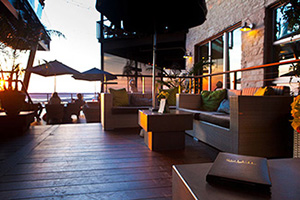 My wife loves crabcakes, so we decided to venture out on a quest per a recommendation to tryout Soleil next to The Oasis on Lake Travis.
The Oasis is a small collection of shops and eateries located near the beautiful Lake Travis that sports a theme of adventure and exploration.
It's one of the must-see attractions if you're ever in the Austin area or an Austin native that hasn't been in the area.
Soleil Bar & Grill boasts the same adventurous spirit with its menu that is made up of diverse dishes made exclusively with fresh ingredients.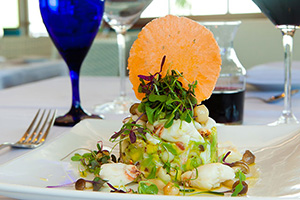 The entire menu itself was redesigned by former Executive Chef David Burton Sanchez in January of last year.
He adapted Soleil's dishes to his own eclectic style, which knows no boundaries culturally or regionally. Soleil offers diners an affordable selection of breakfast and brunch seafood cuisine coupled with breathtaking views of the lake.
I was invited back to write a story for Popular Hispanics and was able to sample a small selection of innovative appetizers, including the Lump Crab Torta (a French crabcake), Seared Sea Scallops with sweet corn risotto, spicy chili coulis, popcorn shoots, and the Seared Sea Bass served with Edamame and corn succotash with Applewood Smoked Bacon Hollandaise.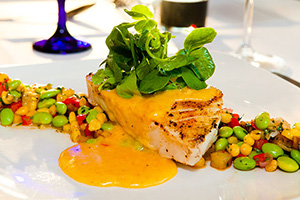 At the same time I was also treated to Veal & Waffles dish (one of the more popular appetizers) that's served with a rum raisin butter, chive pesto, butternut squash waffle, veal sweet bread, all soaked in buttermilk for seasoning before it's rolled in flour and sautéed. Each dish boasts a unique flavor profile, and still a testament to Soleil's penchant for diversity.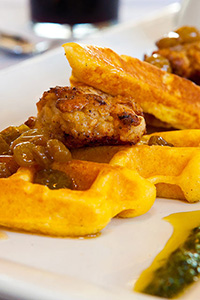 At the end of my visit I concluded that the Soleil restaurant is a hidden gem that most folks have yet to discover. So if you're looking to go on a culinary journey on your own or with your family, go check out Soleil for yourself. Not only will you enjoy a diversity of great food, but also experience beautiful views of Lake Travis. So be adventurous and go check out Soleil for a new dining experience.
For additional information visit: www.soleilaustin.com or call 512.266.0600
Address: 6550 Comanche Trail, Austin, TX 78732

This Cinco de Mayo Celebrate with Some Tasty Recipes



Cooking From the Heart: Alma Alcocer-Thomas – El Alma Café & Cantina


Spanish Spaghetti by Mel's Meals

Sweeten Up the Holidays with Sweet Potato Pie

Cooking and Eating Guilt-Free Meals

Delicious Empanada Recipes from Muy Bueno Cookbook!

Take the Tequila Tour at Iron Cactus in North Austin

A Visit to the Four Point 0 Wine Cellars

Mel's Meals Helps Austin Eat Well

Junior Merino's Refreshing Drink Recipes

Polvorones, Capirotadas, and Piggies!

Popular Hispanic of the Month: Tito's Vodka – Living the Handmade Dream

It's All Good for Tom Gilliland Co-owner of Fonda San Miguel

Where's the Beef: A Summer Grilling Fiesta

Z Tequila: A Shot a Day, Just What the Doctor Ordered

The Fabulous Serafina Fabulous Grill

You're never too Young… to Cook Flan


America, A Nation of Tequila Lovers

Chipotle Shrimp Tacos by Executive Chef José Bossuet Martínez


Cantina Beach Trio of Ceviches

Tequila 101: Sombreros Off to Casa Herradura

Garlic Shrimp - Recipe courtesy of Executive Chef Jose Garces