America, A Nation of Tequila Lovers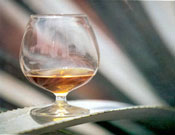 We thought our readers might like to take time this year and honor the agave plant for its tequila-producing nectar and for those unforgettable moments that arm us all with Monday morning office stories.
Although tequila can only be produced in certain areas of Mexico, the truth is that the America is a nation of tequila-lovers. In fact, according to the Cheers On-Premise Handbook (2008), the most ordered cocktail in the U.S. in 2008 was the margarita! On behalf of Herradura – one of the world's highest quality, all-natural 100 percent agave tequilas – here are some easy ideas to get your readers ready for National Tequila Day:
Too old for shots, and too avant-garde for margaritas? Mix up a tequila cocktail with Herradura Reposado that enhances the spirit's cinnamon and oak flavors and aroma hues. We suggest the Herradura Splash (see below for recipe).
Tequila ceviche is a twist on the traditional citrus-marinated seafood dish from Latin America. The fresh summer flavors with a zest of tequila Herradura will be a hit at your July celebration. We suggest the recipe below that incorporates the sweet agave flavors of Tequila Herradura Blanco .
Tequila tasting: now if you really want to show off in a sophisticated way, lead your friends through a full sensorial tasting experience of the Herradura Blanco, Reposado, Añejo and Selección Suprema (Extra Añejo) expressions. I can send you a step-by-step guide on proper tequila tasting etiquette that will help your readers with the full tasting process.
Now you can celebrate National Tequila Day with much more than just a shot!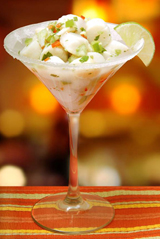 Herradura Bay Scallop Ceviche
Ingredients:
1 pound fresh bay scallops
1 cups fresh lime juice
½ cup Herradura Blanco tequila
3 tbs. diced white onion
1 cup ripe tomatoes, diced into 1/2 inch pieces
1 cup fresh tomatillos, chopped into 1/2-inch pieces
Fresh hot green chilies (2 to 3 serranos or 1 to 2 jalapenos), stemmed, seeded and finely chopped
1/3 cup chopped cilantro, plus a few leaves for garnish
1 to 2 tablespoons extra-virgin olive oil
Salt


Instructions:
In a 1 1/2-quart glass or stainless steel bowl, combine the scallops, lime juice, Casa Herradura Tequila and onion. Use enough juice to cover the fish and allow it to float freely; too little juice means unevenly "cooked" fish.
Cover and refrigerate for about 4 hours, until the scallops no longer look raw.
In a large bowl, mix together the tomatoes, green chilies, cilantro, olives and olive oil.
Stir in the first ingredients and season with salt, usually about 1/2 teaspoon.
Cover and refrigerate until serving time. Serve in a margarita or martini glass rimmed with coarse salt.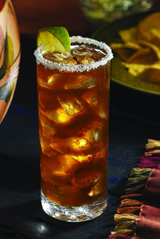 Herradura Charro Negro
2 oz. Herradura Anejo
4 oz. Cola
Squeeze of lime juice
In a tall glass with ice mix the Herradura and Cola. Squeeze with lime.
However, if you are not a tequila lover, here is a refreshing drink you'll love.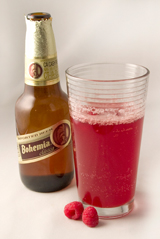 Raspberry Bohemia
Makes 6 drinks
1 1/2 cans (12 ounces each) frozen raspberry juice concentrate, thawed
3/4 cup freshly squeezed lime juice
6 bottles (12 ounces each) Bohemia beer, chilled
Optional garnish: whole raspberries

Cooking From the Heart: Alma Alcocer-Thomas – El Alma Café & Cantina

This Cinco de Mayo Celebrate with Some Tasty Recipes



Spanish Spaghetti by Mel's Meals

Sweeten Up the Holidays with Sweet Potato Pie

Cooking and Eating Guilt-Free Meals

Delicious Empanada Recipes from Muy Bueno Cookbook!

Take the Tequila Tour at Iron Cactus in North Austin

A Visit to the Four Point 0 Wine Cellars

Mel's Meals Helps Austin Eat Well

Junior Merino's Refreshing Drink Recipes

Polvorones, Capirotadas, and Piggies!

Popular Hispanic of the Month: Tito's Vodka – Living the Handmade Dream

It's All Good for Tom Gilliland Co-owner of Fonda San Miguel

Where's the Beef: A Summer Grilling Fiesta

Z Tequila: A Shot a Day, Just What the Doctor Ordered

The Fabulous Serafina Fabulous Grill

You're never too Young… to Cook Flan


Chipotle Shrimp Tacos by Executive Chef José Bossuet Martínez


Cantina Beach Trio of Ceviches

Tequila 101: Sombreros Off to Casa Herradura

Garlic Shrimp - Recipe courtesy of Executive Chef Jose Garces