Chipotle Shrimp Tacos by Executive Chef José Bossuet Martínez
Chipotle Shrimp Tacos by Executive Chef José Bossuet Martínez,
Fiesta Americana Grand Chapultepec in Mexico City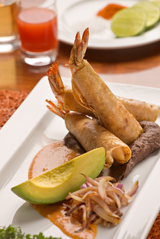 Serves eight people
Creamy chipotle salsa:
1 cup of chopped tomatillo (green tomato), seeds removed
1/3 cup of chopped white onion
1/2 teaspoon of diced garlic
1/4 cup of chipotle peppers in adobo sauce
1/2 cup of whipping cream

Shrimp tacos:
24 peeled and de-veined shrimp (use #15 jumbo shrimp)
2 pounds of taco-size tortillas (little tortillas or half of a regular tortilla)
Vegetable oil for frying
Salt and black pepper to taste
Toothpicks

Garnishes:
Avocado slices (2 ripe and firm avocados)
Diced cilantro (2 tablespoons)
Sautéed red onion (1 cup of red onion, 2 tablespoons olive oil, salt)

Side:
1 cup of refried black beans


To Prepare:
Boil water, and add the tomatillos, onion and garlic. Then, simmer for 20 minutes. Add the peppers and whipping cream, and then simmer for 10 additional minutes. Remove from heat and allow to cool, mixing all ingredients into a smooth and creamy sauce. Set aside until ready to serve. Reheat if desired.
Season the shrimp with salt and pepper. Fill the tortillas with shrimp to form tacos, and then use the toothpicks to hold them together. Fry until golden brown. Sauté the onion in olive oil, and season to taste the onion is ready when it appears to be translucent. Add garnishes and cream sauce to cooked tacos, and then put everything on the plate to serve.

Goes great with tequila!

Soleil Dishes up a Fresh, Flavorful and Diverse Menu Served with a View

This Cinco de Mayo Celebrate with Some Tasty Recipes



Cooking From the Heart: Alma Alcocer-Thomas – El Alma Café & Cantina


Spanish Spaghetti by Mel's Meals

Sweeten Up the Holidays with Sweet Potato Pie

Cooking and Eating Guilt-Free Meals

Delicious Empanada Recipes from Muy Bueno Cookbook!

Take the Tequila Tour at Iron Cactus in North Austin

A Visit to the Four Point 0 Wine Cellars

Mel's Meals Helps Austin Eat Well

Junior Merino's Refreshing Drink Recipes

Polvorones, Capirotadas, and Piggies!

Popular Hispanic of the Month: Tito's Vodka – Living the Handmade Dream

It's All Good for Tom Gilliland Co-owner of Fonda San Miguel

Where's the Beef: A Summer Grilling Fiesta

Z Tequila: A Shot a Day, Just What the Doctor Ordered

The Fabulous Serafina Fabulous Grill

You're never too Young… to Cook Flan


America, A Nation of Tequila Lovers


Cantina Beach Trio of Ceviches

Tequila 101: Sombreros Off to Casa Herradura

Garlic Shrimp - Recipe courtesy of Executive Chef Jose Garces