Junior Merino's Refreshing Drink Recipes
Dragonfly
(as served on board Celebrity Cruises in partnership with Junior Merino @ The Molecular Bar)
Ingredients:
1 1/2 oz Russian Standard Vodka
3/4 oz Cointreau
3/4 oz lime juice
1/2 oz Dainzu Hibiscus Syrup
1/2 oz pink grapefruit juice
1 oz dragon fruit juice
Instructions: Pour all of the ingredients into a mixing glass and ice. Shake and strain into a chilled martini glass. (At The Molecular Bar, we top this off with a splash of liquid nitrogen to keep the integrity of the cocktail) You can use dry ice for a similar effect. DO NOT SWALLOW THE DRY ICE!!!!!
Coming Up Roses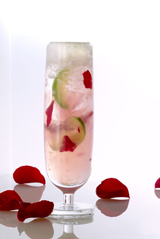 Ingredients:
3/6 lime
1/2 oz Dainzu Rose Syrup
3 Red Rose Petals
2 oz Bacardi Razz
2 oz Brut Champagne
Instructions: Muddle lime, syrup, and petals in a mixing glass. Add Bacardi Razz, ice and shake. In a tall glass, pour the champagne and the contents of the shaker.
Junior Merino is the best mixologist on the planet and is the founder of the fusion of the kitchen and the bar. He has revolutionized the mixology industry with his innovative concepts and unique philosophy. Between his commercial ventures, his consulting work with top spirit brands and restaurants around the world, his public appearances and teachings; and his unsolicited press, Junior's name and brand – The Liquid Chef, Inc. – have been seen by over 66 million people worldwide, making Junior's brand the most recognized in its field.

Cooking From the Heart: Alma Alcocer-Thomas – El Alma Café & Cantina

This Cinco de Mayo Celebrate with Some Tasty Recipes



Spanish Spaghetti by Mel's Meals

Sweeten Up the Holidays with Sweet Potato Pie

Cooking and Eating Guilt-Free Meals

Delicious Empanada Recipes from Muy Bueno Cookbook!

Take the Tequila Tour at Iron Cactus in North Austin

A Visit to the Four Point 0 Wine Cellars

Mel's Meals Helps Austin Eat Well

Polvorones, Capirotadas, and Piggies!

Popular Hispanic of the Month: Tito's Vodka – Living the Handmade Dream

It's All Good for Tom Gilliland Co-owner of Fonda San Miguel

Where's the Beef: A Summer Grilling Fiesta

Z Tequila: A Shot a Day, Just What the Doctor Ordered

The Fabulous Serafina Fabulous Grill

You're never too Young… to Cook Flan


America, A Nation of Tequila Lovers

Chipotle Shrimp Tacos by Executive Chef José Bossuet Martínez


Cantina Beach Trio of Ceviches

Tequila 101: Sombreros Off to Casa Herradura

Garlic Shrimp - Recipe courtesy of Executive Chef Jose Garces