The Fabulous Serafina Fabulous Grill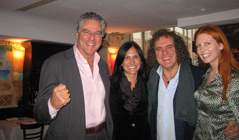 Bring your appetite and your eyes to celebrity hot spot Serafina Fabulous Grill in NYC! What better way to enjoy a Holiday Lunch than with a fabulous group of ladies lead by Serafina Public Relations Director Caroline Alexa McBride?
My new favorite restaurant a few steps away from my favorite NYC avenue, Madison Avenue. As we chatted about life, added by a little business, we were indulging in scrumptious tastings of everything from fresh amazing Specialty Pizza's, to Salads, to Pasta, to Fish, followed by the grand finale, amazing Desserts.
Coming from the foodie that I am, there was not one bite I did not enjoy. Aside from the food, what separates Serafina Fabulous Grill from other restaurants was the experience, what I believe dining should truly be about. I felt as if long time friends surrounded me. The ambiance is casual but inviting and a great spot for the whole family. Coming from a mom who loves to dine with the family this is very important to me. Clearly this is as well to owners Vittorio Assat and Fabio Granato who took the time to welcome us to their restaurant and visit at our table.
Now, onto my menu picks. Being the health & fitness guru that I am I would recommend any pizza on the menu with the whole wheat option they offer. The Goat Cheese Salad was perfectly delicious and the Filletto Di Salmon, served with lentil, organic baby spinach, and champagne mustard sauce, divine!
But, the grand finale was the dessert, OMG. Il Soufflé di Choccolato and Il Tiramisu. That is all I have to say as my mouth waters with the thought of oozing warm Nutela based chocolate sauce over a light fluffy chocolate cake. Oh yes, and the Tiramisu, light and decadent, just perfect.
The prices are moderate, and a full service bar for your enjoyment. A definite must go to in NYC. Buon appetitio!
Serafina Fabulous Grill located at 29 East 61th Street, NYC www.SERAFINARESTAURANT.COM

Soleil Dishes up a Fresh, Flavorful and Diverse Menu Served with a View

This Cinco de Mayo Celebrate with Some Tasty Recipes



Cooking From the Heart: Alma Alcocer-Thomas – El Alma Café & Cantina


Spanish Spaghetti by Mel's Meals

Sweeten Up the Holidays with Sweet Potato Pie

Cooking and Eating Guilt-Free Meals

Delicious Empanada Recipes from Muy Bueno Cookbook!

Take the Tequila Tour at Iron Cactus in North Austin

A Visit to the Four Point 0 Wine Cellars

Mel's Meals Helps Austin Eat Well

Junior Merino's Refreshing Drink Recipes

Polvorones, Capirotadas, and Piggies!

Popular Hispanic of the Month: Tito's Vodka – Living the Handmade Dream

It's All Good for Tom Gilliland Co-owner of Fonda San Miguel

Where's the Beef: A Summer Grilling Fiesta

Z Tequila: A Shot a Day, Just What the Doctor Ordered

You're never too Young… to Cook Flan


America, A Nation of Tequila Lovers

Chipotle Shrimp Tacos by Executive Chef José Bossuet Martínez


Cantina Beach Trio of Ceviches

Tequila 101: Sombreros Off to Casa Herradura

Garlic Shrimp - Recipe courtesy of Executive Chef Jose Garces