Popular Hispanic of the Month: Tito's Vodka – Living the Handmade Dream
Enter the breezeway outside The Moody Theatre in the new W Hotel in Austin, TX, and you will find yourself in a bar named after a man known by his nickname, and which serves his famous handmade vodka. Tito's Bar prides itself on its location and its view of the luminescent Austin city skyline.
With a modern, outdoor twist, around 400 bottles hang from the ceiling of the bar against a backdrop of what looks like a stage with spotlights. After being told that distilling Vodka in Texas was not only impossible, but illegal, having his own Vodka brand in the heart and capital of Texas is exactly where Tito's Vodka deserves to be.
Following a photo session with Tito, who stood with a Tito's Vodka branded Epiphone guitar next to this newly slated bar, we sat down with Mr. Burt Butler Beveridge Il, aka Tito, who shared with us the struggles and triumphs of owning a fast growing Vodka business.
Tito's Handmade Vodka is growing, and growing fast. How far outside of Texas are you distributing and how's the work load been on you?
You can go all over the country and find Tito's vodka. It's been wearing me out! I go out to the distillery and I've got all these projects going, along with the regular production and it's [production] like the U.S. Mail – you're sending it out all the time!
Have you always had an entrepreneurial spirit?
I grew up in a family of entrepreneurs and I've always liked it. My granddad was an entrepreneur and my dad owned his own trucking business. As a kid, I mowed 70 plus yards, including the lawns of 11 apartment complexes. I started young.
Where did the name Tito come from?
My real name is Bert Butler Beveridge II, after my granddad. My mother said that when she held me for the first time she just couldn't call me Bert, so she started to call me Bertito. I grew up in San Antonio and there we do that, you know like tres, cuatro, cinco, burrito (laughs). At home and with my close friends I was always just Tito.
Tell us about your experiences before your success with the Vodka business.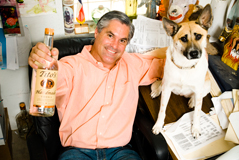 I worked in the oil business and was offered a chance to work in Venezuela. I jumped at the opportunity and ended up staying in both Venezuela and Colombia for three and a half years. While I was in Venezuela, I was responsible for the accounting as a field clerk. Eventually, I had 350 people under me. When I was in Colombia, I had encounters with the FARC and the ELN, which did not go so well! I learned a lot working with those crews; they made things happen out of the limited resources we had available to us.
I finally returned to Texas after three and a half years and started a seismic drilling company. However, after Desert Storm, the petroleum business did not fare well for me in Houston. So, I thought it best for me to move to Austin where everything was a lot more easy going and peaceful. When I moved to Austin, I worked with an environmental engineering company. I was going to landfills and dumps and I hated it! I was doing coring, soil sampling, working with drill crews, sampling ground water, and all of the field work for the environmental company. When I got tired of doing that, I worked as a mortgage broker. That's when rates went up a couple of points and killed my business.

Soleil Dishes up a Fresh, Flavorful and Diverse Menu Served with a View

This Cinco de Mayo Celebrate with Some Tasty Recipes



Cooking From the Heart: Alma Alcocer-Thomas – El Alma Café & Cantina


Spanish Spaghetti by Mel's Meals

Sweeten Up the Holidays with Sweet Potato Pie

Cooking and Eating Guilt-Free Meals

Delicious Empanada Recipes from Muy Bueno Cookbook!

Take the Tequila Tour at Iron Cactus in North Austin

A Visit to the Four Point 0 Wine Cellars

Mel's Meals Helps Austin Eat Well

Junior Merino's Refreshing Drink Recipes

Polvorones, Capirotadas, and Piggies!

It's All Good for Tom Gilliland Co-owner of Fonda San Miguel

Where's the Beef: A Summer Grilling Fiesta

Z Tequila: A Shot a Day, Just What the Doctor Ordered

The Fabulous Serafina Fabulous Grill

You're never too Young… to Cook Flan


America, A Nation of Tequila Lovers

Chipotle Shrimp Tacos by Executive Chef José Bossuet Martínez


Cantina Beach Trio of Ceviches

Tequila 101: Sombreros Off to Casa Herradura

Garlic Shrimp - Recipe courtesy of Executive Chef Jose Garces