Polvorones, Capirotadas, and Piggies!
Looking for a way to sweeten up your family treats? Here are a few recipes from Pati Jinich that are sure to be a hit! Pati's Mexican Table is a culinary program which consists of a series of cooking demonstrations, tasting dinners and workshops. Through this program Pati brings the viewers into the fascinating world of Mexican cuisine. She helps familiarize people with its ingredients and cooking techniques, with a sprinkling of culture, history and traditions.
Don't miss Mexican Table on your local public television station and be sure to check out Pati's blog for more delicious Mexican recipes.
RECIPES:
MEXICAN WEDDING COOKIES
Polvorones
Makes about 30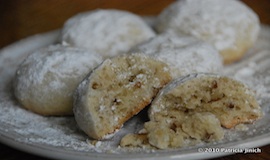 INGREDIENTS
2 cups all-purpose flour
1/8 teaspoon salt
1/2 cup cold unsalted butter, cut into chunks
1/2 cup vegetable shortening
1/2 cup pecans, grounded or finely chopped
3/4 cup confectioners sugar, plus more to dust
1egg

TO PREPARE
Preheat the oven to 350 degrees.

Using a food processor, blender, nut mill or knife, finely chop the pecans. Add the powdered sugar to the processor or blender (if that's what you used) and grind or chop. If done by hand, just mix together.

Mix the flour and salt together in a large mixing bowl. Drop in the chunks of butter and the vegetable shortening in teaspoon amounts. Begin to mix with your hands, until the butter and vegetable shortening are mixed in with the flour and salt. The mixture will turn into a coarse dough, with chunks of butter and shortening mixed throughout.

Add in the sugar and pecan mixture and work it all in. Crack the egg into the mixture thoroughly combine, using your hands. In less than a minute, the dough should be soft and malleable enough to be turned into a ball. Don't knead more than necessary, you just want it to come together into a homogeneous mass.

Butter a large cookie sheet. One by one, make small balls of dough with the palms of your hands. The dough ball should be between 1 and 1 1/2 inches wide. Place them on a baking sheet with about 1 inch in between the dough balls. Bake them for about 15 to 16 minutes, until they have a golden brown color.
Dust extra confectioners' sugar over the top of the cookies and eat and serve.

Delicious Empanada Recipes from Muy Bueno Cookbook!

Feeling at Home with Amelia Morán Ceja of Ceja Vineyards

Vino es Vida with Ramon Sandoval

What Journey Has Your Food Been On

Goya Foods Unveils New State-of-the-Art Distribution Center in Georgia

This Cinco de Mayo Celebrate with Some Tasty Recipes

Honey – Natural Energy for the New School Year!

Cooking From the Heart: Alma Alcocer-Thomas – El Alma Café & Cantina


Spanish Spaghetti by Mel's Meals

Cooking and Eating Guilt-Free Meals

Mel's Meals Helps Austin Eat Well


Chipotle Shrimp Tacos by Executive Chef José Bossuet Martínez

Cantina Beach Trio of Ceviches