Spanish Spaghetti by Mel's Meals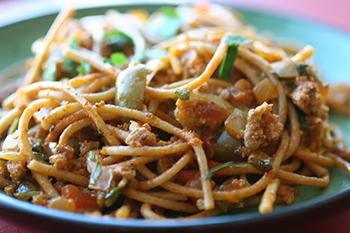 Ingredients:
8 oz. spaghetti, uncooked
1T olive oil
2 c onion, chopped
2 t garlic, minced
1 t oregano, dried
½ t garlic powder
¼ t crushed red pepper
¼ t black pepper
8 oz ground turkey
1 2/3 c Marinara, home made
2 oz. green olives sliced, with pimento
¼ c white wine
¼ c chopped fresh parsley
Directions:
1. Cook pasta
2. Heat a large skillet over medium-high heat. Add oil to pan; swirl to coat.
3. Add onion to pan; sauté 4 minutes or until tender. Add garlic; sauté 1 minute. Stir in oregano, garlic powder, red pepper, black pepper. Add ground turkey; cook 5 minutes or until turkey is browned.
4. Stir in marinara sauce, olives, cooking wine and 3T parsley; bring to a boil.
5. Reduce heat and simmer for 15 minutes
6. Add spaghetti to sauce mixture.
7. Cook 2 minutes or until thoroughly heated.
8. Garnish packaged portions with remaining parsley

Delicious Empanada Recipes from Muy Bueno Cookbook!

Feeling at Home with Amelia Morán Ceja of Ceja Vineyards

Vino es Vida with Ramon Sandoval

What Journey Has Your Food Been On

Goya Foods Unveils New State-of-the-Art Distribution Center in Georgia

This Cinco de Mayo Celebrate with Some Tasty Recipes

Honey – Natural Energy for the New School Year!

Cooking From the Heart: Alma Alcocer-Thomas – El Alma Café & Cantina


Cooking and Eating Guilt-Free Meals

Mel's Meals Helps Austin Eat Well

Polvorones, Capirotadas, and Piggies!


Chipotle Shrimp Tacos by Executive Chef José Bossuet Martínez

Cantina Beach Trio of Ceviches