Cooking From the Heart: Alma Alcocer-Thomas – El Alma Café & Cantina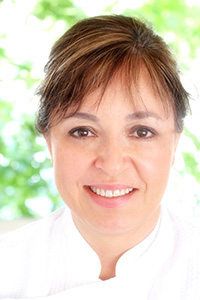 As far as she can remember, Alma Alcocer always wanted to cook. She attended the Cordon Bleu culinary school in France right after high school. Her family was always very supportive, and she spent a lot of time in the kitchen. Although her mother didn't cook, both of her grandmothers did. She loves food, and she especially loves the process of creating something.
Back then, no one she knew went to culinary school. Now it's popular, and people see it as a rock star life. "It's a very physically demanding job," she says, "and you're always having to reinvent yourself." Business wise, being a restaurant owner is one of the most challenging ways to make a living. "When you are starting out your career, you are making very little money, and it's very competitive." To make a restaurant succeed, especially in Austin, you have to provide more than good food and service. It's also about having a good location, good PR, and providing entertaining.
Originally from Mexico City, Alma has lived in Austin for 22 years. When she first moved here, she started an independent catering business. She was raising a baby at the time, but she always had the fortunate moral support of her husband. From there, she went on to work for David Garrido at Jeffrey's Restaurant and Bar, well known for its fine dining, where she learned everything from managing the appetizer station to running the kitchen, eventually creating the menu.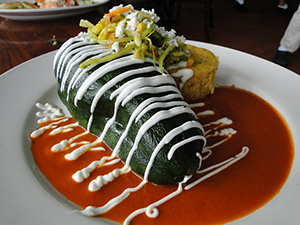 While she gathered valuable experience at Jeffrey's, she wasn't cooking the kind of cuisine she was interested in. "The only spice at Jeffrey's was the chili pepper," she says. After David left to start his own restaurant, Garrido's, Alma also left and moved on as a chef at Fonda San Miguel, where she was able to cook interior Mexican fare. But she still felt her creativity was constrained, as she was limited to a very specific style of traditional cooking.
Alma also had the opportunity to open TNT Tacos and Tequila on West 5th. "It wasn't for me," she says, "but it helped me understand the process of launching a restaurant from scratch. She left TNT Tacos and Tequila to work for Carlos Rivero, owner of El Chile, in the same building where El Alma Café & Cantina currently resides. "El Chile wasn't happening at that location," she said. "We needed to create something that the location really called for." The location certainly is prime, on Barton Springs, just east of South Lamar. Although the building has gone through changes over the years, it still retains the original staircase and large windows with a view of the entrance to Town Lake trail across the street.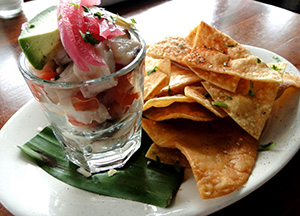 Alma's cuisine at El Alma Café & Cantina is inspired by food from Mexico City, but the menu is also influenced by Austin, as she has lived here for nearly two decades. She'd never heard of queso before moving to Austin. "You can't have a restaurant without queso in Austin," she says. But what makes El Alma Café & Cantina unique is that it's not Tex-Mex, and it's not interior. It's Alma's own personal take on Mexico City style cuisine. "There is nothing on this menu I don't really like – the food is fun and uncomplicated," she says.
To start your own business – your own restaurant – you can't be afraid of taking risks," Alma explains. "You keep hearing about how most restaurants fail, but some are successful. You have to be optimistic."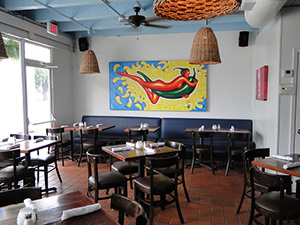 Alma is a big supporter of all things local – whether it's supporting charities or locally farmed food. Recently, she gave a cooking class at an elementary school in East Austin. She expected a small classroom and was met with 400 people in the cafeteria. Even though teaching a class in a school has nothing to do with her business, bringing healthy foods to schools is a satisfying experience. She is challenging their experience with food – most families have never seen a butternut squash. She's worked with Communities in Schools and the Sustainable Food Center.
"Austin is unique," she says, "and people here appreciate the local food experience." At home, Alma and her husband have a vegetable garden, and they also preserved tomatoes and squash. At Alma Café y Cantina, she also includes local foods in all the specials. But as a Mexican chef, Alma says, "It's my instinct to cook seasonal – that is the tradition." One thing for sure – Alma cooks from the heart, and from her soul.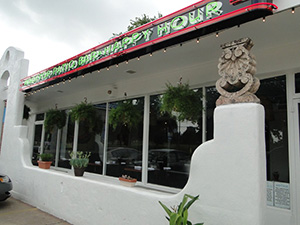 El Alma Cafe y Cantina
1025 Barton Springs Rd. 609-8923 Sunday-Monday, 11am-9pm; Tuesday-Saturday, 11am-10pm Happy Hour: Monday-Friday, 3-7pm; Saturday-Sunday, 3-6pm
Want to start your own business?
For women, it can sometimes be a bit daunting to step into the world of entrepreneurs and launching your own business. But there are various support groups, resources, and networks to tap into that will help you get started. Whether you want to start a business organically by the bootstraps, or write a business plan to help you get investors, there are people and organizations out there you can connect with – you aren't alone.
www.bigaustin.org/womens_business_center.htm
www.lbjfireacademy.org/department/small-and-minority-business

Delicious Empanada Recipes from Muy Bueno Cookbook!

Feeling at Home with Amelia Morán Ceja of Ceja Vineyards

Vino es Vida with Ramon Sandoval

What Journey Has Your Food Been On

Goya Foods Unveils New State-of-the-Art Distribution Center in Georgia

This Cinco de Mayo Celebrate with Some Tasty Recipes

Honey – Natural Energy for the New School Year!


Spanish Spaghetti by Mel's Meals

Cooking and Eating Guilt-Free Meals

Mel's Meals Helps Austin Eat Well

Polvorones, Capirotadas, and Piggies!


Chipotle Shrimp Tacos by Executive Chef José Bossuet Martínez

Cantina Beach Trio of Ceviches