Honey – Natural Energy for the New School Year!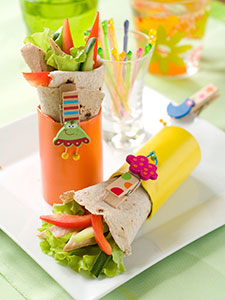 Veggie Wraps with Honey- Avocado Dressing
Makes 4 wraps
Ingredients:
2 tbsp honey
½ of 1 avocado, chopped
Juice of 1 lemon
2 tsp fresh minced garlic
2 tbsp light mayonnaise
4 whole wheat tortillas
1 sweet red pepper, sliced into strips
½ of 1 cucumber, thinly sliced
1 large shredded carrot
1 tomato, sliced
¼ of 1 red onion, sliced
3 cups of chopped romaine lettuce
Salt
Preparation:
In a blender, combine honey, avocado, lemon juice, garlic and mayonnaise. Blend until smooth. Lay the tortillas flat and spread the honey- avocado dressing evenly on each one. Layer the veggies evenly in the center of each. Sprinkle each with a pinch of salt, roll the tortillas and serve.
Cucumber Turkey Stackers with Avocado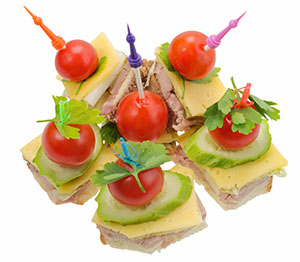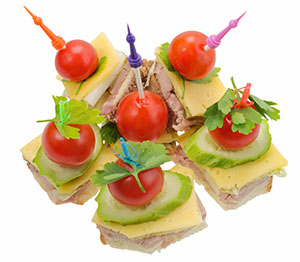 Makes 4 stackers
Ingredients:
2 tbsp honey
½ of 1 avocado
Juice of 1 lemon
2 tsp minced garlic
¼ cup chopped cilantro
2 tbsp light mayonnaise
8 slices of cucumber rounds
2 slices of turkey cold cut
2 slices of Swiss cheese or cheese of choice
Preparation:
In a blender combine honey, avocado, lemon juice, garlic, cilantro and mayonnaise. Blend until smooth and set aside. Cut turkey slices and cheese slices into fours. Spread each cucumber round with the honey avocado spread, as if it were sandwich bread. Finally, layer four cucumber rounds evenly with the turkey and cheese slices. Top each off with another cucumber round and serve.
Honey Glazed Kiwi-Berry Pancake Sandwich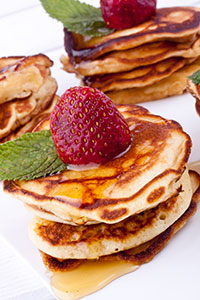 Makes 3 sandwiches
Ingredients:
1 tbsp honey
6 mini whole grain cooked pancakes
1 kiwi, peeled and cut into round slices
3 strawberries, cut into round slices
1 small box of golden raisins
Preparation:
Take three of the mini whole grain pancakes and place on a dish. Next, stack each one with a slice of kiwi, another pancake and top off with a slice of strawberry. Once you're done building your three pancake sandwiches, insert a toothpick through each one to hold them together. Set aside.
In a small saucepan, add the honey and raisins and heat them over medium heat, stirring slowly until they blend together to form a glaze. Remove the glaze from heat and allow to cool. Drizzle each fruit sandwich with the glaze and serve.
Stuffed Peppers with Red Quinoa, Chickpeas & Butternut Squash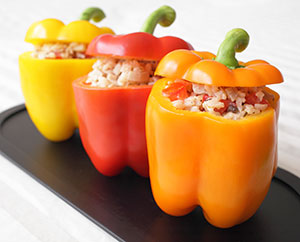 Makes 4 peppers
Ingredients:
1 tbsp honey
4 large bell peppers, pitted and seeded
1 small red onion
3 garlic cloves
1 tbsp vegetable oil
2 cups quinoa
2 cups butternut squash, chopped
1 cup carrots, sliced
2 cans of chickpeas, rinsed
1 bunch of fresh cilantro, chopped
Salt & pepper to taste
Preparation:
Prepare quinoa per package and set aside once ready. Chop onion and crush garlic. Place them in a large skillet or frying pan deep enough to hold all of the ingredients. Fry over medium heat until soft and light golden brown in color. Next, add the butternut squash and carrots. Let simmer for 20 minutes or until both are tender.
Add beans and allow them to heat through for 2-3 minutes. Stir in the honey and add cooked quinoa. Add cilantro and salt and pepper to taste and mix until incorporated. Remove from heat and allow honey stuffing to cool. While it cools, carefully slice off the top of each bell pepper. Once the honey stuffing is cool enough, stuff each pitted pepper evenly and top them all off with their respective red pepper "hats". Enjoy!
*Quinoa is yummy warm or cold.
**You can use celery sticks as edible spoons to eat the filling

Delicious Empanada Recipes from Muy Bueno Cookbook!

Feeling at Home with Amelia Morán Ceja of Ceja Vineyards

Vino es Vida with Ramon Sandoval

What Journey Has Your Food Been On

Goya Foods Unveils New State-of-the-Art Distribution Center in Georgia

This Cinco de Mayo Celebrate with Some Tasty Recipes

Cooking From the Heart: Alma Alcocer-Thomas – El Alma Café & Cantina


Spanish Spaghetti by Mel's Meals

Cooking and Eating Guilt-Free Meals

Mel's Meals Helps Austin Eat Well

Polvorones, Capirotadas, and Piggies!


Chipotle Shrimp Tacos by Executive Chef José Bossuet Martínez

Cantina Beach Trio of Ceviches