Feeling at Home with Amelia Morán Ceja of Ceja Vineyards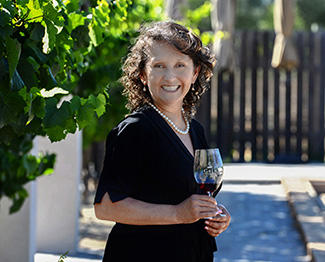 Whoever thought of popcorn and chardonnay? She did.
Whoever thought a 12-year old Hispanic girl, brought to the states and working the fields, would wind up owning her own award-winning vineyard? She did.
Who looked at society and all of its fossilized convention and turned her heel on it? She did.
Amelia Ceja has written her own book of rules and has set her own standard, and the results speak for themselves. Ceja Vineyard has brought home a number of awards for their fabulous wines, they occupy over 100 acres in the Carneros region of Napa Valley, and are about to break ground on a new multi-million dollar facility. Despite the continued successes, Amelia Ceja is a caring, humble woman who has brought so much more than good wine to this world.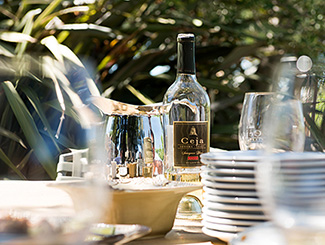 We arrived in the early afternoon on a hot June day. I was surprised to find that what I thought was a single-story outbuilding was, indeed, their main facility. What came off initially as small very quickly turned to quaint, and inviting. I'd never been to a vineyard where the sampling bar is populated with more friends than clients. Where the merchandising is minimized and the atmosphere is splendid. The breeze flows in through open windows, the sun slides through the wind-blown trees. Where folks bring gifts – today it was chorizo – and the discussion immediately turns to which wine would work best with it.
I had some information on her background; primarily that she was born in Mexico and moved to the states when she was 12 to work with her family in the vineyards. When I walked in she was the first person I saw, behind the sampling bar pouring a glass of wine. A beautiful smile, bright eyes, a black dress highlighted with a string of pearls. It became evident that the inviting nature of this little winery was born from the heart and soul of its matron, and what was supposed to be an hour long photo shoot turned into an entire afternoon of food, wine, and family.
The surprises didn't stop there. After the introductions we got to sample her wines. I started with a Pinot Grigio, moved easily into their chardonnay, then to the Cabernet and Merlot. It was clear to me that the accolades for Ceja Winery were entirely deserved – their product is first rate.
Then things just got better as Amelia stepped from behind the bar to announce that lunch was almost ready. Not only a world-class winemaker but a chef, Amelia's wine tasting room is just a step away from the kitchen, again making this lovely place less of a winery and more like a home. After a brief effort to wipe down the outside table, set places, and deliver the goods, five of us sat down to a ground-breaking pairing of traditional Mexican dishes and wine.
Beans, corn tortillas, and…Cabernet? You bet. Salsa picante, pulled pork, and Chardonnay? Yes and yes.
The wine flowed as we talked through the breezy afternoon. While Amelia's passion for her craft was evident, her love and devotion of family came through as her driving force. So much so that, having arrived as strangers, she made us feel like family long before we said goodbye.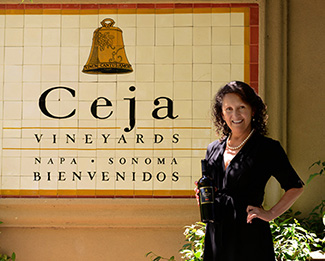 Having established Ceja as a family business, it now continues to run with the next generation stepping into more important roles.
And with an entirely new facility on the horizon, the Ceja Winery is about to take a big leap forward in the California wine industry.
But as it does I expect they'll never lose what makes them so special – carrying the love of family through their product and to every person who crosses their threshold.
For more information on Amelia Morán Ceja & Ceja Vineyards visit: www.cejavineyards.com
For more information about Travel photographer Priscilla Zubizarreta Linnemann visit:

Delicious Empanada Recipes from Muy Bueno Cookbook!

Vino es Vida with Ramon Sandoval

What Journey Has Your Food Been On

Goya Foods Unveils New State-of-the-Art Distribution Center in Georgia

This Cinco de Mayo Celebrate with Some Tasty Recipes

Honey – Natural Energy for the New School Year!

Cooking From the Heart: Alma Alcocer-Thomas – El Alma Café & Cantina


Spanish Spaghetti by Mel's Meals

Cooking and Eating Guilt-Free Meals

Mel's Meals Helps Austin Eat Well

Polvorones, Capirotadas, and Piggies!


Chipotle Shrimp Tacos by Executive Chef José Bossuet Martínez

Cantina Beach Trio of Ceviches