Vino es Vida with Ramon Sandoval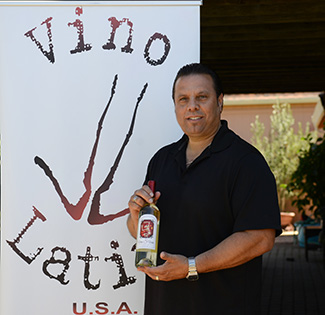 Wine is life. That's a great way to start a conversation.
Ramon Sandoval is my kind of guy. His career is wine, but he didn't know a thing about wine just three years ago. Like so many, once he had his first, real taste of good wine his life was never the same.
And now it's his mission to bring that same experience to the Hispanic community. Through his organization Vino with Amigos, Ramon encourages folks to ask questions and try new things. That it's ok to not know anything about wine and it's never too late to learn.
This works well with his career as a wine broker. Ramon's other brainchild, Vino Latino, brings Hispanic winemakers to the forefront of an industry that has always seen the Hispanic population as field workers, not as winemakers. With the growth of the Hispanic community it stands to reason that more of your wine entrepreneurs would be Hispanic, especially with their inside knowledge of the industry. And as Ramon will show you, this new breed of vintners really know what they're doing.
He was proud to show us his own label as well; Vino es Vida, a moscato that we'll be sampling after we land back home in Texas.
We had a great visit with Ramon as we talked about his career and how his life has so dramatically changed. His love of the industry and his determination show through in his affable demeanor and easy approach. I expect we'll see great things from Ramon as he continues his quest to bring the love of wine to every person he meets.
For more information on Ramon Sandoval and Vino Latino visit: Vino Latino USA
For more information about Travel photographer Priscilla Zubizarreta Linnemann visit:

Delicious Empanada Recipes from Muy Bueno Cookbook!

Feeling at Home with Amelia Morán Ceja of Ceja Vineyards

What Journey Has Your Food Been On

Goya Foods Unveils New State-of-the-Art Distribution Center in Georgia

This Cinco de Mayo Celebrate with Some Tasty Recipes

Honey – Natural Energy for the New School Year!

Cooking From the Heart: Alma Alcocer-Thomas – El Alma Café & Cantina


Spanish Spaghetti by Mel's Meals

Cooking and Eating Guilt-Free Meals

Mel's Meals Helps Austin Eat Well

Polvorones, Capirotadas, and Piggies!


Chipotle Shrimp Tacos by Executive Chef José Bossuet Martínez

Cantina Beach Trio of Ceviches