Salvadoran American Author Give Voice to the Voiceless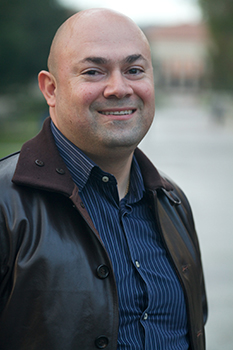 California-born author Randy Jurado Ertll was deported to El Salvador, along with his mother, as an infant. At the time, his mother had two choices: leave him behind or take him to Central America with her.
This injustice set the stage for the activist's lifelong passion of being a voice for the voiceless not only through literature and writing but through activism.
Ertll was born in the early 1970s in Los Angeles to a Salvadoran woman who spent long and difficult days working at a sweat shop.
She was deported back to her native country after it was discovered she was an undocumented immigrant with her young son as collateral damage.
He did not return back to the United States until he was five years old --- and to his bewilderment --- he did not return to much better circumstances.
His book Hope in Times of Darkness A Salvadoran American Experience casts a light on what it means to be a United States citizen of Salvadoran descent. His work touches on social justice issues that affected him throughout his life including the Los Angeles riots, and uses his life's story, to motivate and inspire youth to make better lives for themselves.
He takes his cause to a level beyond by speaking at institutions of higher learning about his experiences and the importance of education. His next speaking event --- The Role of Writers in Our Society: What Do We Really Value – Material Wealth or Knowledge --- is scheduled at 7 p.m. on Thursday, Nov. 5, in the Donald Wright Auditorium at the Pasadena Public Library-Central.
The Occidental College Alumni Seal Award winner will tackle issues such as whether social change can be achieved from the written word and what price writers must pay to practice their freedom of speech.
Ertll has also authored The life of an activist: In the Frontlines 24/7, Lives and Times of El Cipitio, and his latest book released Nov. 1, In the Struggle: Chronicles.
The Los Angeles resident participated in a Q & A with Popular Hispanics on the day his latest publication was released. Here are his responses edited down for spacing purposes.
PH: What led you on the path of writing?
Ertll: I think that it was always in me because since I was a kid I loved reading and writing. In high school I wrote some articles for the school newspaper and opinion pieces for the Occidental College newspaper. Once I graduated in 1996 that was the first time I was published in La Opinion and that's when the bug bit me …
In 2009-10 I had the idea that I could write a book and I started writing Hope in Times of Darkness…
I think Salvadoran Americans are the most invisible when it comes to literature because people don't want to accept we write our own books. There are foreign born classic writers of El Salvador. The whole focus has been writers from over there writing about El Salvador or Central America and some that immigrated here, write about their experience of the (1980s Salvadoran) Civil War and I think what I wanted to do is move beyond the Civil War …
I think that literature has to reflect our reality here. Also because there are now over 2 million of us so we have to talk about our reality here and the reality over there. Read more (next page).

Spotlight on anti-bullying advocate Lizzie Velasquez

Mobile Market Changes How Things Work in Mexico

C2; Disrupting Commerce, Bolstering Creativity

21st Century Literacy Skills: It's Fundamental!

Dropping Out…A National Dilemma


Facebook Advertising Coming From a Business Near You

Apple Unveils Apple Watch—Apple's Most Personal Device Ever


Hispanics Leading La Vida Wired

Expectations high for next Xbox

Original Popular Hispanics T-Shirt

Google working on a media player

Austin Outdoor Design: Where Design Meets Character


Bag It: New Film Shows the Dangers of Plastic to the Earth and Our Bodies

Should you Consider Tax Swaps in your Investment Portfolio?