Bag It: New Film Shows the Dangers of Plastic to the Earth and Our Bodies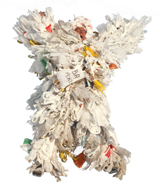 Last year, Mexico City made a move to ban plastic bags as part of its "Plan Verde." But this isn't a new concept. For many generations, Mexicans have been using reusable mesh bags for their groceries in the mercados – the traditional markets. These bags have now become fashionable, imprinted with images of the Virgen de Guadalupe, lotería cards, or Frida Kahlo.
About five years ago, I started to develop disdain for plastic bags when they took over my pantry akin to The Blob, oozing out of every nook and cranny. I started requesting paper bags until those, too, began forming massive piles, although I did find creative uses for paper bags: alternative to wrapping paper, biodegradable garbage bag, and table top protectors during craft projects involving paint and glue.
Then it dawned on me how easy and responsible it was to purchase reusable bags, thanks to environmentally friendly markets conveniently selling them in the aisles for anywhere from 99 cents to a few dollars. Since 2008, I've fought the plastic bag monster into submission, and the few that have managed to invade my house have been re-assigned as handy travel bags to keep dusty shoes, leaky toiletries, and dirty laundry separate from my clean clothes.
But the plastic monster is sneaky. The soon-to-be released independent documentary film, Bag It, presents an eye-opening, in-depth, and even humorous perspective on how plastic has taken over our lives. It doesn't simply come in the form of grocery bags. It's in Tupperware, to-go boxes, fast food containers, drinking water bottles, personal and cleaning product bottles, condiment bottles, toothbrushes and razors, and even in the lining of aluminum, tin, and paper containers, many of which contain the harmful chemical BPA (bisphenol A).
Director Suzan Beraza and actor/narrator Jeb Berrier consulted with scientists to present the facts, revealing that recent studies have linked BPA to breast and prostate cancer, enlargement of the prostate, early onset of puberty, hyperactivity in children, obesity, heart disease, and diabetes. And that's not all. Plastic – in the form of phthalates – is an oily substance used in cosmetics, perfumes, and many beauty products, and it's conveniently labeled as "fragrance." Studies have found low levels of phthalates to cause infertility, lower sperm count, and smaller penis size.
If you find yourself either laughing or shocked at that last statement, it's because Suzan and Jeb set out to make a movie that was both educational and entertaining, and as widely accessible as possible to a diverse audience. But they also wanted to make people aware of the truth – that use of plastic has grown to insane and illogical proportions on our planet Earth, and it's taking a serious and dangerous toll on the health of our bodies, even as embryos forming in the womb. Even though they tell the story of plastics with a humorous touch, it's not a funny issue.
The documentary is presented in the form of a story, following the adventures of Jeb Berrier as he begins to discover the hazards of plastic. He starts narrating the film by saying, "The story begins with a single plastic bag. One bag that I got from my local grocery store to carry home a single container of peach yogurt." His enlightenment begins when the town he lives in, Telluride, challenges the city of Aspen to see who could reduce the use of plastic bags the most.
"I'm an average guy," says Jeb. "I'm not what you consider a tree-hugger. I try to be informed, I try to do the right thing. But I find that it can all be a bit overwhelming at times."
It truly is overwhelming. Beyond reducing my use of falsely disposable bags, how do I avoid all that plastic packaging that comes with just about everything I buy? How do I buy cleaning supplies and personal care products that don't come in plastic bottles? How do I bring leftovers home from a restaurant?
It's ironic that the plastic items we use for such a short amount of time, once thrown away, will outlive us – lasting forever in some cases. In the film Jeb states, "Just because plastic is disposable, it doesn't mean it just goes away. After all, where is away? There is no away. It actually sticks around for a really long time. […] That got me thinking about all the endless products made out of plastic. A lot of them designed to be used for less than one day. Heck, less than 15 minutes even." Plastic debris has found its way to the middle of our oceans, and even to the most remote parts of the earth on desert lands.
But it doesn't have to be overwhelming. On the film's official website, www.BagItMovie.com, there are great resources on educating yourself about the issue, getting involved with organizations, and learning what you can do to take action and make your life less plastic.
The top five tips are:
Carry reusable shopping bags
Give up bottled water
Say no to plastic produce bags
Carry a stainless steel travel mug at all times for coffee and other drinks
Buy from bulk bins as much as possible and don't forget to bring your own containers or cloth bags
When I interviewed Suzan, she emphasized that it makes a major difference if we can all collectively work together and start with these simple actions. "How far you want to go from there," she says, "depends on the difference you want to make."
As Hispanics and Latinos, we should take pride in our roots and learn from the examples set by shoppers in the Latin American markets. They may not have carried reusable bags because it was the "in" thing to do or because they were environmentally conscious – but because they were living their life in a more simple way. During my interview with Suzan, she said, "How did my grandparents do it? They used really simple products." We don't have to turn back the time too long – even as recently as the early 1970s, life was considerably less plastic. It's not difficult. Start small. Think big. Take action. Spread the word. Is there too much plastic in your life? Bag it.
With the holidays just ahead, consider purchasing eco-friendly and plastic-free gifts for friends and family, or for yourself as a New Year's resolution. If you're in Telluride, CO, visit CashmereRED to purchase Bag It DVDs, reusable bags, Kleen Canteens (BPA free), coffee mugs, and more. Or visit the official movie website on http://www.bagitmovie.com/.
Bag It Intro from Suzan Beraza on Vimeo.

Salvadoran American Author Give Voice to the Voiceless

Spotlight on anti-bullying advocate Lizzie Velasquez

Mobile Market Changes How Things Work in Mexico

C2; Disrupting Commerce, Bolstering Creativity

21st Century Literacy Skills: It's Fundamental!

Dropping Out…A National Dilemma


Facebook Advertising Coming From a Business Near You

Apple Unveils Apple Watch—Apple's Most Personal Device Ever


Hispanics Leading La Vida Wired

Expectations high for next Xbox

Original Popular Hispanics T-Shirt

Google working on a media player

Austin Outdoor Design: Where Design Meets Character


Should you Consider Tax Swaps in your Investment Portfolio?