Austin Outdoor Design: Where Design Meets Character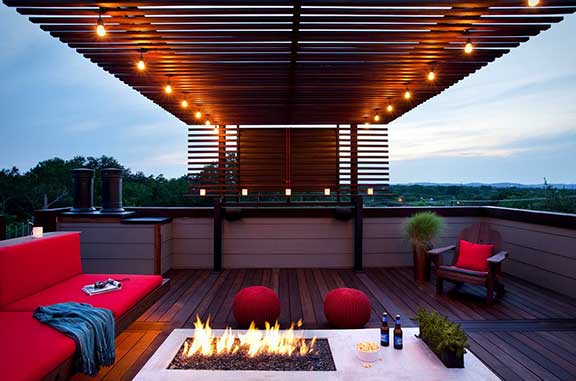 November Marks Five Years of Success
A business bold enough to open in a time when so many closed their doors must be armed with a great vision, attention to detail and be ready to perform beyond expectations. And those were precisely the high standards Jose Roberto Corea and John David Fitzpatrick had in mind when they launched Austin Outdoor Design (AOD) in 2007. November 7 marks the celebration of five successful years designing and creating for residential and commercial clientele in and around Austin. It was while working on a personal project for Fitzpatrick's Lakeway home that the two men realized a shared passion for creating outdoor spaces, and AOD was born.
As the real estate market slowed, they recognized a growing trend: clients wanted to invest in the home they were in and increase the livable areas. A natural solution has produced fantastic results: extending interior spaces into the exterior; creating outdoor living areas. "We feel that design is a part of everyday life; it touches our lives in more ways than we are aware of," says Corea. "It inspires, it influences, it molds, it feels and constantly changes." The team approaches every project as unique and each space as its own character. The AOD signature is to introduce a variety of elements – fire, water, light, texture, and color – to create a design that will interact with people through their senses. A recent commercial project involved updating the Grove apartments on Manchaca in South Austin. Corea and Fitzpatrick rebranded the complex, changed key community spaces, added landscape and created stunning, purposeful surroundings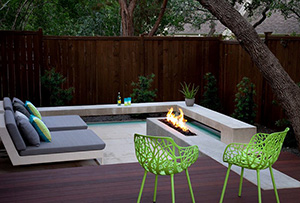 for the residents.
As they continue to experience tremendous growth, what distinguishes AOD is a commitment to design perfection through relationships - conversation, feedback and collaboration with the client. The past five years are only the beginning. The plan is to ultimately become an all-encompassing design firm, not limited to any particular sector of the market. In the meantime, Corea and Fitzpatrick stay very busy, delighting clients and literally transforming the outdoors into functional, designed, livable spaces.
Austin Outdoor Design AOD strives to understand their clients' needs in order to deliver an exterior space that expresses the client's personality and lifestyle. Their design style is contemporary yet timeless, with importance and pride placed in the quality of their product and honesty in materials and construction methods. If you are looking for an outdoor design that blurs the transitions between interior and exterior while maximizing its beauty and usability, then AOD is a perfect fit for your design needs. For more information on Austin Outdoor Design, please visit www.austinoutdoordesign.com

Salvadoran American Author Give Voice to the Voiceless

Spotlight on anti-bullying advocate Lizzie Velasquez

Mobile Market Changes How Things Work in Mexico

C2; Disrupting Commerce, Bolstering Creativity

21st Century Literacy Skills: It's Fundamental!

Dropping Out…A National Dilemma


Facebook Advertising Coming From a Business Near You

Apple Unveils Apple Watch—Apple's Most Personal Device Ever


Hispanics Leading La Vida Wired

Expectations high for next Xbox

Original Popular Hispanics T-Shirt

Google working on a media player


Bag It: New Film Shows the Dangers of Plastic to the Earth and Our Bodies

Should you Consider Tax Swaps in your Investment Portfolio?