Apple Unveils Apple Watch—Apple's Most Personal Device Ever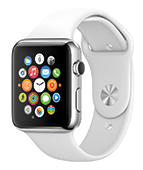 CUPERTINO, California—September 9, 2014—Apple® today unveiled Apple Watch™—its most personal device ever—featuring revolutionary new technologies and a pioneering user interface with a beautiful design that honors the rich tradition of precision watchmaking. Apple Watch introduces a specially designed and engineered Digital Crown that provides an innovative way to scroll, zoom and navigate. The Digital Crown is Apple's most revolutionary navigation tool since the iPod® Click Wheel and iPhone® Multi-Touch™. Apple Watch will enable you to communicate in new ways right from your wrist by sending and receiving messages, answering calls to your iPhone, and with Digital Touch, sending something as personal as your own heartbeat. Apple Watch also introduces comprehensive health and fitness apps that can help people lead healthier lives. Apple Watch is available in three distinct collections—Apple Watch, Apple Watch Sport and Apple Watch Edition.

"Apple introduced the world to several category-defining products, the Mac, iPod, iPhone and iPad," said Tim Cook, Apple's CEO. "And once again Apple is poised to captivate the world with a revolutionary product that can enrich people's lives. It's the most personal product we've ever made."

"With Apple Watch, we've developed multiple technologies and an entirely new user interface specifically for a device that's designed to be worn. It blurs the boundary between physical object and user interface," said Jony Ive, Apple's senior vice president of Design. "We've created an entire range of products that enable unparalleled personalization."

Apple Watch introduces a revolutionary design and iOS-based user interface created specifically for a smaller device. Apple Watch features the Digital Crown, an innovative way to scroll, zoom and navigate fluidly, without obstructing the display. The Digital Crown also serves as the Home button and a convenient way to access Siri®. The Retina® display on Apple Watch features Force Touch, a technology that senses the difference between a tap and a press, providing a new way to quickly and easily access controls within apps. Apple Watch introduces the Taptic Engine and a built-in speaker that together discreetly enable an entirely new vocabulary of alerts and notifications you can both hear and feel. Apple custom-designed its own S1 SiP (System in Package) to miniaturize an entire computer architecture onto a single chip. Apple Watch also features Wi-Fi 802.11b/g and Bluetooth 4.0 to pair seamlessly with your iPhone.

Apple Watch comes in three distinct collections—Apple Watch, Apple Watch Sport and Apple Watch Edition—available in two different sizes, 38 mm and 42 mm. The beautifully designed and durable enclosures are crafted from custom alloys of polished or space black stainless steel, space gray or silver anodized aluminum and 18-karat rose or yellow gold. Apple also created an entire range of watch straps: the high-performance elastomer Sport Band; the Milanese Loop in a flexible magnetic stainless steel mesh; the Leather Loop in soft, quilted leather that conceals magnets for quick fastening and adjustment; the leather Modern Buckle, which closes with a solid metal clasp; the leather Classic Buckle; and the stainless steel Link Bracelet. Apple Watch comes with a unique charging system that combines Apple's MagSafe® technology with inductive charging for a quick connection that snaps into place.

Apple Watch is an extremely accurate timepiece that's also customizable for personal expression. Apple Watch comes with 11 watch faces ranging from traditional
analog faces to new faces like the dynamic Timelapse face; the Astronomy face with its interactive, real-time 3D model of the earth, sun, moon and planets; and the Solar face, a contemporary sundial. Apple Watch can be personalized in appearance and capability with additional information such as upcoming events, moonphases or your activity level, enabling millions of possible configurations.

Taking advantage of its location on your wrist, Apple Watch provides timely information that can be viewed at a glance. Smart Replies and dictation let you respond quickly to messages, and with Handoff, you can start a message on your Apple Watch and continue where you left off on your iPhone. Swipe up from the watch face for Glances that quickly show you information you care about, such as your current location, stocks or your next meeting. Pressing the side button brings up Friends, a view of your favorite people, so you can contact them quickly and easily. Digital Touch allows you to send a sketch, a gentle tap, an audio message through Walkie Talkie or even your own heartbeat. Apple Watch lets you interact quickly and conveniently with the world around you, so you can pay for coffee using Apple Pay™,* board a plane with a Passbook® boarding pass, control your Apple TV® or get directions.

Apple Watch includes a groundbreaking Activity app designed to help motivate you to be more active throughout the day, and an all-new Workout app designed to provide the metrics you need during dedicated workout sessions. Apple Watch uses the accelerometer, a built-in heart rate sensor, GPS and Wi-Fi from your iPhone to provide a comprehensive picture of your daily activity. The Activity app measures three separate aspects of movement: calories burned brisk activity and how often you stand up during the day. The Workout app provides goal-setting and pacing during popular session-based workouts, such as running and cycling. The companion Fitness app on iPhone collects your activity data so you can see your activity history in greater detail. Apple Watch uses this history to suggest personal, realistic goals, reward fitness milestones and keep you motivated.

Apple introduces WatchKit, providing new tools and APIs for developers to create unique experiences designed for the wrist. With Apple Watch, developers can create WatchKit apps with actionable notifications and Glances that provide timely information. Starting later next year, developers will be able to create fully native apps for Apple Watch.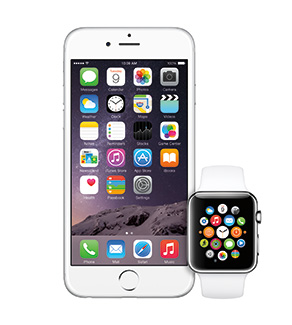 Pricing & Availability
Apple Watch will be available in three collections. Apple Watch, with a polished or space black stainless steel case and a choice of straps; Apple Watch Sport, with a space gray or silver anodized aluminum case and Sport Band; and Apple Watch Edition, with an 18-karat rose or yellow gold case and a choice of straps exclusive to this collection. Apple Watch straps include the Sport Band in black, blue, green, pink and white; the Classic Buckle in black and midnight blue; the Leather Loop in bright blue, light brown and stone; the Modern Buckle in midnight blue, brown, soft pink, rose gray and bright red; the Milanese Loop in stainless steel; and the Link Bracelet in brushed stainless steel and polished space black. Apple Watch will be available in early 2015 starting at $349 (US). Apple Watch is compatible with iPhone 5, iPhone 5c, iPhone 5s, iPhone 6 or iPhone 6 Plus running the latest version of iOS 8.

* Apple Pay is only available in the US.

Apple designs Macs, the best personal computers in the world, along with OS X, iLife, iWork and professional software. Apple leads the digital music revolution with its iPods and iTunes online store. Apple has reinvented the mobile phone with its revolutionary iPhone and App Store, and is defining the future of mobile media and computing devices with iPad.
Apple, the Apple logo, Mac, Mac OS, Macintosh, Apple Watch, iPod, iPhone, Multi-Touch, Siri, Retina, MagSafe, Apple Pay, Passbook and Apple TV are trademarks of Apple. Other company and product names may be trademarks of their respective owners.

Salvadoran American Author Give Voice to the Voiceless

Spotlight on anti-bullying advocate Lizzie Velasquez

Mobile Market Changes How Things Work in Mexico

C2; Disrupting Commerce, Bolstering Creativity

21st Century Literacy Skills: It's Fundamental!

Dropping Out…A National Dilemma


Facebook Advertising Coming From a Business Near You


Hispanics Leading La Vida Wired

Expectations high for next Xbox

Original Popular Hispanics T-Shirt

Google working on a media player

Austin Outdoor Design: Where Design Meets Character


Bag It: New Film Shows the Dangers of Plastic to the Earth and Our Bodies

Should you Consider Tax Swaps in your Investment Portfolio?