Mobile Market Changes How Things Work in Mexico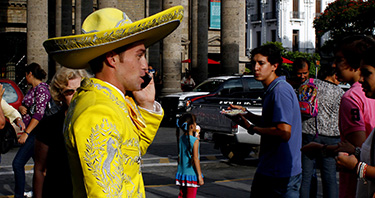 For years, we've stood witness to the evolution of the mobile phone, and seen how they have gone from gadgets used only to take and make calls, to the indispensable accessories they are now.
Across the globe, smartphones are becoming among the most important tools to have, especially in Mexico.
According to the developers of Spin Genie Online Slots, growth in mobile internet is among the most important trends in the internet landscape to date, with smartphone users expected to number close to 2 billion by the end of this year.
In Mexico, it's expected that there will be 54.4 million smartphone users by 2017. The increased adaptation of smartphones has led to a variety of businesses now making full use of the technology. Latin Link reported that Mexican smartphone users have been receiving ads on their mobile devices, and 73% of users recall ads received on their phones better than any other kind of ad placement. Mobile phones are also becoming more involved in the purchasing process as well.
A report by Bloomberg revealed that in Mexico City's streets, consumers have begun shunning paying with cash in favor of using credit cards that they can swipe on the smartphones of vendors. "People will always ask, 'do you take cards?', and if you do, they'll go 'I want this, I want that,'" said Jorge Preciado, who promotes and recruits vendors to sell their wares in markets across Mexico, such as Bazar Condesa. "Cash will always circulate, but paying with a card is going to become the norm."
This app also helps the vendors, as they don't even need to have bank accounts to be able to use the methods offered by mobile phones, and in a region where more than half of the workforce operates in a gray economy that's neither taxed or regulated, this is more convenient than it seems. It's also no small thing that mobile apps have evolved to help out their consumers. Many Mexicans have some experience being overcharged for their mobile data services, and this had been thought to influence the stunted growth of the mobile industry in the region.
App developers, however, have made it so this is no longer a problem, as apps such as No Te Pases, which notifies users when they go over the limits set by their mobile subscriptions, avoiding overcharges. Mexicans are now using their phones to do everything from looking up hot new trends to purchasing these trends. How has the mobile market affected you?

Salvadoran American Author Give Voice to the Voiceless

Spotlight on anti-bullying advocate Lizzie Velasquez

C2; Disrupting Commerce, Bolstering Creativity

21st Century Literacy Skills: It's Fundamental!

Dropping Out…A National Dilemma


Facebook Advertising Coming From a Business Near You

Apple Unveils Apple Watch—Apple's Most Personal Device Ever


Hispanics Leading La Vida Wired

Expectations high for next Xbox

Original Popular Hispanics T-Shirt

Google working on a media player

Austin Outdoor Design: Where Design Meets Character


Bag It: New Film Shows the Dangers of Plastic to the Earth and Our Bodies

Should you Consider Tax Swaps in your Investment Portfolio?