Salvadoran American Author Give Voice to the Voiceless
PH: In general, what do you hope readers walk away from after reading your books?
Ertll: To be inspired and motivated. To feel they can do other things, they can become writers and have feeling of empowerment.
PH: In your own words, what is your latest book, In the Struggle: Chronicles, about?
Ertll: It's a lot of the articles and columns I've written in the last 20 years. I didn't want time or history to forget them. A lot of newspapers in the mid-90s are not on the internet because that's when it was starting to pick up. A lot of that has been lost. A lot of issues I talked about in the 90s are still being talked about now.
Instead of things getting better it's the same or worse. There is empirical evidence that will show things are worse such as global warming and the natural disasters that are occurring. Hot air really affects minorities --- Armenians, Asians, Latinos.
I wanted to create a voice through my articles and book. A point of view of the invisible in our society. Someone is actually speaking to them through the written word.
PH: How is it different from your previous books?
Ertll: My first two books were nonfiction and the third (El Cipitio) was fiction. The fourth book is the first to be in English and Spanish simultaneously.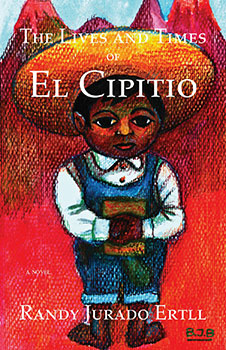 PH: So this book is described as a road map of social justice issues. Without giving too much away, can you share some insight into some of the social justice issues the book covers and why you chose those to highlight?
Ertll: I think I was writing about police brutality in the 90s because I lived though it in south central LA. To me it wasn't Straight Outta Compton. I think a lot of times Hollywood romanticizes (social justice issues and response) and the Latino point of view is usually not included in the national narrative.
Salvadorans have been here for 500 years. We've been here as workers and laborers, maybe even as slaves. Our story was never told.
I write about stuff that people don't really write about or talk about. They feel they may risk their own self-interest or whatever.
I feel that through my writing I can influence people, tell our story and stories that people don't want to be told. I don't want to just write about (social justice issues) but actually do something about it.
PH: You served as communications director and legislative assistant for former U.S. Rep. Hilda Solis. Tell me what that experience was like and how that impacted your future professional endeavors?
Ertll: That really made it clear to me that we're not really represented in the political sphere. For example (CARA Family Detention Pro Bono Project) gave permanent residency to refugees from Cuba but not Central America. It's because it's all tied into Cold War issues. To me it became clear we are not represented.

That's the next step. I want my literature to spur people to go into politics to run for office.
PH: You are co-founder and serve as executive director for the California Latino Environmental Advocacy Network (CLEAN). What was the reason behind this organization's creation, what is its mission and why is it so important to you?
Ertll: I felt there wasn't a Latino nonprofit that focuses on environmental issues. The whole intent was to speak up for the most vulnerable and the most contaminated by air and water. I think the case study that best exposes that reality is southeast LA where tens of thousands of Central American and Mexicans that live there were affected by Exide Battery Recycling Plant which was allowed to contaminate for over 30 years.
Over 100,000 got sick and were poisoned from the smelting of the batteries that went into the air and the water. So we need nonprofits that will actually advocate for the invisible and try to apply what I write in real life.
Sometimes I also wish our community would be more supportive. There are over 50 million Latinos in the US and 2 or 3 million Salvadorans. Our community needs to support our own literature and our own products. We need to go beyond the pupusa industrial complex and support the book industrial complex. It'd be nice to have a pupusa and a book. It would make it more interesting and fun. Read more (next page)

Spotlight on anti-bullying advocate Lizzie Velasquez

Mobile Market Changes How Things Work in Mexico

C2; Disrupting Commerce, Bolstering Creativity

21st Century Literacy Skills: It's Fundamental!

Dropping Out…A National Dilemma


Facebook Advertising Coming From a Business Near You

Apple Unveils Apple Watch—Apple's Most Personal Device Ever


Hispanics Leading La Vida Wired

Expectations high for next Xbox

Original Popular Hispanics T-Shirt

Google working on a media player

Austin Outdoor Design: Where Design Meets Character


Bag It: New Film Shows the Dangers of Plastic to the Earth and Our Bodies

Should you Consider Tax Swaps in your Investment Portfolio?