Salvadoran American Author Give Voice to the Voiceless
PH: I understand you teach at various public school districts. What do you teach, where and for how long?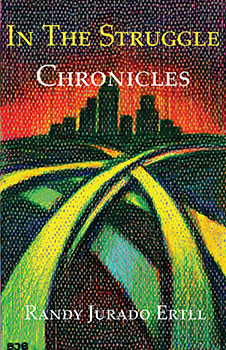 Ertll: I mainly teach kinder through 12th grade. I focus mainly on high school now; I teach at a variety of different high schools. I'm learning about different public schools and how they're run and structured.
I'm doing it to actually see what the needs are of students. Salvadoran Americans, we don't know our identity, get them to be proud of our identity because they can't believe I'm Salvadoran. They keep it quiet because they feel they're going to be stigmatized. They're embarrassed because of the Civil War, gang violence and negative media portrayal.
There is a lack of something iconic that's been created for them to look up to. I try to serve as some kind of role model --- even though as Tupac used to say --- I'm no role model.
I would say I'm no role model. I try to write about strengths and weaknesses and reality…
(Archbishop Oscar Romero of El Salvador) was used by both sides. He was demonized by the right and the left was trying to say he was in favor of their ideology. He was murdered, he was a scapegoat. His own church people turned their back. It's a recurring theme. I try to make the point to counter that through my writing so we're not being such a selfish, greedy, hypocritical, self-interested society.
I'm trying to unify our community. I think we should be working toward improving public education, our environment, health care system and protecting our kids from being shot or killed. I think people should read more reality to become empowered instead of watching violent movies.
PH: El Cipitio, one of your previous books, will be made into a play. Can you talk about that? (El Cipitio is a legendary character of Salvadoran folklore).
Ertll: It's really exciting. I think it's going to help bring our community together. I think it's going to bring them out and get them to support something they can identify with.
I don't think a play like that has ever been made. We need our own place and our own play. I think it should be something that appeals to everyone. We shouldn't be seen as exotic or ethnic. Our productions or literature should be seen as mainstream.
A lot of times people minimize our products and I think we need to start supporting our own products and literature so we can have empowerment.
PH: Your prior books very much center on your experience as Salvadoran American. How has your culture/heritage shaped the individual you have become and your writing?
Ertll: I've had different experiences. My mom being deported when I was a baby that gave me an opportunity to be there in El Salvador until I was five. Those are powerful, formative years. It gave me real sense of our culture.
Coming back and growing up here in LA I was able to learn about African Americans' struggle and experience. I've always been aware of that. All these cultures gave me a better perspective of the world and that's how I'm able to include them in my writing.
PH: Anything else you would like Popular Hispanics readers?
Ertll: I have a book signing on Nov. 5 at Pasadena Public Library. What I'm doing is going to places that are conventional where people haven't heard about us. They've heard about us but in a different way. I want to break doors, break walks, through my literature.
I've also discovered hundreds of Salvadorans who are professionals in so many realms. We're everywhere but quietly support each other. That's really my goal --- to try to change the whole rhetoric about how disunited we are and building toward being united.
The (Salvadoran) Civil War tore us apart. Now is the time to come together.
People need to read the books themselves. How are you going to judge a book if you haven't read it? I think people should read my books. I'm really interested in how they respond to my new book.
For all the latest on Ertll, check out his website at: randyjuradoertll.com
Christine Bolaños is an award-winning national magazine writer and freelance journalist. Her most recent work can be found in Latina Style Magazine, Austin American-Statesman, The Liberty Hill Independent and Popular Hispanics. A Baylor University graduate with a Bachelor of Arts degree in political science and journalism, Bolaños also serves as secretary of the National Association of Hispanic Journalists-Austin Chapter. Connect with her via Linked In at goo.gl/DQ4YDU or Twitter @bolanosnews08.

Spotlight on anti-bullying advocate Lizzie Velasquez

Mobile Market Changes How Things Work in Mexico

C2; Disrupting Commerce, Bolstering Creativity

21st Century Literacy Skills: It's Fundamental!

Dropping Out…A National Dilemma


Facebook Advertising Coming From a Business Near You

Apple Unveils Apple Watch—Apple's Most Personal Device Ever


Hispanics Leading La Vida Wired

Expectations high for next Xbox

Original Popular Hispanics T-Shirt

Google working on a media player

Austin Outdoor Design: Where Design Meets Character


Bag It: New Film Shows the Dangers of Plastic to the Earth and Our Bodies

Should you Consider Tax Swaps in your Investment Portfolio?