Eva's Heroes Signed As the Official Charity Partner of Amber Lounge Austin 2014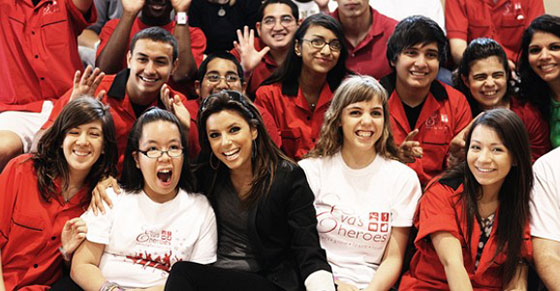 Amber Lounge is honored to announce the Official Charity for Amber Lounge Austin 2014, Eva's Heroes. Co-founded in 2006 by acclaimed Hollywood actress, Eva Longoria, Eva's Heroes is an organization dedicated to enriching the lives of those with intellectual special needs by providing an inclusive setting built on four tenets: interact, grow, learn, and love. Based in San Antonio, the organization helps teens and young adults integrate and flourish in society.
"We are grateful to Amber Lounge for partnering with Eva's Heroes to help spread awareness and raise funds for children with special needs. The global brand of Amber Lounge helps us reach a wider audience to spread our advocacy." – Eva Longoria.
At Amber Lounge, to be held over the 2014 United States Grand Prix, on Saturday 1st and Sunday 2nd of November in the heart of Austin, representatives of Eva's Heroes will attend the event and have the chance to spread awareness of their cause to Amber Lounge's highly exclusive and influential clientele. The organization also hosts special events throughout the year that serve as fundraisers contributing to the enhancement and growth of Eva's Heroes programs.
As Amber Lounge benefits from catering to the F1 fraternity and the world's most recognized names in entertainment, giving back to charity has become an integral part of the company's core philosophy. Over the years, Amber Lounge has raised substantial funds for various notable charities including the Elton John AIDS Foundation, Special Olympics, and the Nelson Mandela Children's Fund.
To support this wonderful cause, kindly follow the link and Donate to Eva's Heroes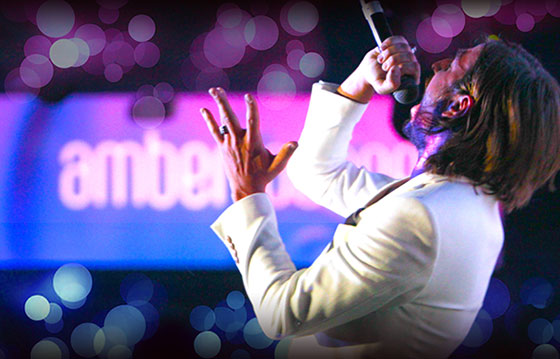 JOHN MARTIN TO PERFORM LIVE AT AMBER LOUNGE AUSTIN
Elevating the glamour and excitement of the US Formula One Season, John Martin, the voice of global super group, Swedish House Mafia, will headline Amber Lounge Austin, the Original F1 after party during the 2014 Austin Grand Prix.
John Martin, best known for bringing international fame to Swedish House Mafia by lending his powerful vocals to their no.1 hit 'Don't You Worry Child', will perform live over two nights in front of a glittering crowd of A-List celebrities, F1 drivers and VIP guests.
"I am so excited to be invited back to perform at Amber Lounge. No destination captures the glitz and the glamour of Formula 1 quite like this event!" – John Martin.
DJ Micky from St. Tropez and internationally-renowned DJ Lora, the latter having accumulated an impressive league of celebrity fans, including Sir Paul McCartney and Kim Kardashian, will be supporting John as he performs his biggest hits.
Amber Lounge Austin has reinforced its reputation as the 'it' lifestyle destination during the Austin Grand Prix. As the Formula One approaches the end of the season, temperatures will rise both on the custom-built Circuit of The Americas, and off it, as the top F1 drivers and A-List celebrities celebrate the glamour of Formula One at Amber Lounge Austin.

AMBER LOUNGE AUSTIN 2014
Over the past ten years, Amber Lounge has established itself as one of the world's most exclusive parties exclusive. Globally recognized as being the most luxurious Grand Prix weekend experience available, Amber Lounge's 2013 locations include Monaco, Singapore, Abu Dhabi and Austin. While each Amber Lounge event has its own distinct atmosphere, all feature a clientele that includes the who's who of the celebrity, social, sporting and F1 worlds.
Taking over select venues at each destination, the concept is to create the ultimate nightlife experience that not only includes an exciting party but also high profile fashion shows, gourmet dining and live entertainment. Run over two or three nights, each bespoke venue has the Amber Lounge signature style - a unique setting, a luxurious club, a tranquil chill out terrace and a stunning water feature and backdrop.
WHAT'S ON?
After an unforgettable inaugural event in 2013, Amber Lounge will return to the Lone Star State for a stylish weekend of decadence with unrivalled service, which is guaranteed to leave the A-list audience mesmerized. Amber Lounge Austin will be held on Saturday 1st and Sunday 2nd of November 2014, as the action moves from racetrack to dance floor. VIP guests will find themselves rubbing shoulders with F1 drivers, Hollywood stars, supermodels and business magnates throughout the evening's glamorous entertainments, which will include a live performance from superstar vocalist John Martin, known for his work with Swedish House Mafia.

The star-studded debut of Amber Lounge Austin in 2013 saw 14 Formula One drivers including Nico Rosberg, Jenson Button, Daniel Ricciardo, Mark Webber and Alexander Rossi and international stars Gerard Butler, Adrian Grenier, Matt LeBlanc and world renowned celebrity chef Gordon Ramsay, amongst many other stars, attend the event.

EVENT INFO:
Dates: Sat 1st and Sun 2nd November 2014
Times: 10.30pm – LATE

BOOKINGS:
Email: austin@amber-lounge.com
Phone: (+377) 9777 1634

The 2014 Latinos de Hoy Awards

New Theatre Presents: The Cuban Spring

Oscar de la Hoya on "Mario Lopez One-on-One"

2014 Latin GRAMMY® Street Parties Announce Artist Lineup

DRACULA UNTOLD – Screening giveaway opportunity

Comedian Paul Rodriguez on "Mario Lopez One-on-One

THE "IHEARTRADIO FIESTA LATINA"

Michael Peña on Mario Lopez One-on-One

Nat Geo Mundo Presents "La Ciencia De Lo Absurdo"

The influence of Latin music in the US


Classical and Flamenco Guitar & Austin

Mexican American Experience returns with Grammy-winning acts

The Bobby Sanabria Grammy-nominated "Multiverse" Big Band At Americas Society: A Review

Meet Flamenco Dancer and Teacher, Pilar Andújar

Becky G Partners with Vevo to Premiere the Music Video for "Becky From The Block"

Patricia on Patricia: An Interview with actress, Patricia Rae