Paula Zuleta is mixing it up Colombian Style and Proud of It!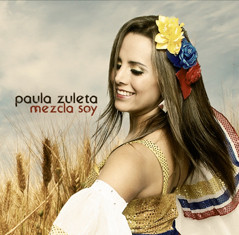 Paula Zuleta is a Colombian tropical singer-songwriter who has worked with top groups, Son de Azucar and Orquesta Canela, and performed throughout Latin America and the world. Her debut solo release, Mezcla Soy, was released in January.

What does the title of your debut, Mezcla Soy, refer to? What is mixed? How are you mezcla?
I am mixed because I come from Indian, black, and white peoples; because I have been a lover of bambuco, cumbia, curralao; because I have worked with Colombian folkloric music, pop, and salsa.
I can write songs in most genres while still letting my own identity shine through, but at the same time wanting to include sounds that have represented us well in the past and that have made history.

Give me one word or phrase that corresponds to your sentiments regarding each era of your career that the public knows you for.

Groupo Niche "Señales de Humo" – The pinnacle of my career.

Son de Azucar Self-Titled Release – My first time in an international group.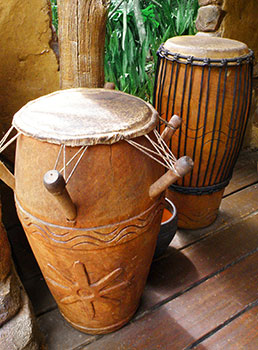 Orquesta Canela "El Mujeriego" and "Con amor propio" – Friendship and musical responsibility.
How would you describe your sound? What were you trying to do with Mezcla Soy?
We were looking for a new international sound. We mixed cumbia with pop and a little bit of rock. We want to break boundaries and reach the entire international audience. On this project, I am romantic and cheerful, but very much one with our rhythms.

Describe what you're wearing on the cover of Mezcla Soy. Why did you go with this look?
Because the most important thing for me regarding this project is to highlight my folklore and to whole-heartedly become a new ambassador for Colombian music. Because I am extremely proud of my homeland and my music.

Fill in the blank. Being Colombian means joy, passion, hard work, effort, flavor, pride.

As a woman, are there obstacles to working in the Colombian music industry and doing cumbia music? Or is it a woman's field?
Cumbia is a national legacy. There are no obstacles for either sex. To reach the outside, I was always told, "There comes the Colombian, sing yourself a little cumbia." For foreigners, Colombia is synonymous with cumbia.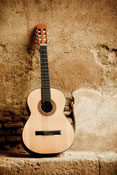 You live in Miami. What do you think it is about Miami that attracts so many Hispanics and artists, alike?
Because it is a very Latin city, Spanish is spoken there, and there's a lot of work available in this genre. There are tropical shows in most restaurants, nightclubs, and at corporate events. For me, it's the international Hispanic capital of the United States. All Latin colonies are equally represented.


Do you plan to translate some of your songs into English or to create new songs in English?
Definitely. On this project, I wrote and recorded the cumbia that was included in English. It is called "Cumbia Recipe" and with this song I hope to reach the hearts of all Americans and Europeans. They can dance and enjoy a cumbia in their own language for the first time.


What do you want your fans to take away from Mezcla Soy?
That they can take this project as their own. It was created with nothing but love. That they enjoy the Colombian rhythms mixed with a new fusion attempting to cross borders toward the Latin public in its entirety.

Tell me one thing about you that would surprise people.
That I have initiated this project based solely on my faith in Jesus Christ. Who has, so far, been my sole driving force. And that all this has been with the effort of my own hands and the sweat on my forehead amid all of my responsibilities as a wife and mother of two.

THE HANGOVER PART III "Wolf Pack Kit" Sweepstakes


HBO Latino Presents Romeo Santos Concert Special

Becky G Partners with Vevo to Premiere the Music Video for "Becky From The Block"

Mano a Mano: Baby Bash & Lucky Luciano

Jon Huertas – New Single "Ledge of Love"

Patricia Vonne Composes and Performs Music That Reflects Her Roots

On behalf of the Directors, Producers, Cast and Crew of "Filly Brown"

Interview with ALMA Award Winning Actress Michelle C. Bonilla


Austin Classical Guitar Society Presents Grammy Award-Winning La Guitar Quartet

Movie review for Ron Fricke's new film SAMSARA

Patricia on Patricia: An Interview with actress, Patricia Rae

HBO Latino Presents "PRÓFUGOS"

Ryan Guzman heats up the screen in Step Up: Revolution

Jorge Caballero and the Miró Quartet Join Forces in Austin Again

PH interview animator Antelmo Villarreal from Ice Age: Continental Drift

Dallas meets Dexter: A serial killer mix "maid" Latin style!

Helado Negro: Generation HispaNext of Latin Music?

"Brave" animator and Popular Hispanic Ramiro Lopez Dau chats with PH!

Popular Hispanic of the Month: Darlene Caamaño Loquet

Award-Winning Actress Yareli Arizmendi and Filmmaker Sergio Arau Discuss Love and Mexico

A Look Inside the World of Sci-Fi Author and Publisher Sandra Desjardins

Popular Hispanic of the Month: Tiffany Perez

Sonia Marie De Léon de Vega Brings Classical Music to Latino Youth