PH interview animator Antelmo Villarreal from Ice Age: Continental Drift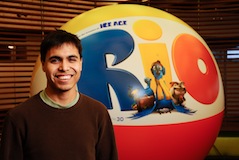 Popular Hispanics had the pleasure of interviewing Antelmo Villarreal. He is the Technical Director in Assembly/Set Dressing at Blue Sky Studios. His latest project is Ice Age: Continental Drift.
The story reunites Manny, Diego, and Sid who embark upon another adventure after their continent is set adrift. Using an iceberg as a ship, they encounter sea creatures and battle pirates as they explore a new world.
Antelmo was born in Bakersfield, California, but when he was seven moved to a small town in Jalisco, Mexico. "When I left I didn't know any Spanish. When I returned I didn't know any English. The transition in that aspect was hard, but during that time they had a program called ESL. In a matter of 8 years I was college prep."
Antelmo says he misses the tranquility of living in Mexico and growing their own crops. "We lived on the edge of town so we could go to the river, take our slingshots and go fishing."
He now lives in Spanish Harlem in New York which keeps him connected to his Mexican culture. "I talk to the street vendors all the time and get to speak Spanish. I used to live on the Upper East Side and felt detached. I'm a little more connected now."
When he was about 13 years old, he saw Aladdin and thought "that's cool," but it was Steven Spielberg's, Jurassic Park that really sparked his interest in animation. "I found out it wasn't all practical effects, but also computer generated effects and I was like oh I want to do that."
Antelmo is an in-house animator and wanted to work at Blue Sky Studios because he liked the Ice Age franchise. "I've always loved Scrat. The main story about the family and it's loyalty to each other and finding a sense of home no matter where you are. And it's visually beautiful."
As what to expect next from Antelmo, he's busy working on EPIC, from director Chris Wedge. "It's the main thing I've wanted to work on. It's amazing. I saw the animatic for it and was like woah, how are we going to do that?"
Ice Age: Continental Drift opens Friday, July 13th!
Watch the trailer below:


HBO Latino Presents Romeo Santos Concert Special

Becky G Partners with Vevo to Premiere the Music Video for "Becky From The Block"

Mano a Mano: Baby Bash & Lucky Luciano

Jon Huertas – New Single "Ledge of Love"

Patricia Vonne Composes and Performs Music That Reflects Her Roots

On behalf of the Directors, Producers, Cast and Crew of "Filly Brown"

Interview with ALMA Award Winning Actress Michelle C. Bonilla


Austin Classical Guitar Society Presents Grammy Award-Winning La Guitar Quartet

Movie review for Ron Fricke's new film SAMSARA

Patricia on Patricia: An Interview with actress, Patricia Rae

HBO Latino Presents "PRÓFUGOS"

Ryan Guzman heats up the screen in Step Up: Revolution

Jorge Caballero and the Miró Quartet Join Forces in Austin Again

Dallas meets Dexter: A serial killer mix "maid" Latin style!

Helado Negro: Generation HispaNext of Latin Music?

"Brave" animator and Popular Hispanic Ramiro Lopez Dau chats with PH!

Popular Hispanic of the Month: Darlene Caamaño Loquet

Award-Winning Actress Yareli Arizmendi and Filmmaker Sergio Arau Discuss Love and Mexico

A Look Inside the World of Sci-Fi Author and Publisher Sandra Desjardins

Popular Hispanic of the Month: Tiffany Perez

Paula Zuleta is mixing it up Colombian Style and Proud of It!

Sonia Marie De Léon de Vega Brings Classical Music to Latino Youth