Ryan Guzman heats up the screen in Step Up: Revolution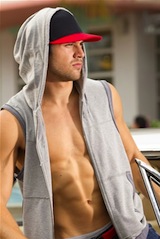 PH had the opportunity to speak with Ryan Guzman who stars in his first leading role in the upcoming film, Step Up: Revolution. This is the 4th installment of the very popular and successful Step-Up franchise.
The film follows Emily (Kathryn McCormick) who arrives in Miami with aspirations of becoming a professional dancer and soon falls in love with Sean (Ryan Guzman), a young man who leads a dance crew, "The Mob" in elaborate, cutting-edge flash mobs. When a wealthy businessman threatens to develop The Mob's historic neighborhood and displace thousands of people, Emily must band together with Sean and The Mob to turn their performance art into protest art, and risk losing their dreams to fight for a greater cause.
Ryan was born in Texas, but moved to Sacramento, California at a young age and spent his childhood growing up there. "My childhood was filled with love and always family oriented." Ryan's dad was born in Mexico and came to America at a young age and later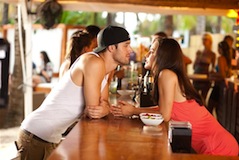 became a legal citizen. His father met his mother in Sacramento where she was born and raised. "My mom has very blond hair, blue eyes, the typical American lady, but one of the most loving, inviting people you'll ever meet. I can't thank my parents enough for the childhood I was blessed with."
At the age of 7, Ryan started participating in Tae Kwon Do and continued on to earn his black belt. "I was always an avid Bruce Lee fan and he is one of my idols and all time favorite. I would always watch his films and was interested in martial arts. To be honest I was afraid of fighting, but one day I finally got over my fear and trained a couple of years and decided to hop into the octagon and fight."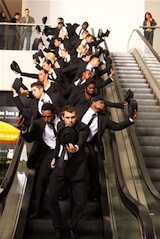 Ryan was an MMA fighter and also a model before turning to acting. "I've always believed that you got to do things you're very passionate about and anything I've ever done I've been full passionate about. Acting is something I love and want to learn more about."
When learning that he had gotten the lead role he said it felt surreal. "I couldn't believe it at all and I'm so appreciative of all the people who helped me out in getting to where I am right now."
The film takes place in Miami and was filmed on location. Ryan said, "I felt like I was home when I was in Miami. I felt like I was chilling with my grandma and grandpa and my big family. It's just a very open Latin culture."
Don't expect Ryan to stick to just dancing roles, he wants to step into the action world next. "I want to go into action and maybe something a little darker and grittier."
Be sure to check out Ryan Guzman in Step Up: Revolution in theaters July 27th!
Watch the trailer below:

THE HANGOVER PART III "Alan Mayhem Sized Poster" Sweepstakes


HBO Latino Presents Romeo Santos Concert Special

Becky G Partners with Vevo to Premiere the Music Video for "Becky From The Block"

Mano a Mano: Baby Bash & Lucky Luciano

Jon Huertas – New Single "Ledge of Love"

Patricia Vonne Composes and Performs Music That Reflects Her Roots

On behalf of the Directors, Producers, Cast and Crew of "Filly Brown"

Interview with ALMA Award Winning Actress Michelle C. Bonilla


Austin Classical Guitar Society Presents Grammy Award-Winning La Guitar Quartet

Movie review for Ron Fricke's new film SAMSARA

Patricia on Patricia: An Interview with actress, Patricia Rae

HBO Latino Presents "PRÓFUGOS"

Jorge Caballero and the Miró Quartet Join Forces in Austin Again

PH interview animator Antelmo Villarreal from Ice Age: Continental Drift

Dallas meets Dexter: A serial killer mix "maid" Latin style!

Helado Negro: Generation HispaNext of Latin Music?

"Brave" animator and Popular Hispanic Ramiro Lopez Dau chats with PH!

Popular Hispanic of the Month: Darlene Caamaño Loquet

Award-Winning Actress Yareli Arizmendi and Filmmaker Sergio Arau Discuss Love and Mexico

A Look Inside the World of Sci-Fi Author and Publisher Sandra Desjardins

Popular Hispanic of the Month: Tiffany Perez

Paula Zuleta is mixing it up Colombian Style and Proud of It!

Sonia Marie De Léon de Vega Brings Classical Music to Latino Youth