Meet Flamenco Dancer and Teacher, Pilar Andújar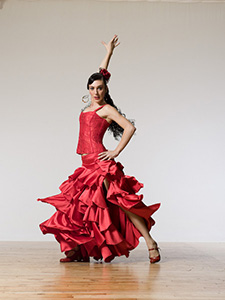 …I'm sure that I have this passion in my genes from my mother…Her passion is the music, and you can see her eyes illuminated when she is listening to a song that she loves…
Pilar Andújar is a treasure. We are so fortunate to have her in Austin – and I feel especially lucky to have been collaborating with her this year on our FlamencoAustin productions (tickets and information).
As a teenager I saw an unforgettable flamenco show in Granada, Spain. I've never forgotten it – and when we started dreaming up FlamencoAustin my hope was that we'd recreate the energy and intensity and richness of that evening I experienced.
I asked Pilar to share a bit with me about her history and her passion for flamenco. Enjoy!
Matthew Hinsley: Tell me about yourself and your relationship to flamenco?
Pilar Andújar: I was born in a very small town called Almoradi in the province of Alicante with just 13,000 people. I'm the fourth of four siblings, my father has a clothes shop called "Andújar" - we all worked together to help his business.
My family knew that dancing was my passion not only from my first recital at 7 years old, but because I was singing and dancing 24 hours a day in my house, in the school, and in the streets!
With my great and passionate teacher "Joseta", in the dancing school in my little town, I discovered that I didn't want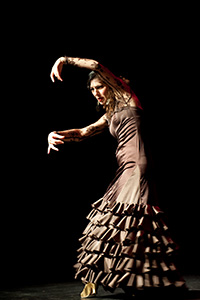 to go to the university but instead I wanted to go to Madrid to learn more flamenco. My parents supported me from the very beginning of my career, even when I decided to move to Madrid to be a professional flamenco dancer at the age of 17.
As soon as I completed a ballet degree and Superior Spanish Dance degree in Alicante, I traveled to Madrid. I spent all my time studying flamenco - after of my 6-8 hours of training every day I was happy just listening some cante at Amor de Dios.
After just 3 months in Madrid, I was chosen to be a dancer in "The Luisillo Spanish Dance Company". My first performance was in Paris!!! I was surprised that everything happened so easily because the level of Flamenco in Madrid was very high and I was at a beginner's level. After only one year living in Madrid, I was the understudy of Maria Pages in Riverdance, and after I continued my career in Flamenco. That fate gave me these opportunities showed me I had to dedicate my life to Flamenco.
Although the focus of my life was Flamenco, I worked dancing all kind of styles, playing castanets and drums, singing, acting, and creating choreography for actors and dancers. I've traveled a lot around the world, and I feel very lucky that I've always known what my passion was.
I've been dancing and choreographing in The US since 2001 when I worked with the Carlota Santana Flamenco Vivo a Flamenco company from New York. I did 7 tours with them around The US. I came to Austin in May of 2010.

"Ardor" Ignites Social Themes on a Global Scale

Claudio Miranda Takes Viewers to "Tomorrowland"

Patricia Vonne Captures Her Latina Heritage with New Album "Viva Bandolera"

Interview with Everardo Gout, director of Days of Grace

Austin-based tribute band honors Selena's memory

Uruguayan artist Max Capote will captivate SXSW audience

New Theatre Presents: The Cuban Spring

Oscar de la Hoya on "Mario Lopez One-on-One"

Comedian Paul Rodriguez on "Mario Lopez One-on-One

Michael Peña on Mario Lopez One-on-One

Classical and Flamenco Guitar & Austin

Mexican American Experience returns with Grammy-winning acts

The Bobby Sanabria Grammy-nominated "Multiverse" Big Band At Americas Society: A Review

Becky G Partners with Vevo to Premiere the Music Video for "Becky From The Block"

Patricia on Patricia: An Interview with actress, Patricia Rae