Meet Flamenco Dancer and Teacher, Pilar Andújar
MH: What is the scope of your activities in Austin? How do people see you, learn from, get involved with Austin flamenco?
PA: There's not a big community of Flamenco in Austin and so that's been a challenge! In Madrid, when you have a regular show in a "tablao" (venues dedicated exclusively to flamenco), you don't even need to rehearse before a show. All the artists go straight to the stage because everybody knows Flamenco and can improvise their performances. I've been working steadily with my group in Austin, and now I'm very happy with the work that we do.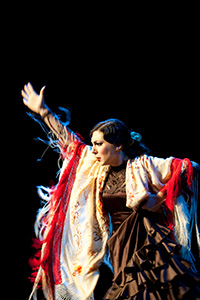 Similarly with my studio, things started slow – but now I have many wonderful and supportive students. By and large, they don't want to be professional flamenco dancers, they dance for fun because their lives are already very busy. I do, however, have a group of 15 children from 4 years old to 10 years old… we'll see if some of them become professional flamenco dancers in the future!
MH: What do you love about flamenco?
PA: On several occasions, I asked myself why I dedicated my entire life (30 years) to Flamenco. Now I'm sure that I have this passion in my genes from my mother. She was singing since she was a child for different events. An advertisement poster said that she was a great and sensitive singing and dancing artist "Pilarin Grech, delicada estilista de la canción y el baile".
She has numerous photos of herself with different beautiful dresses on stages. Her passion is the music, and you can see her eyes illuminated when she is listening to a song that she loves. She listens to music and immediately starts to dance and sing like as if she were a child.
I could spend hours explaining what Flamenco means to me but probably the first thing is perhaps what everybody likes: the visceral passion. Flamenco is a popular art that is talking about the feelings that we all have in our regular lives and are expressed from the soul.
MH: What do you wish everyone knew about flamenco? Is there something people new to the art form should know when they see and hear it?
PA: I am bothered by the tourist version of flamenco with the sexy girl and the red rose (Carmen of Bizet). This is not at all the real flamenco, so much as a superficial and visual simplification for tourists. Flamenco is an art form that needs many years of preparation to perform and if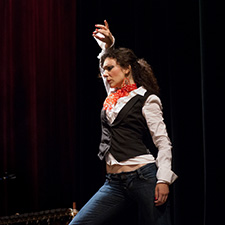 you want to see authentic artistry, you have to search carefully for the real thing.
I would like that people learn the origins and the cultural history of Flamenco. I think that after that, they will understand why so many talk about this ancient art. I teach more than just dancing in my classes; I try to impart the essence of the cultural significance, and the need to be patient as you learn.
Flamenco is a difficult art because it has more than 100 different styles "Palos" and because it's transmitted orally. But this is why it is so interesting, and why it's easy to get addicted: because you never finish learning and discovering new secrets!
I teach regularly at the YMCA at Townlake – so come and take a class! I am also giving some workshops at UT. Keep up with me on my website.

"Ardor" Ignites Social Themes on a Global Scale

Claudio Miranda Takes Viewers to "Tomorrowland"

Patricia Vonne Captures Her Latina Heritage with New Album "Viva Bandolera"

Interview with Everardo Gout, director of Days of Grace

Austin-based tribute band honors Selena's memory

Uruguayan artist Max Capote will captivate SXSW audience

New Theatre Presents: The Cuban Spring

Oscar de la Hoya on "Mario Lopez One-on-One"

Comedian Paul Rodriguez on "Mario Lopez One-on-One

Michael Peña on Mario Lopez One-on-One

Classical and Flamenco Guitar & Austin

Mexican American Experience returns with Grammy-winning acts

The Bobby Sanabria Grammy-nominated "Multiverse" Big Band At Americas Society: A Review

Becky G Partners with Vevo to Premiere the Music Video for "Becky From The Block"

Patricia on Patricia: An Interview with actress, Patricia Rae