The Bobby Sanabria Grammy-nominated "Multiverse" Big Band At Americas Society: A Review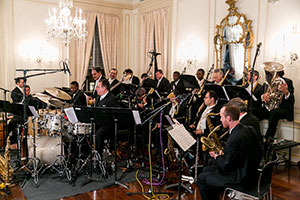 It's not often an audience gets to hear and see a musical performance where not only are the sounds of high quality, but it is also entertaining and educational.
There are few performers or performing groups that can pull off this multi-accomplishment. One such performer was classical pianist/humorist Victor Borge. His concerts were always of high quality. A performing group with similar characteristics is the New York Voices. Their performances are perfectly choreographed and musically executed from beginning to end. But when it comes to the big band genre, one ensemble stands alone and that is the Bobby Sanabria Grammy-nominated "Multiverse" Big Band, featuring 7X Grammy-nominee, drummer, performance arranger, historian, and educator Sanabria himself.
His performance and that of his big band, October 15 at the Americas Society--directly across the street from Hunter College—was exemplary of the rare highly musical, entertaining, and educational triple threat.
Pulling from two of his several Grammy-nominated albums—"Big Band Urban Folktales" (2007) and "Multiverse" (2012)—with such charts as "57th Street Mambo (Michael Mossman), "Besame Mucho" (Consuelo Velasquez), "Obrigado Mestre" (Hermeto Pascoal), "Somewhere Over the Rainbow" (Harold Arlen/E.Y. Harburg'; arranged by Andrew Neesley), and finishing the 90-minute set with "The Ellington Suite" (composed and arranged by Michael Mossman), it was clear that Sanabria's uniqueness is imbedded in the musical and cultural tradition he comes from.

"Ardor" Ignites Social Themes on a Global Scale

Claudio Miranda Takes Viewers to "Tomorrowland"

Patricia Vonne Captures Her Latina Heritage with New Album "Viva Bandolera"

Interview with Everardo Gout, director of Days of Grace

Austin-based tribute band honors Selena's memory

Uruguayan artist Max Capote will captivate SXSW audience

New Theatre Presents: The Cuban Spring

Oscar de la Hoya on "Mario Lopez One-on-One"

Comedian Paul Rodriguez on "Mario Lopez One-on-One

Michael Peña on Mario Lopez One-on-One

Classical and Flamenco Guitar & Austin

Mexican American Experience returns with Grammy-winning acts

Meet Flamenco Dancer and Teacher, Pilar Andújar

Becky G Partners with Vevo to Premiere the Music Video for "Becky From The Block"

Patricia on Patricia: An Interview with actress, Patricia Rae