The Bobby Sanabria Grammy-nominated "Multiverse" Big Band At Americas Society: A Review
He has often stated that his two heroes are Tito Puente and Buddy Rich. Both of these virtuoso drummers not only played the hell out of their instruments—Puente was a multi-instrumentalist as well as a great dancer; Buddy Rich was born drumming it seems, it was as natural to him as breathing—they were also visually entertaining.
Sanabria is not only a virtuoso on the drum set, he is similarly entertaining. If, for some reason, you're missing your metronome to keep steady time, just call Bobby up and ask him to tap out a metronome beat for you—any tempo. He won't miss a beat. His internal metronome is steady, perfect. His range of rhythmic patterns is enormous, encyclopedic almost. In any one chart you'll hear him perform any number of rhythmic patterns—from swing to a host of Latin-jazz styles—and he does it with an ease that belies the many years of study he has put into his craft.
The more amazing aspect of his performing is how he uses the drums to conduct. This is not to ignore the usual way a jazz drummer might use his voice and hand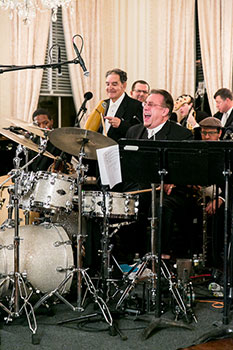 motions to lead the ensemble—he does all this as well. What is truly an accomplishment is how he uses the drums to conduct. If you listen very carefully to Sanabria's drumming patterns you realize he plays with an orchestral approach. For the musicians in the ensemble, his subtle hits give aural cues to the band with respect to upcoming changes in meter, perhaps, or dynamic, or section endings and beginnings. I challenge anyone to find another drummer who uses the drum set so well, where word or hand cues are transcended.
Another of Sanabria's on-stage persona is his entertaining quips. For example, at the conclusion of "Somewhere Over the Rainbow," an extended arrangement with vocalist Charenee Wade at the microphone, Sanabria quipped "There's no place like . . . the Bronx!" Guess where this Nuyorican was born.
To the attributes of virtuosity and entertainment, we can add "educational." This aspect of Sanabria's multiverse of talent also sets him apart from many others. One cannot go to a Sanabria concert without bringing a pad and something to write with. You are going to learn something about the origins of the music, or the background of the composer/arranger, or the culture out of which the music was born.
Another highlight of the performance at Americas Society was the appearance of soprano/alto saxophonist Patrick Bartley. A full scholarship student at the Manhattan School of Music—where, incidentally, Sanabria leads the Afro-Cuban Jazz Orchestra of which Bartley is the lead alto player—Bartley already has a reputation as a virtuoso. Barely 20 years old, Bartley shows no fear. He goes where no saxophonist has gone before, or so it seems. I've just finished reading a new biography of virtuoso saxophonist Charlie Parker. When I hear Bartley I'm reminded of Parker, not in terms of style, but in terms of the virtuosity. Sanabria picked the right soloist for last night's performance.
Other outstanding solos were by the two percussionists; Matthew Gonzales (bongo/cencerro, barrill de bomba) and Orestes Abrantes (congas, vocals) on the closing "Ellington Suite" chart. Gonzales performed a solo on the bongo that could have gone on forever. This is a 20-something percussionist with already virtuosic hands. The variety of in tempo and out of tempo rhythmic patterns was impressive. Abrantes solo was not on one, but four congas. He is following in the footsteps of Cuban-born Candido de Guerra Camero, the father of modern conga playing. Candido was the first to perform on two congas. Abrantes' solo was physically magical and rhythmically engaging.

"Ardor" Ignites Social Themes on a Global Scale

Claudio Miranda Takes Viewers to "Tomorrowland"

Patricia Vonne Captures Her Latina Heritage with New Album "Viva Bandolera"

Interview with Everardo Gout, director of Days of Grace

Austin-based tribute band honors Selena's memory

Uruguayan artist Max Capote will captivate SXSW audience

New Theatre Presents: The Cuban Spring

Oscar de la Hoya on "Mario Lopez One-on-One"

Comedian Paul Rodriguez on "Mario Lopez One-on-One

Michael Peña on Mario Lopez One-on-One

Classical and Flamenco Guitar & Austin

Mexican American Experience returns with Grammy-winning acts

Meet Flamenco Dancer and Teacher, Pilar Andújar

Becky G Partners with Vevo to Premiere the Music Video for "Becky From The Block"

Patricia on Patricia: An Interview with actress, Patricia Rae