The Bobby Sanabria Grammy-nominated "Multiverse" Big Band At Americas Society: A Review
The concert by the Sanabria big band was hosted by Americas Society. This organization ". . . is dedicated to education, debate and dialogue in the Americas. Its mission is to foster an understanding of the contemporary political, social and economic issues confronting Latin America, the Caribbean and Canada, and to increase public awareness and appreciation of the diverse cultural heritage of the Americas and the importance of the Inter-American relationship."
Americas Society Music Director Sebastian Zubieta—himself a composer and educator from Argentina who holds a doctorate in composition from Yale University and a licentiate in musicology from the Universidad Católica Argentina in Buenos Aires.—remarked: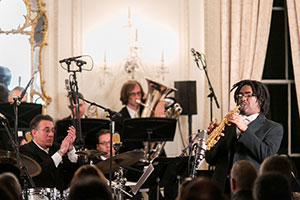 I have known of Bobby Sanabria's activity as a musician and advocate for Latin Jazz for a long time and had the pleasure of meeting him several years ago at a concert with his long-time collaborator Larry Harlow at Harvard. The "Multiverse Big Band" concert last night was part of an NEA-funded project dedicated to the process of transmission of artistic traditions. When we were designing the events that would make up this series (which started in the spring and continues into 2014), Sanabria's name appeared as an obvious choice because of his musical achievement and his longstanding commitment to mentoring the next generation of jazz artists. We were delighted by the entertaining, varied, and seriously swinging concert they offered last night!
The Americas Society mounts several concerts a year in support of its overall mission.
Photo credit goes to: James Anderson for Roey Yohai Photography.

"Ardor" Ignites Social Themes on a Global Scale

Claudio Miranda Takes Viewers to "Tomorrowland"

Patricia Vonne Captures Her Latina Heritage with New Album "Viva Bandolera"

Interview with Everardo Gout, director of Days of Grace

Austin-based tribute band honors Selena's memory

Uruguayan artist Max Capote will captivate SXSW audience

New Theatre Presents: The Cuban Spring

Oscar de la Hoya on "Mario Lopez One-on-One"

Comedian Paul Rodriguez on "Mario Lopez One-on-One

Michael Peña on Mario Lopez One-on-One

Classical and Flamenco Guitar & Austin

Mexican American Experience returns with Grammy-winning acts

Meet Flamenco Dancer and Teacher, Pilar Andújar

Becky G Partners with Vevo to Premiere the Music Video for "Becky From The Block"

Patricia on Patricia: An Interview with actress, Patricia Rae