Classical and Flamenco Guitar & Austin

Upon hearing guitar virtuoso Mauro Giuliani, Beethoven said, "the guitar is an orchestra in itself."
Classical guitar aficionados can certainly relate. And you're sure to find some of them in Austin, because the city loves classical guitar, be it in small formats like the monthly Classical Cactus at UT's historic Cactus Cafe, and Austin Guitar Salon concert receptions in private homes, or in large festivals like 2010's Austin Goes Classical international festival, or Austin Pictures at ACL Live – that KLRU turned into a television feature. Some of classical guitar's biggest names have played for Austin audiences. Pepe Romero, Tomatito, Grammy-winners the LA Guitar Quartet and so many more.

In recent years Austin Classical Guitar (ACG) has explored the deep, passionate, and quintessentially Spanish art of flamenco.
With its new FlamencoAustin series, ACG aims to take us "from Austin to Andalucía at the speed of sight and sound," with evenings that roll together Spanish wine and authentic tapas with live world class flamenco acts.
In whatever format you listen and enjoy, there's no denying the unique qualities of the guitar. On guitar you can play high notes, low notes and notes in between all at the same time. There are not many instruments like that – the piano and the harp come to mind – but unlike those instruments, guitar is portable and affordable. The left hand (the fretting hand) caresses the strings for bends and vibrato -- that slight warble that makes the strings sound like they're singing with a human voice; while the right hand (the plucking hand) elicits a wide range of colorful sounds and articulations.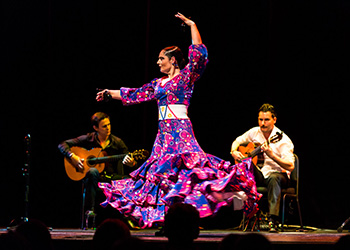 Unamplified classical guitar is quiet, it's true, but that's precisely why you can hear a pin drop when one of the modern masters like Pepe Romero or flamenco geniuses like Tomatitotake the stage.
When a master plays, quiet is absolute in halls. It's as if everyone in the room works together to stretch a canvas of silence through which they can enter into the mysterious, beautiful, sophisticated, creative, deeply personal world that is classical guitar – Beethoven's "orchestra in itself."
The Live Music Capital of the World's blues, rock and country scenes are famous around the globe, as are Austin's groundbreaking ACL Festival and South by South West. If you are looking for a new world to explore, perhaps a quieter world, one that is rich with nuance and deep cultural authenticity, a place to sit back and relax - or to sit forward to catch each and every carefully crafted sound - perhaps classical and flamenco guitar are in your future. For the latest information on upcoming shows both large and small, and Austin Classical Guitar's groundbreaking education program serving more than 2,000 kids in over 40 Austin schools through daily for-credit courses, visit AustinClassicalGuitar.org or call 512-300-2247.
2014 Upcoming Austin Classical Guitar Events: calendar
About the author
Dr. Matthew Hinsley: Dr. Matthew Hinsley is the Executive Director of the Austin Classical Guitar Society. Hinsley has served as Executive Director since 2003. ACGS is the largest entity of its kind in America. His most recent book, Creativity to Community: Arts Nonprofit Success One Coffee at a Time, was published by EnvisionArts in 2010. For more information on Dr. Matthew Hinsley visit: Matthew Hinsley
About Austin Classical Guitar Society

The Austin Classical Guitar Society is the largest entity of its kind in the United States and is recognized as one of the leading guitar performance and education organizations in the world.
Founded in 1990, the organization is now in its 24nd year and proudly features its 17th annual International Concert Series (five major events) and a Summer Music Series (three major events) featuring such acclaimed artists as Pepe Romero, John Williams, Christopher Parkening, Eliot Fisk, and David Russell, among others.
During the 2010-11 seasons, ACGS also presented two new popular concert series: Classical Cactus, a three-night series at UT's storied Cactus Café in collaboration with KUT; and Austin Guitar Salon, a three-night series presented in historic Austin homes in partnership with the Heritage Society of Austin.
Through successful partnerships with artists, educators, Central Texas schools, and community organizations, the Austin Classical Guitar Society has also established one of the most recognized and respected performing arts education programs in the country. Anchored by an Educational Outreach Program that brings artists into classrooms and community workshops, the arts education projects help expose new audiences – young and old – to great music and the most celebrated performers of our time. In addition, the free ACGS Community Concert Series promotes active engagement with the performing arts, deepens the listening experience, and opens the arts to a wider, more diverse audience.
LINKS AND RESOURCES
Austin Classical Guitar Society: www.austinclassicalguitar.org
The Long Center for the Performing Arts: www.thelongcenter.org

"Ardor" Ignites Social Themes on a Global Scale

Claudio Miranda Takes Viewers to "Tomorrowland"

Patricia Vonne Captures Her Latina Heritage with New Album "Viva Bandolera"

Interview with Everardo Gout, director of Days of Grace

Austin-based tribute band honors Selena's memory

Uruguayan artist Max Capote will captivate SXSW audience

New Theatre Presents: The Cuban Spring

Oscar de la Hoya on "Mario Lopez One-on-One"

Comedian Paul Rodriguez on "Mario Lopez One-on-One

Michael Peña on Mario Lopez One-on-One

Mexican American Experience returns with Grammy-winning acts

The Bobby Sanabria Grammy-nominated "Multiverse" Big Band At Americas Society: A Review

Meet Flamenco Dancer and Teacher, Pilar Andújar

Becky G Partners with Vevo to Premiere the Music Video for "Becky From The Block"

Patricia on Patricia: An Interview with actress, Patricia Rae