Oscar de la Hoya on "Mario Lopez One-on-One"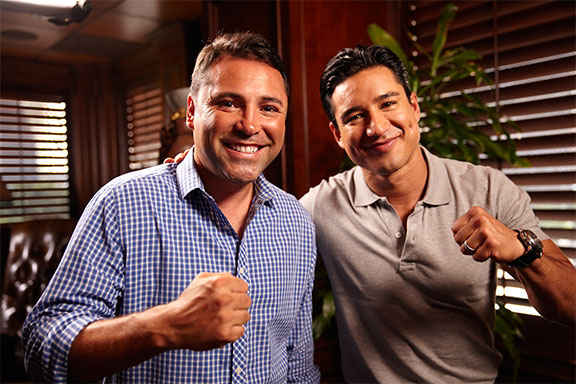 Mario will be sitting down with boxing legend and recent Hall of Famer inductee Oscar de la Hoya on tomorrow night's episode of Mario Lopez One-on-One. He opens up about how he got started in boxing, his family and his favorite and least favorite opponents in the ring.
The episode aired on 9/25 on NUVOtv. If you didn't watch it here's a teaser for the episode:

"Ardor" Ignites Social Themes on a Global Scale

Claudio Miranda Takes Viewers to "Tomorrowland"

Patricia Vonne Captures Her Latina Heritage with New Album "Viva Bandolera"

Interview with Everardo Gout, director of Days of Grace

Austin-based tribute band honors Selena's memory

Uruguayan artist Max Capote will captivate SXSW audience

New Theatre Presents: The Cuban Spring

Comedian Paul Rodriguez on "Mario Lopez One-on-One

Michael Peña on Mario Lopez One-on-One

Classical and Flamenco Guitar & Austin

Mexican American Experience returns with Grammy-winning acts

The Bobby Sanabria Grammy-nominated "Multiverse" Big Band At Americas Society: A Review

Meet Flamenco Dancer and Teacher, Pilar Andújar

Becky G Partners with Vevo to Premiere the Music Video for "Becky From The Block"

Patricia on Patricia: An Interview with actress, Patricia Rae