New Theatre Presents: The Cuban Spring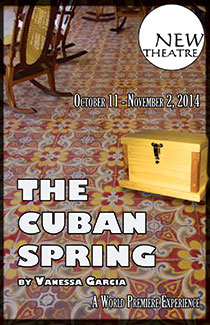 October 11 - November 2, 2014
Penned by local playwright Vanessa Garcia, this family drama revolves around secrets, identity crisis of a separated generation, and the sacrifices one must go through to live in democracy. Her play centers on a pregnant "ABC" (American-born Cuban) woman who feels compelled to unearth truths that her husband and parents have been hiding.
Named by the Miami Herald
as one of the top theatre events of the year!
Buy Tickets Online
October 10th, 2014 - November 2nd, 2014
South Miami-Dade Cultural Arts Center
10950 SW 211 Street Cutler Bay, FL 33189
Vanessa Garcia is a playwright and cross-discipline writer. Her play, The Cuban Spring, will receive its world Premiere at New Theatre (Miami, Fl) in October of 2014. Recently, her short play, Lasso,was named a finalist for City Theatre's National Short Playwriting Award. In 2010, she was named one of Miami's 20 under 40 by the Miami Herald for her work in the theatre. That same year she was called one of Miami's top 100 Creatives by the Miami New Times. In 2008, she was one of four finalists in literature for the Rolex Mentor and Protégé Arts Initiative, where she was given the opportunity work with Nobel Laureate, Wole Soyinka, who has since then called her work "a tonic." In 2007, she was named one of the Arkansas Repertory Theatre's Voices at the River Fellow for her play, Parked.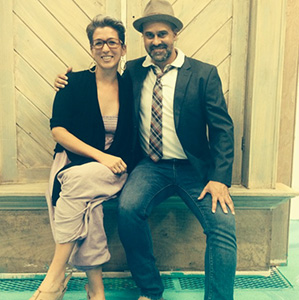 She's written and reported for various publications including The New York Times; The LA Times; The Miami Herald; HowlRound; The Southern Humanities Review; and The Art Basel Magazine, along with numerous other journals, magazines, newspapers, and online media. She is also a Huffington Post Blogger. In addition, she's the Founding Artistic Director of Krane, Inc -- a multidisciplinary arts company also known as The Krane (www.thekrane.com). Her CV can be found: www.vanessagarcia.org/about.php.

"Ardor" Ignites Social Themes on a Global Scale

Claudio Miranda Takes Viewers to "Tomorrowland"

Patricia Vonne Captures Her Latina Heritage with New Album "Viva Bandolera"

Interview with Everardo Gout, director of Days of Grace

Austin-based tribute band honors Selena's memory

Uruguayan artist Max Capote will captivate SXSW audience

Oscar de la Hoya on "Mario Lopez One-on-One"

Comedian Paul Rodriguez on "Mario Lopez One-on-One

Michael Peña on Mario Lopez One-on-One

Classical and Flamenco Guitar & Austin

Mexican American Experience returns with Grammy-winning acts

The Bobby Sanabria Grammy-nominated "Multiverse" Big Band At Americas Society: A Review

Meet Flamenco Dancer and Teacher, Pilar Andújar

Becky G Partners with Vevo to Premiere the Music Video for "Becky From The Block"

Patricia on Patricia: An Interview with actress, Patricia Rae