Step Into a New You
Now is the perfect time to put your best foot forward and focus on improving your health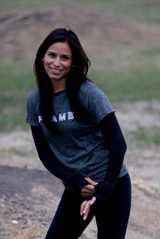 Summer's here and along with warmer weather, the sea­son's new fashions and vaca­tions. All of this is a reminder to get into shape, improve your health and enjoy the sunny outdoors with friends and family.
Start by taking time for yourself. Make time to enrich your health, your work, your lifestyle and your family. Being physically active can help to improve your health by lowering your risk of de­veloping diabetes and heart disease, by relieving the pain of arthritis, by giving you more energy, by reducing stress and by bolstering your overall state of mind and body. Physical activity helps build and maintain healthy bones, mus­cle and joints, helps control weight, and helps reduce body fat.
Racial and ethnic minorities are among the highest percentage of non-active and physically unfit individuals. Women who are ethnic minorities are in the highest percentile. All too often these women put themselves low on the priority list and participate less in leisure time and physical activity. You can be a good role model for your chil­dren and family by being physically ac­tive and eating healthy.
Starting an exercise regimen doesn't have to break the bank or take a lot of time. Begin by setting a goal of engag­ing in 30 to 60 minutes of activity for three to five days a week. You should try to do some cardiovascular activity such as like walking, jogging, biking, swim­ming, elliptical or rowing at least three days a week. Weight training should be 2 to 3 days a week to start. It's usually best to do a total body circuit of exercis­es and 2 to 3 sets of 15 to 20 repetitions.
Try these simple moves to improve your health and get you ready for spring and summer's fashion.
EXERCISES:
Body Weight Squats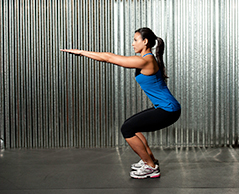 A. SETUP: Stand with feet shoulder-width apart and arms by your side.
B. ACTION: Squat down as to sit in a chair. At same time, raise your arms paral­lel to the floor, then reverse the move­ment back to starting position.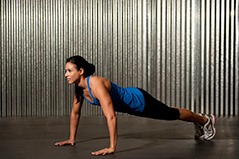 Push-ups
A. SETUP: Get into push-up position on the toes with your hands just outside of shoulder width.
B. ACTION: Bend elbows to lower your body towards floor. As you descend, keep your body straight, and return to start position.
Floor Crunches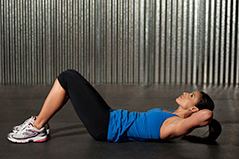 A. SETUP: Lay down on floor face up, and knees bent at a 90 degree angle. Place hands behind head or across chest. With your lower back flat on floor pull abs in toward spine.
B. ACTION: Breathe out as you lift your shoulders off floor one to three inches and return to start while breathing in.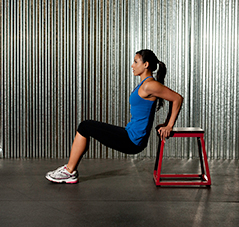 Dips
A. SETUP: Use a bench or chair and hold onto its edge with the arms fully extended, separated at shoulder width. The legs will be extended forward, bent at the waist and perpendicular to your torso. This will be your starting position.
B. ACTION: Lower your body by bending at the elbows 90 degrees. Keep the el­bows as close as possible throughout the movement and chest up. Using your arms, push yourself up to starting position.
Step-ups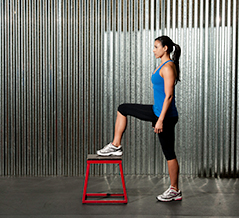 A. SETUP: Place the right foot on the step. Step up by extending the hip and the knee of your right leg. Push through the heel mainly to lift the rest of your body up and place the foot of the left leg on step too.
B. ACTION: Step down with the left leg, while keeping right foot on step, and repeat all 15-20 repetitions.
There are several free activities that you and your family can do in Central Texas. Take a walk or jog on the trails or through your neighborhood. Attend a free community workout at Body by Frame, where trainers take you through a total body circuit. Black Swan Yoga has donation-based classes. It can be as simple as taking your kids to the park.
About Stephanie Flores
Stephanie Flores has been in the Austin fitness industry for over nine years as a personal trainer, figure competitor and coach, writer and now general manager at Body by Frame. Besides working out and writing, she enjoys spending time with her family and friends. For more info contact her at Stephanie@bodybyframe.com
Link to Photographer Daniel Mora

An exciting and windy Canadian Grand Prix
Montreal always seems to deliver big when it comes to emotions. This year was no exception, with plenty of drama and excitement at a jam-packed Circuit Gilles Villeneuve.

Canadian Grand Prix; a tyre point of view.
With the 2017 Formula One season fully under way, the ten competing teams will head to Montreal, Canada in the first of three North American Stops. Austin, Texas, and Mexico City will host Formula One towards the end of the season in October.

Mexico has produced amazing athletes in the past, and it continues to do so. Immediately coming to mind are such names as Hugo Sanchez, Jorge Campos from the world of football and those of Julio Cesar Chavez, Ruben Olivares from the world of boxi

Taking Off the Gloves with UFC Fighter Ricardo Lamas: Q&A

Esteban Gutierrez is a rising young star in the world of motorsports. With both youth and experience under his belt- there is no place he would rather be than the most fabled racing brand in the world-Ferrari.


THE ULTIMATE FIGHTER LATIN AMERICA 2


Jorge Masvidal; Pure Bred, Gamebred


UFC Fight Night with Jorge Masvidal


Vme TV Takes an In-Depth Look at an International Epidemic: Childhood Obesity

Professional Football Player Victor Cruz and Celebrity Chef Anne Burrell Host Time Warner Cable's "Connect A Million Minds Day"

'Tonight Show' Host Jay Leno's Day at the COTA F1 Track

Nike Women's Marathon Celebrates 10 Years in San Francisco

soccer's Liga de Ascenso MX 2013 will be broadcast in the US by Mexico TV

From a Small Town to the Big Time: An Olympian's Journey

Leo Manzano Wins 800 M in Sotteville France

Soccer Hall of Famer Alexi Lalas Becomes el Jimador's Brand Ambassador

Move over Fútbol, the NFL Scores Big with Hispanics