Jorge Masvidal; Pure Bred, Gamebred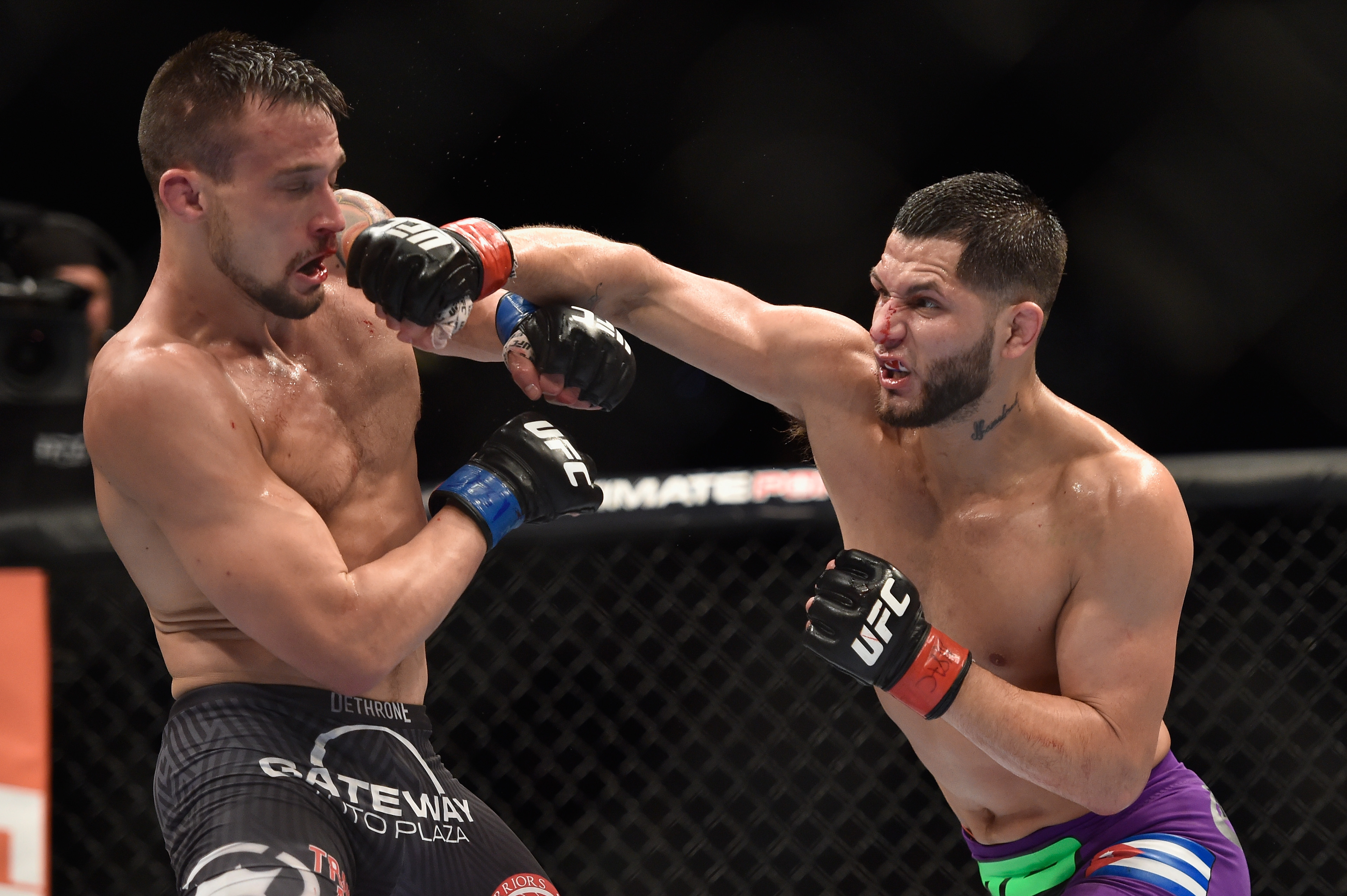 Miami native Jorge Masvidal has an impressive record in UFC competition, but it is his relentless attitude which sets him apart. He lives up to his nickname "gamebred" every competing minute of every fight he is involved in. From the streets of Miami, to the Octagons of the UFC, Jorge Masvidal has one thing in the back of his mind; victory.
Popular Hispanics spoke to Masvidal ahead of UFC 186 in an exclusive telephone interview.

Q: What does a typical training date with Jorge Masvidal might look like?

A: A typical training day; I wake up early, I drop my girls off at school- right from there I head to the track and field, I do about 45 minutes to an hour of cardio just to keep my weight low.
Then from there I go to Russian practice which is about an hour away. I rush for about two hours, then I drive back come to Miami. I'll rest up from anywhere between three PM to around five, six. I wake up, get a little food in me -then I go back to the gym at around seven, seven thirty then I do another two hours. That's One day right there.

Q: Wow, so pretty packed days.

A: Yeah, it's eat, sleep, rest. Gym, Gym, Gym!

Q: What's your diet like during your training period?

A: It's pretty strict. I'm not 26 where I can eat cheeseburgers from McDonald's all day long... I've got to watch my weight. I mean I'll still clown around and get some Krispy Kreme...but I try to limit that.

Q: I've got ask, how did you get your nickname "gamebred"?

A: For those who don't know what gamebred means- because people are always asking me if it has anything to do with game as in talking to girls, but as nothing to do with that. Game is the ability to fight trough pain and fatigue. Bred just means you're bred for a particular thing. If you get two German Shepherds, you bred a German Shepherd. Gamebred just means you're bred to fight trough pain and fatigue- not how good you can fight, but just so you can fight trough pain and fatigue.

I'm a big dog fan, of the bulls. I love pit bulls, they're my favorite dogs. I've always had them, my whole life. I've read a lot of books on this, and my brother- he's always been with me, watching the fight since we were kids. He said, that should be your nickname. That's your style, you get hurt, you get tired, and you just keep coming. You're like a little dog. He [brother] blessed me with the name.

Q: What are qualities do you have as a fighter that puts you at the level where you are today?

When my first qualities you could see right before rightfight is my boyish looks, and I'd say very pretty and you might see it what is that have to do with fighting. Obviously if I didn't have this amazing defense, my face wouldn't be as pretty as it is.

That's one thing that always stuns people. They're like "man, I can't believe your fighter you're so damn pretty." And it's because of the God-given talent that I've got!

Q: You had a great year in 2014, you were 3-0. What do you expect from 2015?

A: To go 4-0.

Q: Tell us a little about growing up in Miami, your childhood, what that was like.

A: My childhood was a lot of ups and downs. For reasons that be, we had very humble beginnings, me and my mother. My father, not that he didn't want to be around, but he kind of didn't have a choice to be around. We grew up very humbled, me and my mother. We did the best we could. She had a couple of full-time jobs. She would do whatever she had to do to feed me.

Q: Seeing all the sacrifices that your mother made to raise you, have those values been instilled in you, the hard work, the training...

A: Yes. Definitely. And also seeing what's on the other side, and what life would be like if I wasn't busting my butt. I know it's like to go to sleep hungry, and wake up hungry... not because you're cutting weight- just because that's the way the situation is. I don't want to experience that ever again in my life unless I'm doing it for dieting purposes. And I definitely, sure as hell don't want my kids to experience that, ever in their lives. That keeps me motivated. I don't mind waking up early in the morning to go run x amount of miles and do it every day repetitively.

Q: Did you have any idols growing up, a fighter or an athlete that you aspired to be like one day?

A: Yeah I had a couple of guys... a lot of them were Hispanic boxers that I praised from the pro ranks. There were also a couple of amateurs from Cuba that I used to watch as well.
One of my all-time favorite boxers is Roberto Duran, I just loved him, loved his style. He's definitely one of my favorite boxers of all time. The dude was tough as hell, and he could do it all. He could defend, he could punch, he could counter attack... he could do whatever he wanted.
Alexis Aguello is another, Julio Cesar Chavez... I like that dude. Sweet Pea, Pernell Whitaker is one of my all-time favorites. Sugar Ray Leonard, Sugar Ray Robinson, Paulo Sanchez... I used to love watching that dude. Trinidad, De La Hoya when he was younger... all these guys. I was like, I want to be in that spot one day, I wanna be in the biggest fights ever representing my Latin people one day. Thank God I'm here now.

Q: You have two daughters now, would you want them to follow in your footsteps as either a fighter or an athlete?

A: No, I'm pushing them into Tennis. I'm subconsciously programming them to play Tennis. I have them in Tennis lessons. They're having a big tournament in Miami; I'm taking them to see the women play. I'm trying to push them in that direction. They're both very athletic, they picked up a lot of my qualities, they like sports. They need that adrenaline dump just like their dad. I don't want them to do anything with fighting. I want them to defend themselves, to learn how to fight- just in case some dude ever gets fresh... but they're not going to compete. Not a chance!

Jorge Masvidal will fight Al Iaquinta on April 4, 2015 at UFC Fight Night 63 inside the Patriot Center in Fairfax, Virginia.

An exciting and windy Canadian Grand Prix
Montreal always seems to deliver big when it comes to emotions. This year was no exception, with plenty of drama and excitement at a jam-packed Circuit Gilles Villeneuve.

Canadian Grand Prix; a tyre point of view.
With the 2017 Formula One season fully under way, the ten competing teams will head to Montreal, Canada in the first of three North American Stops. Austin, Texas, and Mexico City will host Formula One towards the end of the season in October.

Mexico has produced amazing athletes in the past, and it continues to do so. Immediately coming to mind are such names as Hugo Sanchez, Jorge Campos from the world of football and those of Julio Cesar Chavez, Ruben Olivares from the world of boxi

Taking Off the Gloves with UFC Fighter Ricardo Lamas: Q&A

Esteban Gutierrez is a rising young star in the world of motorsports. With both youth and experience under his belt- there is no place he would rather be than the most fabled racing brand in the world-Ferrari.


THE ULTIMATE FIGHTER LATIN AMERICA 2



UFC Fight Night with Jorge Masvidal


Vme TV Takes an In-Depth Look at an International Epidemic: Childhood Obesity

Professional Football Player Victor Cruz and Celebrity Chef Anne Burrell Host Time Warner Cable's "Connect A Million Minds Day"

'Tonight Show' Host Jay Leno's Day at the COTA F1 Track

Nike Women's Marathon Celebrates 10 Years in San Francisco


soccer's Liga de Ascenso MX 2013 will be broadcast in the US by Mexico TV

From a Small Town to the Big Time: An Olympian's Journey

Leo Manzano Wins 800 M in Sotteville France

Soccer Hall of Famer Alexi Lalas Becomes el Jimador's Brand Ambassador

Move over Fútbol, the NFL Scores Big with Hispanics