Club America, CONCACAF Kings.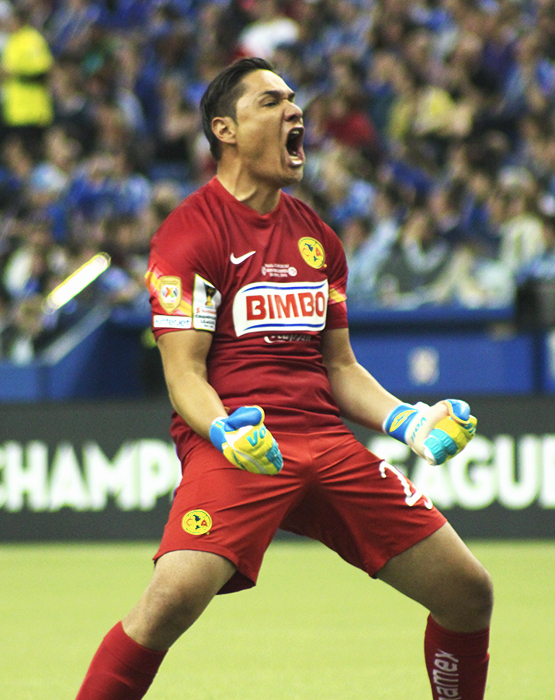 Club America, the Mexico City based soccer team, have won the 2014/2015 Scotiabank CONCACAF Champions League with a spectacular 4-2 win in Montreal, Canada. This is Club America's sixth title as CONCACAF (The Confederation of North, Central America and the Caribbean Football Association) champions.
The fabled Mexicas side tied the first leg of the cup final 1-1 at the Azteca Stadium in Mexico City. The return leg at Montreal's Olympic Stadium saw the Mexican giants lift the trophy after trailing 1-0 at the half to the Montreal Impact in front of a sellout crowd.
The Montreal Impact set a new Canadian soccer attendance record at the Olympic Stadium in front of 61,004 fans. The championship rounds saw total attendance increase to 393,216 fans attending 14 matches, averaging more than 28,000 per game.
"The Scotiabank CONCACAF Champions League continues its growth at an exponential rate thanks to the increasing support of our fans, our teams, our leagues and our commercial and TV partners," said CONCACAF President Jeffrey Webb. "We would like to thank all of them for their passion and commitment to the game and to our premier competition."
Television ratings have also been on the rise this season. The first leg of the Finals in Mexico averaged 1,763,000 viewers across three networks in the United States: UniMas, UDN and Fox Sports 2.
With its triumph in the Finals, Club America has now earned the right to represent CONCACAF at the FIFA World Club, to be played this December in Japan.



An exciting and windy Canadian Grand Prix
Montreal always seems to deliver big when it comes to emotions. This year was no exception, with plenty of drama and excitement at a jam-packed Circuit Gilles Villeneuve.

Canadian Grand Prix; a tyre point of view.
With the 2017 Formula One season fully under way, the ten competing teams will head to Montreal, Canada in the first of three North American Stops. Austin, Texas, and Mexico City will host Formula One towards the end of the season in October.

Mexico has produced amazing athletes in the past, and it continues to do so. Immediately coming to mind are such names as Hugo Sanchez, Jorge Campos from the world of football and those of Julio Cesar Chavez, Ruben Olivares from the world of boxi

Taking Off the Gloves with UFC Fighter Ricardo Lamas: Q&A

Esteban Gutierrez is a rising young star in the world of motorsports. With both youth and experience under his belt- there is no place he would rather be than the most fabled racing brand in the world-Ferrari.


THE ULTIMATE FIGHTER LATIN AMERICA 2

Jorge Masvidal; Pure Bred, Gamebred


UFC Fight Night with Jorge Masvidal


Vme TV Takes an In-Depth Look at an International Epidemic: Childhood Obesity

Professional Football Player Victor Cruz and Celebrity Chef Anne Burrell Host Time Warner Cable's "Connect A Million Minds Day"

'Tonight Show' Host Jay Leno's Day at the COTA F1 Track

Nike Women's Marathon Celebrates 10 Years in San Francisco


soccer's Liga de Ascenso MX 2013 will be broadcast in the US by Mexico TV

From a Small Town to the Big Time: An Olympian's Journey

Leo Manzano Wins 800 M in Sotteville France

Soccer Hall of Famer Alexi Lalas Becomes el Jimador's Brand Ambassador

Move over Fútbol, the NFL Scores Big with Hispanics