UFC Fighter Jessica Aguilar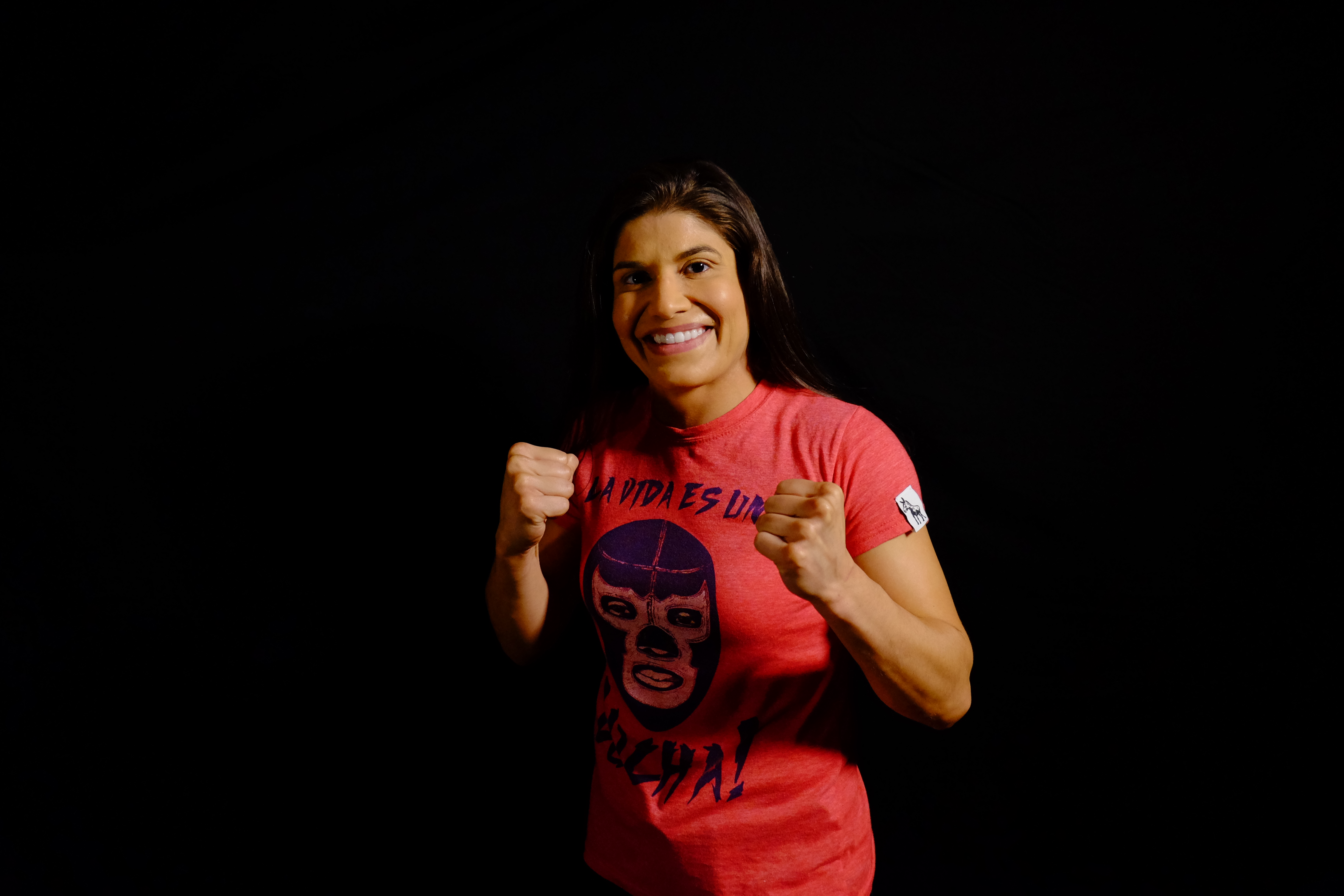 Considered to be the pound for pound best female fighter in the Strawweight division for years. Jessica Aguilar is set to make her long awaited debut on the biggest mixed martial arts stage the Ultimate Fighting Championship (UFC).

Aguilar is a Mexican-born American mixed martial artists who has a great amount of success before entering the UFC. The former World Series of Fighting Women's Strawweight Champion will make her UFC debut of the highly anticipated UFC 190 which is headlined by UFC megastar Ronda Rousey as she faces off against the undefeated Bethe Correia in her home country of Brazil.
Set to face off against Claudia Gadelha this weekend we had a chance to ask the future Strawweight Champion hopefully a few question ahead of her UFC debut.
Seeing the sport of women's MMA grow as you went further in your career, what can you say about the sport to where it's at now?
Being a pioneer of the sport I've seen it grow right in front of my face. It's amazing the growth that's it's had and the opportunities that we have now in the sport. I remember people telling me I was crazy for pursuing fighting and wanting to be the best for even just being a fighter. Now it's mainstream. Obviously with the help of Rhonda. First it was Gina Carano, then it was Ronda Rousey, and Cyborg has had a lot of impact as well and now me being the best strawweight fighter in the world.
This is your long awaited first fight in the UFC. Can you talk about this major step in your career and why the move now at this point in your career?
This is what I've trained all of my life. I knew this day would come. I met Dana (White, president of the UFC) in 2008 when I was competing in the pan-american championship in New York. I gave him my card and I told him one day I'll be your champion and he said I don't know about that. That's when he used to say there will never do girls in the UFC because of the depth which was true back then. Now being apart of the organization and getting the opportunity to my dreams come true and to become the champion is pretty amazing. I've fought for some of the biggest organizations of the sport and now I get to live my dream and fight for THE biggest platform for material arts. I'm extremely honored and grateful for the opportunity.
What are your thought on Claudia Gadelha and your first fight?
I actually wanted a championship fight for my first fight. But this is great fight. This is a very high level fight. This is a great fight for me. These are the fights that I want because I love to fight. For me to step into the UFC cage for the first time and fight a contender match like this is amazing. Can't miss it! It's UFC 190!
This weekend you're not only going to represent a newly signed UFC fighter but also a Latino fighter. Can you talk about the duo role as one of the few Latino fighters in MMA?
I'm very proud and honored to representing Mexico and Latin America. There hasn't been any women Latina champions, if you look at the rankings there been a lot of great talent but there hasn't been a champion, so here I am. Representing the UFC and my country and my roots it's a great honor. I'm going to continue how I've been representing how I've been doing from day one. I'm going to put on a great fight and come out as a champion. I'm fighting for all of us.
This being your first match in the best MMA organization do you feel that you have to reprove yourself to MMA community? Is there any added pressure to fighting on the biggest MMA stage?
t's no added pressure. I don't need to remind them, I do it to more for myself. I have to keep fighting and winning for myself. As far as putting on a good fight for people, absolutely I'm going to be putting on a great fight for people. But the proving myself and the winning is for me. I'm my hardest critic. The other part of fighting is another world of UFC. There's the real hardcore MMA fans and then there's just people who watch UFC and they don't know anybody else but the UFC fighters. So I think this is the perfect time and perfect fight to introduce myself to them.
What are your thoughts on being on the same card as Ronda Rousey?
I'm really honored to be on Roundy's card. It's going to be a huge women fighter empowerment card. The card is an amazing stacked card so I'm really honored to being riding on that card for my UFC debut it couldn't be any more perfect. To Ronda headlining the card and to me opening up the pay per view, it's pretty cool.
Final question, walk us through what's going to happen at UFC 190?
Come on. What's going to happen at UFC 190, my hand is going to get raised at the end and then I'll get my title shot. I'm going to go out there and fight and get that bonus. I'm going to do what I've always done which is to leave my heart out and show my skills and technical and just have fun. It's going to be a good fight.

An exciting and windy Canadian Grand Prix
Montreal always seems to deliver big when it comes to emotions. This year was no exception, with plenty of drama and excitement at a jam-packed Circuit Gilles Villeneuve.

Canadian Grand Prix; a tyre point of view.
With the 2017 Formula One season fully under way, the ten competing teams will head to Montreal, Canada in the first of three North American Stops. Austin, Texas, and Mexico City will host Formula One towards the end of the season in October.

Mexico has produced amazing athletes in the past, and it continues to do so. Immediately coming to mind are such names as Hugo Sanchez, Jorge Campos from the world of football and those of Julio Cesar Chavez, Ruben Olivares from the world of boxi

Taking Off the Gloves with UFC Fighter Ricardo Lamas: Q&A

Esteban Gutierrez is a rising young star in the world of motorsports. With both youth and experience under his belt- there is no place he would rather be than the most fabled racing brand in the world-Ferrari.

THE ULTIMATE FIGHTER LATIN AMERICA 2


Jorge Masvidal; Pure Bred, Gamebred


UFC Fight Night with Jorge Masvidal


Vme TV Takes an In-Depth Look at an International Epidemic: Childhood Obesity

Professional Football Player Victor Cruz and Celebrity Chef Anne Burrell Host Time Warner Cable's "Connect A Million Minds Day"

'Tonight Show' Host Jay Leno's Day at the COTA F1 Track

Nike Women's Marathon Celebrates 10 Years in San Francisco


soccer's Liga de Ascenso MX 2013 will be broadcast in the US by Mexico TV

From a Small Town to the Big Time: An Olympian's Journey

Leo Manzano Wins 800 M in Sotteville France

Soccer Hall of Famer Alexi Lalas Becomes el Jimador's Brand Ambassador

Move over Fútbol, the NFL Scores Big with Hispanics