Esteban Gutierrez Q&A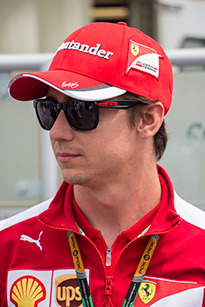 Esteban Gutierrez is a rising young star in the world of motorsports. With both youth and experience under his belt- there is no place he would rather be than the most fabled racing brand in the world-Ferrari. Popular Hispanics Magazine sat down with Esteban to discuss his career, the US Grand Prix, and the return of F1 to his native Mexico.
JF: First of all I'd like to discuss the Mexican Grand Prix, which is coming back after so many years. It must be bittersweet for you since the race is coming back but you won't be racing this year. What are your sentiments?
EG: Well, honestly I don't see it as a negative. It's a great event and the Mexicans are very enthusiastic about it. The reaction has been very positive and I think for me it will be very nice to live the first Mexican Grand Prix from a third driver's perspective. So I can really see the roots from everything and we will have some space to go around and see how everything is working and understand that for the future.
JF: Do you think you will run a few practice sessions, maybe on the Friday?
EG: Well it is considered as Maurizio [Arrivabene] said already, it is not a secret. Everything depends on how the championship is going we have to wait and see. There's quite a few months to go until then and hopefully we can make something nice for the crowd.
JF: Speaking about the crowd, what is the sentiment towards Ferrari. There were the Rodriguez brothers 50 years ago. There must be some attachment between the Mexican Crowd and Ferrari.
EG: There is a big attachment because you have the history of the Rodriguez brothers and there are a lot of people from Mexico from those times who were following them and you connect the two eras- from the Rodriguez, and after 45 years you connect the young people as well. There is a very big range of people who are very much connected to Ferrari. Now obviously with my integration to the team you have the young people and also the Rodriguez history, which are people from a different era.
JF: And for yourself growing up, did you idolize the brothers?
EG: Yes it's such a big honor to be here in a team that has such a big history, and it also has a history linked to Mexico through the Rodriguez brothers and that puts me to a very nice inspiration to be here representing that history is an important part for me. It's a great motivation.
JF: For to past couple of years you could say that the Austin Grand Prix was a sort of home Grand Prix for you and for Sergio. A lot of Mexican fans come over... there are 54 million Hispanics in the U.S. What was that feeling like being in Austin in front of these fans?
EG: I think Austin was a kind of introduction of what can the Mexican Grand Prix do? But now we will have the real big thing which is coming and I hope it will be very successful, not only for me but also for the people around the paddock so that they can really have a great impression of how beautiful of our country really is, and how enthusiastic the people are about Formula One.
JF: Do you enjoy Austin as a city?
EG: Austin, I enjoy it, but I prefer Mexico City. Austin has always been a kind of the beginning- the link to Mexico in Formula One- because, as you said, it's kind of a Mexican Grand Prix. Now it will be more direct into Mexico. It [US Grand Prix] is a very nice event to have still, even if the Mexican Grand Prix is there. The Americans are more and more interested through the years and that America can grow also in Formula One.
JF: do you think over the past three years with the U.S. Grand Prix, do you see the enthusiasm grow year after year?
EG: I see it. You can see that people how they interact in the whole event. There is not only Formula One, but also you have some other entertainment it's nice to have around the practice sessions, around the qualifying sessions, and the race. I think this is a great link and hopefully the people can still continue to enjoy it the same way.
JF: Do you play that guitar that was given to you at the Gibson Show Room in Austin last year?
EG: I don't play guitar very often. I've played when I was younger, but I like to have them put on the wall. I like to have them as a great memory. I have four guitars; one acoustic and three electric. Since I was playing when I was very young, I think I was about six or seven-years-old, so that's one more for my collection.
JF: Talk to me a little about the track at Circuit Of The Americas, especially the first turn where you're soaring into the sky and taking that blind first curve?
EG: It is quite special because that track was designed in a way that it includes the best corners of the calendar. Turn one is very particular, it's very much uphill. Then you have a kind of a Becketts from Silverstone which we all love, all the drivers- which is the first sector.
Then you have a kind of an Istanbul corner that and we also love, the triple left- in this case in Austin it is to the right but it's quite similar. So yes it has a very nice combination of corners which makes it very nice. Sometimes the weather's quite tricky, sometimes it's a bit, let's say cold and it's hard to make the tires work, but then when the tires are working it's even more enjoyable.
JF: You're part of the young talent program with Escuderia Telmex, can you tell us a little more about that program, and how you're involved?
EG: My link to Telmex has always been there since 2009, we've been working together to try to put something together to Formula One. They are not only my supporters but they are also my friends. I get along with them pretty well and enjoy this very much. We share a passion and I think it's more than just a racing program. There is more behind it and that is something very special.
JF: At Ferrari you have two world champions to look up to and learn from. What are some of the things that you've been learning from both these amazing drivers?
EG: Well, to have them as a reference is a great thing because I can confirm that some things I was doing right ... some things I could do better. So, having a look into their work- into how they interact with the team and everything is really special. Also, I appreciate a lot that they are quite open to me. Sometimes we bring up some discussions and I give my opinion and they're open to them. That's quite an important part for me- I can also contribute in a way.
JF: Thank you and good luck!

An exciting and windy Canadian Grand Prix
Montreal always seems to deliver big when it comes to emotions. This year was no exception, with plenty of drama and excitement at a jam-packed Circuit Gilles Villeneuve.

Canadian Grand Prix; a tyre point of view.
With the 2017 Formula One season fully under way, the ten competing teams will head to Montreal, Canada in the first of three North American Stops. Austin, Texas, and Mexico City will host Formula One towards the end of the season in October.

Mexico has produced amazing athletes in the past, and it continues to do so. Immediately coming to mind are such names as Hugo Sanchez, Jorge Campos from the world of football and those of Julio Cesar Chavez, Ruben Olivares from the world of boxi

Taking Off the Gloves with UFC Fighter Ricardo Lamas: Q&A


THE ULTIMATE FIGHTER LATIN AMERICA 2


Jorge Masvidal; Pure Bred, Gamebred


UFC Fight Night with Jorge Masvidal


Vme TV Takes an In-Depth Look at an International Epidemic: Childhood Obesity

Professional Football Player Victor Cruz and Celebrity Chef Anne Burrell Host Time Warner Cable's "Connect A Million Minds Day"

'Tonight Show' Host Jay Leno's Day at the COTA F1 Track

Nike Women's Marathon Celebrates 10 Years in San Francisco


soccer's Liga de Ascenso MX 2013 will be broadcast in the US by Mexico TV

From a Small Town to the Big Time: An Olympian's Journey

Leo Manzano Wins 800 M in Sotteville France

Soccer Hall of Famer Alexi Lalas Becomes el Jimador's Brand Ambassador

Move over Fútbol, the NFL Scores Big with Hispanics