Taking Off the Gloves with UFC Fighter Ricardo Lamas: Q&A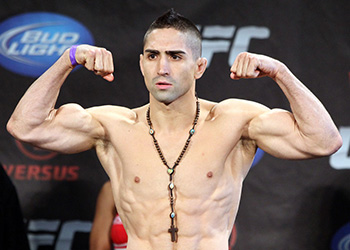 On November 21st, Ricardo Lamas will fight Diego Sanchez in a UFC bout being held in Monterrey, Mexico. This is the second time a UFC event is being staged in Mexico this year. Lamas spoke to Popular Hispanics' Editor-in-Chief on an exclusive telephone interview from sunny Florida.
PH: Let's start off by talking about the upcoming fight on November 21st in Mexico versus Diego Sanchez. What kind of a fight do you expect from your opponent?
RL: Diego is a guy who's been involved in a lot of action packed fights, he always comes forward, always presses the action- so I'm expecting that. This fight is going to be no different- we're going to go at it and whoever prepared more is going to come out victorious in this fight… and I think that's going to be me.
PH: How do you approach an opponent like Diego, do you study his previous fights… how do you analyze him?
RL: I've definitely seen a lot of his fights. I've been a fan of his for a long time, he's put on a lot of exciting fights so I'm definitely familiar with his style and how he fights. Apart from that, my coaches will watch film on him and then they'll train me according to the flaws they see. They'll give me little things here and there.
PH: I'm sure there's a lot of physical preparation for these sorts of fights, more importantly, how do you prepare yourself mentally for such a fight?
RL: I think every athlete is a little different. Some people will see sports psychologists… for me my confidence really comes from the training. The more I train, the harder I train, the more confident I become in the fight. I'm the type of person that puts in the work, I put in the time, I do what I have to do, and I make sure that I'm physically prepared for the fight. As long as I do that, I give it my all on fight night and I'll be happy with whatever the outcome is.
PH: You fight out of Miami, Florida and your mother is Mexican. Fighting in Monterrey on the 21st, what does that mean to you being of Mexican heritage?
RL: It's awesome! I had the privilege of fighting in the very first event in Mexico with the UFC last November. It was a great outcome- the event sold out in eight hours, the arena was super loud. The fans were awesome, the open workouts were crazy, there was a line going around the block for people to get in and watch us work out. It was just really cool.
Now that it's in Monterrey… we were there in early September doing prep for the fight, promoting the fight. I was able to meet family on my mother's side that I never met before. They brought me out and hung out with me a little bit. I'm just very fortunate to have these opportunities to do things like that because without this sport, without the UFC, I wouldn't be able to do all of this.
PH: You're currently ranked 4th on the UFC featherweight category and 3rd in the Sherdog rankings. You're 33-years-old, do you feel you're at a point in your career where you're happy with your achievements, and you're happy with your legacy- or are there still more that you'd like to achieve with respect to your career?
RL: Of course, there's always more things that you'd like to accomplish in your career. I don't think I'd ever be satisfied. If I was old and about, I'd want to be the greatest champion that there ever was in the UFC. I'm the type of person that- as soon as I reach one goal, the bar automatically gets set even higher to a new goal.
There's a lot that I want to accomplish, there's a lot that I want to give back when I'm done with my fighting career. I feel like I'm in my prime right now, and I feel good at every camp, I feel like I'm improving, and I'm going to continue to do so and hopefully accomplish every goal I have before I put my gloves up.
For more info on Ricardo:
http://www.ufc.com/fighter/ricardo-Lamas?id=
For fight night information visit:
http://www.ufc.com/event/ufc-fight-night-monterrey-mexico-2015
Photo credit Zuffa, LLC

An exciting and windy Canadian Grand Prix
Montreal always seems to deliver big when it comes to emotions. This year was no exception, with plenty of drama and excitement at a jam-packed Circuit Gilles Villeneuve.

Canadian Grand Prix; a tyre point of view.
With the 2017 Formula One season fully under way, the ten competing teams will head to Montreal, Canada in the first of three North American Stops. Austin, Texas, and Mexico City will host Formula One towards the end of the season in October.

Mexico has produced amazing athletes in the past, and it continues to do so. Immediately coming to mind are such names as Hugo Sanchez, Jorge Campos from the world of football and those of Julio Cesar Chavez, Ruben Olivares from the world of boxi

Esteban Gutierrez is a rising young star in the world of motorsports. With both youth and experience under his belt- there is no place he would rather be than the most fabled racing brand in the world-Ferrari.


THE ULTIMATE FIGHTER LATIN AMERICA 2


Jorge Masvidal; Pure Bred, Gamebred


UFC Fight Night with Jorge Masvidal


Vme TV Takes an In-Depth Look at an International Epidemic: Childhood Obesity

Professional Football Player Victor Cruz and Celebrity Chef Anne Burrell Host Time Warner Cable's "Connect A Million Minds Day"

'Tonight Show' Host Jay Leno's Day at the COTA F1 Track

Nike Women's Marathon Celebrates 10 Years in San Francisco


soccer's Liga de Ascenso MX 2013 will be broadcast in the US by Mexico TV

From a Small Town to the Big Time: An Olympian's Journey

Leo Manzano Wins 800 M in Sotteville France

Soccer Hall of Famer Alexi Lalas Becomes el Jimador's Brand Ambassador

Move over Fútbol, the NFL Scores Big with Hispanics